---





Life is not a journey to the grave with the intention of arriving safely in a pretty and well preserved body, but rather to skid in broadside, thoroughly used up, totally worn out, and loudly proclaiming:
"WOW, what a ride !!!"
THE TRACK
Dark and jagged from yesterday's Fight The Fragments of Speed lay in Dawn's Light Where else these Memories be kept But in Earth or still bolted tight?

A Shield to protect now the Mud it will hide Shiny white Digits once placed with Pride Black Ugly claw marks of Metzler and Dunlop In cold shallow Graves they all now reside!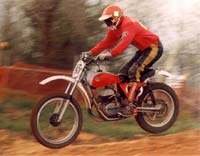 What other Relics under this Field be spread Upon which new Chancers dare to tread? Waste not Your Life diggin' or You may find Moto Fourteen comes to bury You instead!

Champions streak and Crowds will abide To the same pounding Rhythm running inside! For as the Day starts and another Gate falls 'Tis the Race for Today We need to decide!

Mark Hayzlett #85M


---
Back