How an Old Motorcycle Probably Saved My Life
by Charlie Oxford #20E
My story is probably one you have heard a couple of hundred times. I started riding motorcycles with a hand me down, 1966 Honda 65 cc street bike in 1970. My older brother had purchased the bike to ride the 10 miles to school, but He soon found out it was too small to stay up with His friends who were riding 90 cc and larger machines. The bike then became garage decoration. We lived on the "farm", 35 acres, and 10 miles west of Live Oak, in north Florida. Our nearest neighbor was ½ mile away and there were probably six families within 2 miles. This area, for miles and miles, was connected by dirt roads. Being the third and last child, my mom and dad, decided to "unleash" me and I had the freedom to ride.
My friends, the Townsend brothers, were farmers and lived about 8 miles away. One afternoon they were out riding and came by the house. Both of them had 1972 Yamaha LT-2 100 cc enduros. My Dad and I stood in the driveway and inspected those machines, while talking about riding and all the places we could go. They ask me to come along, but we all knew my "65" could not keep up. Later the next week, knowing my birthday was coming up, Dad and I went to Tyres Motorcycle Shop and on the showroom floor was another LT-2. A Honda trade in and I was off on my own 100 cc Yamaha!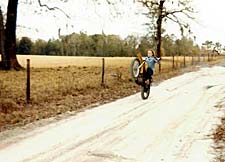 In January of 1973, I was just becoming aware of motocross. My brother was enrolled at Florida State University and we heard about the Florida Winter AMA motocross series and an event in Tallahassee. Dad and I went along with my brother. We took super 8 mm film of that race, which we still have today. Brad Lackey, Pierre Karsmaker , De Coster , Robert , all of them were there. When I got home, the lights, turn signals and mirrors came off the LT-2. Knobby tires, high rise fender, expansion chamber were soon invested in. I laid out a track in the pasture next to the house and I rode daily. We went hill climbing down by the Suwannee River and learned how to dodge rocks, trees and stumps while going vertical up a hill.
In January 1974, I won my first race at Ichetucknee raceway on that converted LT-2. Ichetucknee raceway was an old dolomite mine in the woods very near the headwaters of the Ichetucknee River. The track was an awesome 1.2 miles winding through three large and deep pits . 60 to 80 feet high and steep entries and exits of the pits made for some interesting races. The hill climbing experience paid off. In August of 1974, I purchased a new Yamaha 100 cc mx. It was my first yellow and black Motocrosser, like Pierre and I was stoked. It wasn't long and I was riding that bike to its maximum potential. I could wheelie that bike from 2nd thru 5th gear, 45 mph on the back tire.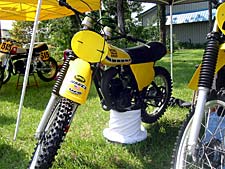 In August of 1975, I purchased a Yamaha 125 YZ "C" model, it was the first 125 monoshock. I flipped it over backwards the day I bought it, showing off, no helmet, no shirt, no shoes, knocked out cold for 4 hrs. By December 1975, I was winning the 125 class at Ichetucknee every race and began traveling around to other tracks in north Florida and south Georgia through out 1976, placing some, winning some. That 125 C was the ultimate Motocrosser of its day and the beginning of motocross "evolution", it literally, along with some real ability, put me in the front.
After the Fall of 1976, I sort of headed in another direction, work, wine, women and my car, all took its toll. Riding and racing took too much money, only one motorcycle shop had ever tried to talk to me about a "sponsor ship", but that was the Can Am shop from Jacksonville and I was not riding anything other than a Yamaha.
In those days I was probably one of the best customers the Yamaha shop in Lake City had, so He was not going to quit taking my money. I truly loved the sport of motocross, but the bike was sold and my motocross career ended forever, or at least I thought!
My Dad was a motorcycle fanatic. He had ridden Harley Davidson road bikes during His early years growing up in south Georgia. In 1977 He bought a Yamaha 750 and began new ownership of several road bikes over the next 25 years. I had several dirt bikes that I rode occasionally during that time, but never anything serious. Dad passed away in 2003 and I had His Honda shadow 1300, which He had dressed up, in the garage. I would clean it, crank it, rev it up and ride around the block. I gave that bike to my sister's son and soon told my wife I needed something to work on.
Computers, the Internet, Google, eBay, what an amazing modern technology. I located a vintage motocross organization in Florida www.flvmx.com. I went to watch them race in April 2005. I had a good day, watching the old motocrossers, the YZs the Maicos the CZs, the smell of bean oil, the sounds of a starting line. I came home and told my wife I wanted a dirt bike. Her only real concern was how much? I convinced Her that since I was a nuclear power plant mechanic I could repair or rebuild anything and I only needed a couple of thousand.
I located a 1976 Yamaha 125 X, this was actually the next issued model, after the "C". I remembered when they came out; the 1976 models have the Kayaba air forks. The pressure chambers on top of the forks resemble a speedometer and a tachometer. This was the only year Yamaha used the fork system on production bikes and for some reason many people removed them. I did some research and found out there were only half as many X models made. I found the bike at a motorcycle shop in St. Pete Fla.. Dave Ellis has hundreds of old motocross bikes, in pieces and He actually knows where most everything is and His parts are marked! He also has a repair / race shop and specializes in repairs of old Yamahas. He and I did a complete restoration. Dave rebuilt the engine, monoshock and forks; I sandblasted frame, every bolt and nut. I replaced all wheel, swing arm and head bearings, tires, tubes, brakes everything. Somewhere around $ 4,500.00 my wife asks me if it is going to stop soon.
The Bike has a nice original tank so I decide to leave it as is. After the bike was completed and broke in I received new motocross boots for my birthday... hmmm. That must be a sign to ride.
Back to the computer! FLVMX race schedule for 2005/2006 season starts October 4th and I must get ready. I needed more protective gear, jersey, spare spark plugs, gas, oil; I only spent another $ 300.00. I was able to go practice a couple of times on the same track as the first race of the season, the outback track at Hard Rock cycle park in Ocala. Finally came race day, I had not done this in about 30 years. I entered the Evolution one (1975, 76, 77 motorcycle) B class. Well, between bad luck for my competition and adrenalin, I won first place that day and was now officially hooked. The members of FLVMX are special people. The racers and organizers help and encourage each other. The series is really great; it allows folks like me to get more race experience.
I set my goals after that, I wanted to be at all the races, I wanted to start all motos, finish all motos, don't fall and get hurt, have fun. I accomplished all of them each and every time, while finishing last every time. The 125 just isn't enough bike. I located a 1976 250 C and was the winning E-bay bidder! Another $ 1500.00 for engine, shock, fork work, tires and I'm racin'!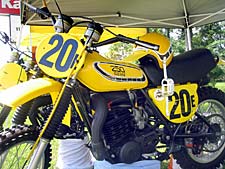 In March 2006 I watched some of the Florida riders, compete in the AHRMA series at Gatorback. Being there that day made me realize, I should have come out and competed, but I was not in that good of shape. I immediately went and had the wellplex shot to help quit smoking. That was a problem I have had for the last 25+ years, it came with the wine, women and song from 1976. I could be a walking advertisement for that process, because I have not smoked a cigarette since. I joined the Gym and started lifting weights three days a week. I started lightly and slowly built my strength. My riding became much improved. I made all 12 races that year and won second overall in a points series.
The 2006/2007 FLVMX series started in October. I convinced my wife I wanted to run some AHRMA races. Once again Her only concern was how much?
I only need $ 1500.00 for travel and entry expenses for the four races in the southeast. Can you get some sponsorship she asks? I don't need no stinkin' sponsorship I tell Her. Anyway Yamaha laughed at me and the local MX stored lied to me. I have made twenty straight FLVMX races since committing.
2007 new years resolution, do well in the ARHMA races. I increased my weight lifting to five days a week. I hit different muscle groups each day for about 45 minutes. I went on a modified version of a low carb diet and I have lost 16 pounds to date. I almost look and feel like I am 23 again, and I am really tuned into racing post-vintage motocross. My goals are still then same, I just want to start all the motos, finish all the motos, don't fall and get hurt, have fun.
I really wanted to race at Gatorback but the Hard Rock main track is probably about as cool!
I finished third out of four, in Historic 250 Intermediate class at Hard Rock. The first place winner was a ringer (expert rider). I finished second in the first moto, third in the second moto.
I finished sixth overall in the +40 intermediate class out of fifteen. I finished sixth in the first moto and eighth in the second moto. I am proud of that accomplishment, because some of the guys were on 1981 500 cc machines!
It is now three days before leaving for Texas; I am packing and performing last minute duties. I will definitely pack rain gear! My goals remain the same.
My wife has stopped asking how much?
-Charlie
***