BOUNCING CZECHS
I guess it's a sign of the times. In this modern era we take creature comfort for granted. The concept of watching off road competition within the comfortable confines of your user friendly local football stadium / concert arena / showground complete with ample bar facilities, decent food and flushing toilets appeals to today's nuclear race fan. Now only the true believers are we willing to brave every conceivable weather extreme to drag our beer coolers, throw rugs and cold chicken to an almost inaccessible rock beside some vermin infested dust bowl to watch our motocross heroes strut their stuff. Supercross has changed our attitudes forever.
History tells us that the concept for Supercross* was invented by flamboyant Southern Californian promoter Mike Goodwin** when he followed through on an idea and promoted the first Super bowl of Motocross spectacular at the LA Coliseum back in 1972. 17year old Marty Tripes won that event aboard a CZ in front of over 40,000 excited fans. The seed was sown and before long Stadium Motocross, or Supercross as it later became known, started it's rise to become the hottest thing in two wheeled racing.
As hot as Goodwin's concept was, it sure wasn't original. Back in 1956 at Strahov Stadium in Prague, Czechoslovakia, the first "Great Victory Race" took place. Held between 1956 and the early sixties, the race was a part of the annual Czech Commemoration celebrations. The motocross events at Strahov Stadium typically attracted over 150,000 screaming Pils Urquell imbued spectators, urging on their favourite CZ, Jawa, ESO or MZ rider (there was obviously no room for decadent Western motorcycles in those Cold War days).
The Great Victory Race was actually two race meetings rolled into one. Part one was a traditional speedway event featuring Europe's top speedway riders of the day. The second part of the meet was a motocross (called an obstacle race by the promoters) set out on a course of around 1000 metres that featured many tight, twisting turns and a number of man made jumps and ramps not at all dissimilar to the manmade tracks of today.
The motocross was then split into two separate events within the overall meet. The first was a three-man teams event featuring teams representing the various provinces of Czechoslovakia. The second part of the program was an international teams race between four man teams representing the various Communist Bloc countries such as Poland, East Germany, the USSR, and the host nation.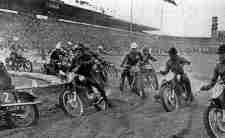 Unfortunately for us greedy capitalists in the west, not much news leaked from the Communist Eastern Bloc during the Cold War so we were deprived of hearing of this great concept and adapting it to out decadent western ways. It took another sixteen years and some free enterprise Yankee dollars to get the old Commie concept up and running again.
* The legendary Dirt Bike journalist Paul Boudreau coined the term Supercross in 1973.
** Mike Goodwin went on to become the most successful and powerful promoter in the business. From that initial LA Coliseum race in 1972 the concept had spread to most major American Cities by 1980. A merger with fellow promoter Mickey Thompson in 1984 proved disastrous for Goodwin and after many legal battles with Thompson, he lost control of the business in 1986. On March 16, 1988 Thompson and his wife Trudi were gunned down outside their luxury Pasadena, California home. Although considered an early suspect, Goodwin was never charged. On December 14 2001 Goodwin was arrested and is still being held without actually being charged. Despite various appeals, the case is still pending.
***