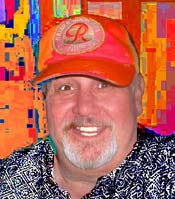 This month, I thought I'd relate one of the stranger stories in our sports history. It's a tale of shady characters, dubious engineering and less than honest marketing that when combined make the basis for a great little yarn that I call:
A ROSE BY ANY OTHER NAME
(Would smell but the same)
by Firko #53
AUSTRALIA:
My interest with this weird little tale started back in the late eighties when a mate of mine, Alan Jones bought a rare and nicely preserved 1972 Alron 405 with the intention of turning it into a vintage motocross racer. Being a bike we'd never really taken much notice of before, Alan and I spent a fair amount of time going over it and the more we studied at it, the more familiar it became. After delving into some old magazines in search of more information, the beginnings of a great story started to emerge.
Back in 1972 the Australian motorcycling press had gone into a jingoistic hissy fit reporting the release of the new Australian built Alron motocross and enduro line. The bikes were reportedly being hand built in Western Australia by Perth entrepreneurs, Alan and Ron Lyon using, to quote Ron Lyon in the press of the day, "the best parts available in the world". It was reported that the initial batch of bikes would be using frames made by "a specialist UK frame maker" and a choice of either a Sprite 405cc open class engine or a choice of four Spanish OSSA power plants. In addition, Lyon told the excited press that the company had plans to set up a chassis manufacturing plant and would soon start development of an engine of their own design. For the moment though, the bikes would be assembled in Perth using imported components… "the best available in the world".
The Alron range was released amid a barrage of hype to an inquisitive Aussie market which waited with baited breath to see what the motorcycle press thought of the new "Aussie bike". Former Australian motocross champion Brian Clarkson was appointed the East Coast distributor and he set about racing a 405 to try and raise some publicity. "It was a bloody disaster" said Clarkson recently. "It was an absolute piece of shit with probably the worst gearbox known to man". When asked if the bike had any positive traits Clarkson added that "The bike had a nice, well built frame and handled and stopped well enough, kinda like a Husky but after two solid seasons of racing I still couldn't come to grips with that bloody gearbox". Clarkson sold a small number of Alrons but became disillusioned with the bike and was greatly relieved when his own race 400 was stolen from his shop late one night.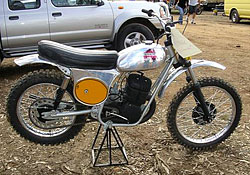 1972 Alron
The press tried to be fair, commenting at length about the fine handling and shiny finish but in the end had to tell the sorry truth about the disastrous 405 engine and its lack of competitive performance and weird transmission. They were far more enthusiastic about the OSSA powered Alrons however. The Phantom 250 powered bike was actually quite a reasonable motocross weapon and the Pioneer powered enduro model was well received by the enduro fraternity but why buy the less developed Alron 250 when you could buy a genuine OSSA Phantom or a competition proven ISDT Replica much cheaper?
Like the press, potential Alron dealers also tended to sit on the fence, secure in their Japanese and European franchises and unprepared to gamble on an untested homegrown product. Approximately forty OSSA powered 250s and twenty or so of the ill fated 405 Sprite powered bikes were sold before the Lyon brothers folded the Alron part of their company after a couple of years.
BELGIUM:
At the same time in Belgium, businessmen Jan Boonen and Jaques Van Velthoven started producing the BVM, in an attempt to create a homegrown motocross bike in the spiritual home of motocross. Belgium hadn't produced a serious motocross bike of their own since the legendary F.N. machines of Rene Baeten back in the fifties. The initial plan was to produce sixty to eighty bikes in the first year fitted with a Sprite 405 engine and a British sourced chrome moly frame (starting to sound familiar?) REH hubs, Motoplat ignition and their 'own designed' Aluminium tank. Not surprisingly the bike was poorly received in Belgium and production ceased well short of the intended production numbers. The restored bike shown below is on display in bullet proof display case* at the owners home in Lommel, Belgium.
*(One could cruelly speculate that the bullet proof case is an attempt to prevent disgruntled former BVM investors from shooting the crap out of the bike!)
Belgium and Australia are two countries that are not particularly known for their motocross bike production, the Alron and BVM being rare exceptions. Sadly, it's my duty as a purveyor of truth and justice to report that both of these bikes had absolutely no local input into their production whatsoever. The Alron and BVM are exactly the same motorcycle built by Frank Hipkin's Sprite Developments in England. The only Belgian or Aussie input was presumably to hire a couple of guys to assemble the kit bikes and apply the tank stickers after their arrival from the UK. For over thirty years the Australian public have believed that the Alron was an all Aussie enterprise, a failed one sure, but Aussie just the same. I presume the Belgians were also sold the same story about their "all Belgian BVM".
COMPARE THE ABSOLUTELY IDENTICAL BVM AND ALRON BELOW:

1972 VVM 405
Photo courtesy of VMX Magazine
The bike is featured in issue #31
| | |
| --- | --- |
| 1972 ALRON 405 | |
UNITED STATES:
1972 American Eagle 405
Although the photos aren't the best quality, even Stevie Wonder could see the Sprite/Alron/BVM family traits.
This great tale of 'badge engineering' isn't limited to motorcycle manufacturing backwaters like Australia or Belgium either. Have you ever heard of the AMERICAN EAGLE 405? Yep, it's another member of this ever growing little club. The bikes were initially imported to the US by a company called the American Eagle Corporation. They must have sold reasonably well because they appear to have hung in there from 1969 to at least 1972, importing an unknown number of bikes until they suddenly went bankrupt holding many unpaid for bikes in warehouse stock. The stock was eventually auctioned and purchased by McCormack International who heavily discounted the bikes as well as selling them by mail order and through department stores. The final model offered is almost identical to the BVM/Alron versions.
One interesting difference to other Sprite clones are the outer engine cases of the Sprite engine being cast with the American Eagle logo. This helped perpetuate the assumption that the American Eagle was an American product. Although the importers didn't actually lie about the origin of the bike, they also didn't exactly shout from the rooftops that they were made in England. The advertisement below gives all of the vital statistics except its place of manufacture. You still occasionally see a 'brand new, never ridden' American Eagles on eBay going for not unreasonable money.
Here is the notation from Wikpedia: The English Sprite, a 405cc motocross bike, was sold in the U.S. as American Eagle.

Brad Lackeys 1969 American Eagle
Below: Rick 'Super Hunky' Siemans take on the American Eagle from his column in Off-Road.com.
AMERICAN EAGLE 405 MX

The American Eagle burst on the scene in the early 70s with a lot of advertising and a small motocross team. The bike was light, with plenty of torque and the handling was OK, but the reliability was wretched. The engine was a rip-off of a 400 Husky and some of the parts were interchangeable. For example, the entire Husky gearbox would fit in the Eagle cases, but no individual gear would. In less than two years, the Eagle vanished like a spooked buzzard.

Here are some specs on the bike:

PURPOSE: Racing
PRICE (Suggested Retail): $1195
DISPLACEMENT: 399cc
ENGINE TYPE Piston-port, two-cycle
LUBRICATION: Pre-mix
IGNITION: Flywheel magneto
TRANSMISSION: 4-speed, right side shift
CLAIMED HORSEPOWER; Approx. 34 @ N/A
CLAIMED WEIGHT: 230 pounds
WHEELBASE: 54-55 inches
GROUND CLEARANCE: 8 riches
FRAME: Double downtube, full cradle
FRONT SUSPENSION: Telescopic forks/Sprite
REAR SUSPENSION: Swingarm w/Girling shocks
FRONT TIRE: 2.75x21 knobby
REAR TIRE: 4.00xl8 knobby
WHEELS: Steel
FUEL CAPACITY: 2.5 gallons
INSTRUMENTATION: None
COUNTRY OF MANUFACTURE: England
GREAT BRITAIN:
Wikpedia extract: Sprite was an English manufacturer of trials and motocross (scrambles) machines that were mostly available in kit-form. They were built with 123-, 244-, and 405-cc two-stroke engine
In mid 1964 Frank Hipkin, a British racer of considerable talent, started building lightweight motocross frames for his own use. Before long fellow racers, eager for something lightweight to replace the agricultural gear they had been forced to ride, had inundated him with orders for his well designed frames for themselves. Sprite Developments was born.
From the start Sprite frame kits for Villiers and Triumph Cub engines were extremely successful. They were neat, well constructed in lightweight Reynolds tubing and most importantly, extremely cheap. Hipkin, with a business sense more than equal to his engineering prowess was able to exploit a legal loophole in the British tax system by selling his products in kit form much cheaper than the opposition. Sprites sold very well, often as just as a frame kit into which the customer could fit whatever engine he chose along with their own wheels and suspension components. This then revolutionary idea enabled racers to update their heavy and obsolete motocross bikes for a tiny percentage of the cost of a complete new bike.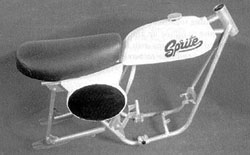 A Sprite frame kit
Hipkins early complete kit bikes featuring iron barreled 250 Villiers engines along with Sprites own Earles type forks sold for a bargain price of 154 pounds, a bargain even in the depressed financial markets of the mid sixties.
Within a short time Hipkin was producing blatant copies of Ceriani forks as an option and offering them and the new all alloy Villiers Starmaker engine. Production grew from a handful of bikes per week to hundreds, most destined for export. This explosion in sales was unfortunately to be the start of the company's gradual downfall. Naturally enough, other companies had taken note of the Sprite success and before long unassembled complete bikes or simple frame kits were being marketed by a growing number of companies. The British Government, concerned at the loss of tax revenue closed the loophole that Hipkin had exploited so cleverly.
Nevertheless, Sprite sales continued gaining momentum. Kits for both Husqvarna and Maico engines followed in the wake of the collapse of the Villiers company and then in 1968, Hipkin announced the release of Sprites own engine, a not too well disguised copy of Husqvarnas 360cc engine bored out to 405cc. Together with an upgraded frame and Sprites Ceriani copy forks, REH hubs and other quality parts, the complete kits were exported all over the world and marketed as whatever the importer wished to call them. Unfortunately a huge order to the American Eagle Corporation directly led to Sprites demise. The American company went bankrupt after delivery of the 405 scramblers had been made which was too much of a financial loss for Sprite Developments to absorb. The company never recovered and soon stopped motorcycle production. The company still exists today but has no ties to the motorcycle industry.
***