Trent Farlowe, the Man and His Mission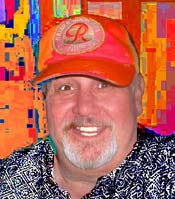 Firko
*The article below is reprinted from May 1979 Australasian Dirt Bike Magazine. The interview was done when Team Madre Trato financial controller, Trent Farlowe was the doyen of Australian motocross and before a rash of ill advised celebrity love affairs pushed Farlowes exploits from the sports pages to the gossip columns and later, the crime section. This interview, conducted by the late Ray Ryan is from a happier time, a time called by most Australian motocross fans as…
"The Farlowe Era"
ADB: Trent, do you feel that this labeling the media has attached to you has been detrimental in your motocross career?
Trent: Not Really Ray. It's a thing that effects me very little as I became accustomed to recognition at a very early age. At seven I suddenly realized that I had been blessed with startling good looks, a tight powerful body and the mind control to combine these talents to my own maximum advantage. Very few of the women who are invariably attracted to me realize just how blasť I am towards their need to be associated with such a rugged sporting celebrity. They tend to accept my talent and fulfill their own their role in supporting my lifestyle image which has kept the media fascinated for years. It has been a minor advantage to them but it hasn't really helped me. I was born lucky, attractive and talented and had the inner drive to make my own breaks. I can't however blame the media for wanting to bathe in the backwashed glory of my own identity.
ADB: Very little is known of your early years. How did you become involved in motor sport and motocross in particular and what would you consider to be the major turning point in your career?
Trent: My background is fairly ordinary. My parents owned property which had accumulated from generation to generation amongst the varying Farlowe factions but I had a plan to make my own luck. When I was twenty five I decided that I should work and took on a demanding position as the international financial coordinator of one of the smaller Farlowe corporations. I worked hard and was treated the same as any other staff member. I limited my overseas visits to bi weekly and sold the Maserati for a less imposing BMW. Most of the time I kept a very low profile and only began to "come out of myself" (so to speak) when the family holdings were passed over to me on my twenty sixth birthday. A small Spanish motorcycle concern was listed amongst the Farlowe Holdings assets so I flew to Barcelona in our little Lear to try and sort things out. I rode my first motocross at San Luis del Negro a few days later.
ADB: How did a simple businessman like yourself fall into the fast moving lifestyle of the sponsored ride which followed that initial ride?
Trent: I still don't know why Senor Capisto offered me that ride on the 390 Sangria. I knew I looked good on the bike and was wearing a new pair of hand stitched goatskin leathers at the time. My face has one or two small scars (which women find attractive , ed) and I felt that I had the right image and charisma to convey the Sangria image throughout the coming GP season. I owned 97% of the factory, but never used that fact to wrangle any favourable decisions from management. My younger brother Jeremy was given full authority to run the racing effort under his own guidelines and I restricted myself to three GP bikes, two practice bikes some vital spares and a somewhat restrictive budget of around $10000 per month. My looks and confidence seemed to balance the remarkable riding skills I had, but it was always hard work. …Sometimes up to three hours a week of practice and those hard hours at the hairdresser when I was preparing for those full colour advertising shots that we used on the first 'Trent Farlowe-Sangria '74 Motocross Calendar'. Those calendars are collector's items now I'm told, but I've seen David Bailey and Sarah Moon shoot much better work for Pirelli.
ADB: Many critics have leveled their sights at you since then. They claim that you are purely an end product of some huge promotional program and that your victories have always been gained under what has been termed 'strange circumstances'. Do you have any comments to counterbalance those claims?
Trent: It's fairly common knowledge in the business world that I have a degree of interest in the international 'Communications Factory' advertising group and that we Farlowes are involved with several international newspapers. I still believe in the sanctity of business and have never allowed these minor interests to afford me any unfair advantage over my opposition.
The claim's regarding 'strange circumstances' seem quite vitriolic indeed. The Luxembourg incident of '75 is easily explained. I was conserving my strength in the first moto and placed a comfortable 39th, knowing that I had the sheer speed and prowess to maintain a start-to-finish lead in the second moto. The works Sangria GP390 was performing faultlessly and I was wearing silk stitched yellow and royal blue leathers and one of those dreadfully passť mullet cuts that were supposedly so trendy back then. De Coster had bike troubles which seems to have spread to the other 37 riders which left me as the sole rider completing the final moto of the event. I slowed down enough to allow the TV news camera teams a clearer shot of my textbook riding style and paused between laps to have the offending mud wiped from my goggles and clothing. They like colour on European television so I tried to give the punters the best possible performance for their money. Earlier in the day a few of the Sangria mechanics had assisted many other riders in setting up their machines following the massive theft of every tool from the pit area. No way could the failure of the other rider's machines be attributed to our crew. We are the best and we are Australian. We don't have to resort to unsporting tactics.
The rest of the season was wrought with misfortune amongst many friends that I'd made on the GP scene. Bladvy and Bretanovich the two Yugoslav CZ riders were mysteriously injured on a Sangria organized pig shooting trip in Northern Spain and those darling Belgians had their machinery and all spare parts destroyed in a disastrous fire in the Farlowe Enterprises workshops in London just prior to the Hawkestone British GP.
Takysoto and Surigimi those sweet and crazy young Japanese riders were taken by terrorists and held captive for the last two months of the season, finally to be released at seasons end when I generously paid the ransom. Americans Brian White and Brad "Skoota" Whitely were arrested prior to the Belgian GP at the Citadel after they were caught in a "compromising position" in a Pouen public toilet. The scandal caused them to miss the rest of the season.
All of this bad luck amongst my competitors caused my only opposition to come form a few untalented Spaniards riding for the two opposition factories. Manual Jerez and Pippi Ponche-Crema were both arrested by the Guardia Civilia on the evening prior to the last event. They were held on unspecified charges but were released some hours after the final moto had been run. I won every event in which I rode in that marvelous 1975 season, my only problems being young women throwing themselves onto the track, blocking the views of the TV crews as I rode my victorious last laps. As usual, on the track I make little margin for error and am as exacting as both my skills and adoring fans demand.
ADB: Since returning to Australia only 12 months ago you have received an almost God like following. Your photograph has appeared on the front cover of at least 12 daily papers and you have been grabbed as the "image man" to advertise everything from aftershave to chest hair removal cream. To what do you attribute this unforeseen public adoration?
Trent: The forces which mould contemporary Australian tastes and socio-economic trends are very complex. My inherent understanding and exceptional insight into these matters might help you understand Ray.
As I see it there is always room for a popular Messiah these days. The masses are burdened by day to day problems and tend to search for a hero with whom they feel a certain affinity; an image to help lift their own lives beyond the mundane and ordinary at which they operate. My riding and sporting skills fulfilled the prime criterion for them while my success at the more commonly accepted levels of social acceptance added to the situation. The media have blown it up to a small degree and the twice weekly "Trent Farlowe Tonight Show" has possibly made me a more commonplace idol than other riders such as a deCoster or Rahier. My eloquent speech and tasteful and impeccable dress is an asset to an equally minor degree, but I can only surmise that my position is the result of of a need which was created by the people of Australia. I'm permantly aware that I'm an Australian and have never tried to hide or conceal the fact. I always return to Australia for critical races such as the final round of the "Farlowe Foods Grand Prix Series" the "Farlowe Airways Cup" and my favourite, the "Channel TF7 Moto Madness Mega Challenge". All of these events are especially dear to me and I feel the obligation to make regular appearances amongst my adoring fans in this wonderful country. I'd love to live here permanently but feel that I now belong to the world and must therefore be available to the people of any country where I am regarded as a contemporary Motocross Messiah.
ADB: Trent, there have been allegations regarding your involvement with the F.I.M. and even Australia's own national motorcycle governing body. Motorcycling Australia apparently decreed that you be exempted from the need to ride any national qualifiers and that you be granted the national title automatically on an annual basis through to 1989. Are you aware of any reason for this unprecedented behaviour which some critics have cruelly labeled "favouritism".
Trent: It's abundantly clear that my talents are the cause of jealousy from certain people within a minor segment of the motorcycling community. I regret that these idiots respond in such a negative way but feel that this story may clarify the situation slightly.
I first learned of the F.I.M. and consequently MA decision while on a business trip to Paris with my French liason assistant Chantelle Lecour. I received a phone call from Baron Claude Lecour du Sauvage at my small but tastefully furnished Paris apartment and he informed the young lady of the decision. It was a surprise to both of us and Chantelle was truthfully shocked by the radical decision made by her father at the F.I.M. conference. John Carwood-Farlowe of the BBC interviewed me that evening for Eurovision News and by Monday I was being used as the "image" behind a national advertising campaign for Barsserie Farlowe the youth image boutique brewery that at the time was capturing the European Lager market. It was all very coincidental.
When I returned to my beloved Sydney, the phone rang again and my younger brother Jeremy told me of the MA decision. Jeremy had only been with MA for some two months filling the job vacated after the sudden retirement of former secretary Garth Pritchard. I knew Pritchard had retired after the scandal which followed from his involvement with a bondage parlour dominatrix named Mistress Whippi. They made a big deal out of it on Mike Lecour's current affairs show on Channel TF7 and I had the opportunity to interview Pritchard on my own Tonight Show also on the TF7 network.
I was amazed that young Jeremy should fill the job but he was the only one recommended by Lecour-Farlowe–Brinsmeade, the personnel consultants who handled the final interviews.
ADB: Trent, Few members of the motorcycling press have ever conflicted with your own personal philosophy on the sport. In earlier years there was some criticism but that seems to have faded. Can you enlighten us on the sudden changes in the press attitude towards you?
Trent: The criticism you describe emanated solely from two somewhat radical publishing houses, both no longer in business. The first, Good Vibes Publications, the people that were behind "Monster Moto Monthly" were evicted from their Paddington offices by the building owners the Farlowe Woodruff Corporation following complaints several schoolgirls at the nearby St Marylyn Convent. It was a rather unsavoury tale and one that was repeated in almost mirror image at the Floreat Park office of "Dirt Cycle Australia". The Dirt Cycle team were all busted by customs officials at Sydney Airport when they were searched during a routine spot check. The journalist in question, Peter Pritchard was found to be carrying twenty kilos of Durban Poison hashish and forty Buddha sticks. Later investigations and a search of their publishing office found that the entire staff were involved in the drug business. After the fiasco settled, the magazine was discreetly sold to the TF Publications group. The magazine and Monster Moto Monthly were absorbed into their new magazines, Motocross Month, Bermrider and Motocross 78. Bermrider editor John Farlowe Blair uncovered the disgraceful scandal that enveloped 7 of the country's top riders just two days before I was to defend my "Channel TF7 Moto-Master Challenge" trophy at Farlowe Park Supercross Stadium. Mike Lecour gave the scandal television time on his TF7 current affairs show and officials suspended all seven riders. It made my win easier but as I stated on my Tonight Show, I felt a little uneasy about my victory and returned my $25000 winners cheque to the sponsoring TV station.
ADB: It seems clear that your domination of world motocross is a result solely of your enthusiasm and untiring dedication to the sport. Do you feel that money or status can be an advantage to any rider with similar talents to yourself?
Trent: I doubt that either pure money or public recognition would ever suffice in the world of professional motocross. I also doubt severely if there are any other riders with talents " similar" to mine, as you quaintly put it. A few of the newer riders are showing some promise bur few of them seem to stay in the sport for any time so their true potential is never known. Neville Gunther, Simon Hall and Trevor Rudd have all left the sport to take up various positions in the business world. And this is becoming a common tale for many of Australia's potentially brilliant racers. Gunther and Hall have combined together as consultants in the newly formed Gunther-Hall-Farlowe Sports Holdings handling promotion of national motocross events and allied media activity, while Rudd has moved to Barcelona where he works as the factory design engineer for Sangria. The new "Rudd Replica" Sangria 420 is due on the local market early next year and is expected to be the most potent machine yet to emerge from Spain. It appears likely that I'll once again don the boots for Sangria but the sponsorship dealings are still under consideration through the Gunther-Hall-Farlowe Sports Holdings negotiators.
Johnny Brent, a former works Husky rider is now an upper manager with Lecour-Farlowe Mining in Europe along with several Sydney A grade motocross racers who have accepted positions with the multi national firm. All of these boys were points leaders in the "Farlowe International Airways Series" here in Australia and their retirement has left me with an almost embarrassing lead on a point score basis. It seem rather unlikely that any other rider will present a serious threat to my domination of both national and international motocross and I think I may expand my racing activities into car racing during the next 12 months.
ADB: Does that mean you are giving up motocross for good?
Trent: No No No. That's very unlikely as I intend to expand as often as I feel that my talents may become limited by restricting them within the confines of one branch of motorsport. In 1980 I may contest both the world road racing championships as well as the Formula two series. That means both bikes and cars! The new Sangria RG950 road racer should be ready soon and Lecour-Farlowe are already hinting of a possible sponsorship deal in Europe. I'll see what happens.
On the four wheel scene there will be a new TF-Matra 520Z, a car that makes the six wheeled Tyrell look very obsolete. The introduction of formula racing would require a lot of sponsorship as I'm already heavily committed in other areas. The French Bank, Societe Farlowe-Lecour deParis are keen to expand their promotion of their international services and it seems they may come on board. I'm not at liberty to say at the present. I'm very busy and totally dedicated to the growth of motorsport in any form. It's been a long hard battle, it really has.
In 2006 Trent Reginald Farlowe was charged in absentia with forgery, money laundering and fraud in relation to the tragic downfall of the international motocross team, Ecurie Madre Trato where he was the financial controller and sponsorship broker.
Farlowe, a bankrupt in his native Australia, France and his home for the last 20 years, the United States is believed to be in hiding in either Belize or the South island of New Zealand. Approach him with care.
| | |
| --- | --- |
| | A young Farlowe prior to testing a revolutionary new air cooled helmet. Even at this young age Farlowe had looks that turned women into sex slaves. |
***