AHRMA
---
by Fred "900" Guidi
I am preparing for my 7th season of vintage racing, with most of it done under the AHRMA umbrella. During the 6 previous years I have had some of the best days of my life, met new people, bought a bike or two, lined up with the heroes of my youth, and subjected my family to long road trips filled with dust and dirt. To me AHRMA is the greatest thing going, and the overall best platform for a nationally recognized vintage- vet program. Sure there are some great regional programs out there; the ACR for example is a first class operation, with first class management (Tom France). There are other organizations as well, Dave Boydston runs a clean ship in the Southwest, and few people have the passion that Dave does. Dave has some great ideas about where the sport is headed, and I always enjoy our conversations. I agree with what Rick Doughty has said about new classes and how we must go about drawing future participants. There are a lot of good folks with some equally good ideas out there. But what about AHRMA?
I know that there are those who will disagree with me about AHRMA's future, and further suggest that the national body is broken, that it took too long for them to recognize PV bikes, and we would all be better served, by another upstart organization. Like most of you, I have watched the calamities of the last few years create conspiracy theories that claim more aliens were at the helm of AHRMA than existed at Area 51. (I will not deny that one or two may still be lurking about.) I will tell you that the "lawsuit" and "bankruptcy" were better programming than anything on TV! But all those that predicted AHRMA would disappear have been mistaken. AHRMA is strong, and even with all the non-racing entertainment, they are the best vehicle to meet the needs of Vintage racers. Why is that? Simply, who else can put on an event like Mid-Ohio? Or Barber? Have you seen what Alice Sexton has done with Vintage Views? Who else can combine road racing, motocross, trials, cross-country, etc., into one national body? Honestly? No one.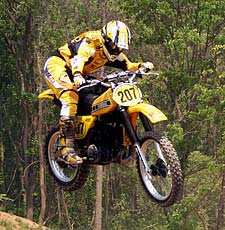 Where do I, as an AHRMA volunteer, think that we are headed? Let me set the table. First I think that Cindy Cowell is the perfect choice for boss. She knows her strengths and shortcomings and is not afraid to ask for advice. Her drive and passion are contagious. No Prima Dona here! Alex Moroz is doing a great job in promoting the organization and moving the off road portion forward by creating a team of national coordinators to support and help manage the off road nationals. Doubt it? No one could have pulled off Mid-Ohio last year in terms of the Star power that Alex assembled. AHRMA booths at the Supercross events? Alex again. I even heard that AHRMA added laps to the second set of motos for the VMX program this year at Hard Rock in Ocala due to the event being so well managed by Alex and Woody, that extra time was available. After every event the staff has a meeting and the event itself is dissected. Problems identified, and solutions noted for a better event next time around. Regionally, there have been some re-alignments which make sense, and another look at the customer base from a demographics perspective. Some new Regional Coordinators have come aboard, and have been an absolute joy to work with. Woody Graves and Tami Rice are the newest, and join a cast of old hats. I enjoy watching Woody in promoter mode, as he is one of the best race day technicians going. The national series is growing with new events in the East and a couple of high profile races in the West. AHRMA listened to its constituency by creating a 100cc class, and I am sure that there are more opportunities to ride on the way. In short, there is new blood, a new perspective, and new energy. Big ships don't turn as quickly as smaller ones, but what I see is encouraging and I am proud to be a part of it.
As a lowly Regional Coordinator, what would I like to see AHRMA do next? First I would like to see Pre-Modern classes for bikes with front discs, water-cooling, and single rear shocks, drawing the line at rear discs. There should be Vintage only weekends on grass tracks as well. I would also like for us to investigate a true National Vet Series on modern bikes, run at selected venues. They run modern products in AHRMA road racing now and Triumph is part of that package. JT Southern of Jakes Garage has a great program in mind. By doing this, we could attract one modern bike manufacturer to support our program, which might even offer contingencies. (I recently tried to contact Carabella to see if they would sponsor our North Atlantic Series, but there was no answer.) This makes sense, because as a group, our wives control a ton of disposable income that could be spent on new iron. I love new bikes; I just don't want to race them with kids. (And believe me, after the youngsters get beat in front of their girlfriends by grandpa, they don't want us out there either!) These are a couple of suggestions that I am going to work for in upcoming months.
Sure, there is room for improvement. Someone is always going to be pissed off. Hell, I do it weekly in the North Atlantic, but I believe that the people who are the most controversial in vintage racing are perhaps the most passionate. Sure I read the blog sites and I listen to a lot of carping, but I have determined that these are the folks that don't contribute anything positive to the organization and are just unhappy souls. I am amazed by the people that come to the nationals and just sit in the pits and moan. (By the way these folks are usually the slowest on the track as well.) I have some advice for those that are habitual complainers… take one for the team and stay home! Or better yet, put your money where your mouth is and come out and help. That's what the people who really love this sport are doing. (Man I am glad to have gotten that off of my chest.)
Any organization is no better than the people who step up and participate. For every person who bitches about where the hay bales are located, or that they only got 28 laps of practice, there is someone who takes time away from their lives to make it better for us all. In the North Atlantic, the A Team is Thor Lawson, Al Conte, Jerry Casciero, Ed Day, Rae Tyson, Ed Roman, Paul Stannard of Strictly Hodaka, JT Southern of Jakes Garage, Bill Eyler of East Coast Maico, and our friends at the YZ Works. Make no mistake, you gentleman are creating the future! See you at the gate!
***