Chehalis AHRMA VMX
by Giles Nelson #665
For weeks, I felt like a kid waiting for Christmas: Chehalis was coming! This race and Diamond Don's in Texas are my two favorite places to race.
Gonzo, Mike Borseth, was planning on getting to the track early on Friday to layout some real estate for the weedy CZ group members planning on coming. Super, Steve Clark, got there a little later and grabbing some more land for the group. Gonzo got us a bitchin trackside spot, right at the first turn. We looked out over the green rolling fields of The Farm towards the far off trees that the course would end up heading down into.
Gonzo also went to the trouble of making up some Weedy's headquarters banners for his pop-up sun shade and cool graphics of Joel Robert and Roger DeCoster bordering the image of Lester the possum on his CZ. I was the lucky guy to end up taking them home, as he didn't want them after it was all over.
Friday night, Neil Goertzen (sp?), Tom McAllister, Dirk Murphy, and myself stood around Weedy central bs'ing till late into the night until I started to head to bed and they wandered off. Saturday was filled with the usual ho hum stuff at one of these races: meeting old and new friends, checking out the assortment of cool bikes, looking for stuff to buy, walking the track, working on the bikes last minute needs and just plain relaxing. In other words, living heaven on earth.
Race day came and I woke up around 6:15am, too excited to sleep any more. I was determined to be ready early as the riders meeting was at 8am and practice was to start at 8:30am. Due to some nagging low back issues, I signed up for only one class, my favorite, 250 Sportsman Novice. My 125 CZ, Lester's Revenge our group project, was here and race prepped by Super who was going to race it in 125 Classic Expert. My old high school buddy Brian Larsen was mildly bummed that I was not going to race it with him in 125 Classic Novice, but I knew that I wouldn't be up to riding two classes, and they usually gate all the 125 classic classes together, so with Soup riding it in expert there was no way to do both.
I was in the second gate in moto 3 behind my other high school friend Darryl Weinkauf racing in 500 Sportsman Novice in the first gate: a class that he is leading in points right now in the series. I watched the starters timing and the rubber band snap to get a feel for what I would be going through next. I had been thinking over and over about starts and practicing them during the practice riding sessions Super and I have been getting in. I was pumped and ready to hold the throttle wide open, find that point in the clutches travel right before it starts to grab and slip, and get off the line in style: certain that I finally could get a hole shot.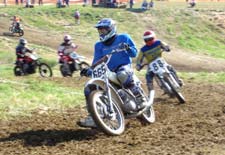 Well, Darryl's gate leaves and I move my bike, the road warrior, up and drop the front wheel into the ditch. Looking a foot over to the right I see a slightly better place to move to. This turned out to be a really bad idea this late in the game. I moved the bike over and slip it into 2nd gear, I thought. The trouble was that I had put on a new kick-starter here and put the shifter up just a tad bit too high, and it was, I didn't know, hitting the case a bit. Well, with the front wheel locked in the ditch, when I tried to find the slip point for the clutch, I couldn't tell I wasn't in gear. With no further delay, the rubber band lets go, and I start letting out the clutch only to find I was still in neutral and I go nowhere CRAP! There's goes my best laid plan. I kick the bike into 1st gear and take off in dead last trying to catch the entire field of 16 other riders who are all in front of me. Pissed at myself I get past a couple of people in the wide left hand sweeper of the first turn, by going way out side and avoiding the crush of riders on the inside. At the second turn I do the same and get a few more plus some guy who went down. I picked off another person here and there and I ended up getting an 8th place, that somehow got dropped to a 9th after I later complained that they gave me a DNF for the second moto's result: go figure.
Second moto: Now, REALLY determined to get a good start I sat on the line going over and over the drill in my head. Well, I did a little better and ended up in fifth place going into the 1st turn. There was another straight away from there that led to a 90-degree turn to the left. I enter that turn in my ultra cautious state looking for riders going down in front of me and some squid on a Husky comes barreling into the turn way too fast in a two-wheel slide and banks off of my bike and me. He goes by and at least one other person. I stayed up but boy was I pissed. There was no way in hell this guy was going to stay in front of me. For the next two and a half laps I dogged this guy looking for an opening to get by him.
My buddy Darryl had once told me that one-day I would get angry at something and realize that I could ride a lot faster then I have allowed myself to go up to now. Well, here was that time and for me, I was flying. I'm sure I was a lot faster as a kid on my 73 250 elSinore, but for my modern era of riding this was the fastest I had ever gone. The bumps meant nothing to me, only getting on the gas and staying with this guy in front of me and making it past him. I had been working out a lot over the last month and I was sure I could out last him if nothing else and get past him later in the race. I got my chance in one of the lower sections when he got out of shape in one of the deep berms. I was taking the outside line because you cannot pass someone if you're following their line. When he slowed just a bit I shot pass on the right of him. This ended up being the high point of my weekend. For me, justice had been served and I learned a valuable lesson that I can actually ride a bit faster, so maybe the guy did me a favor.
The bummer part was a couple of turns later, when I, still feeling all cool about myself and keeping up my now faster pace, took to the extreme inside of the right hander that led to the best jump on the course coming out of the back lower section of the track. All was going well with my new smooth and un-rutted inside line until I made a beginners error related to "TARGET FIXATION." You will go where you look. I glanced at the deep and ugly looking muddy berm to my left and my front wheel slipped off into it. Wham goes the engine into the soft dirt and I do a flying somersault to the right. DOUBLE CRAP!
I look back and there's no flagger in sight. Not wanting to get hit I take the time to push the bike clear of the track before trying to start it. Later watching the video my youngest daughter had made, capturing my crash on film, I counted seven riders going by from my class before I could get under way. I took off trying to make up some ground but the 3 leaders of the first gate, my buddy Darryl and friends, came by. I had missed the white flag for the last lap and was checkered flagged off, one lap short of doing the entire five laps. This is what led to the mistaken DNF first being given me. After registering the mistake with the starter, I ended up with a 15th place in that moto for a 12th over all out of 17 riders. Oh well, not the top 5 placing I was hoping for but I learned a lot and will spend a lot more of my practice riding time working on target fixation.
During the 125 Sportsman Expert class, I walked from section to section of the tract, watching Dave Coupe's techniques as he was blasting around leading everyone else on his Honda. Usually I'm filming or taking pictures at races when I'm not racing and I miss seeing a lot of what's happening but today I wanted to just watch the Coupe to see if I could learn a bit more.
The weekend was a blast in its entirety. The only bummer points were some guy who was flagging and eating his lunch and not watching the action, getting hit by a bike, and watching Gordy Ochs get hit and taken out of the 60+ Expert action. I was the only person down in that lower section of the track when it happened and helped him push start his bike to get moving and back to his camper. Tom McAllister told me later that his leg had been broken. He was leading the series in this class, and the guy who hit him was just some regional rider not in the points chase. Maybe it was a mistake, I don't know, but sometimes people take this fun we do way too seriously.
There were so many neat people here that I know and am getting to know. Lester, well, a couple of gears decided to give up some teeth while Super was in his first moto and lock up. Man those experts are hard on bikes! ;-) We've got some more learning about the internals of these CZs in our near future.
***