On the Couch - Volume 4
by Dr. Joe Abbate #43F
The Two Stroke is dead, long live the Two Stroke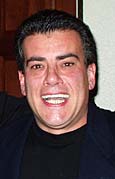 Recently I was sent an email with a link attached to it directing me to a new web site named Two Stroke Militia. My first thought was I'm not going to be interested in this site, as the word Militia alone for some reason turns me off. I was thinking I was about to view extreme stunt riders with their usual piercings, Satanic tattoos and down loaded copies from emergency room X-rays of compound fractures. Well, much to my surprise, I was wrong, and thankfully so.
What I discovered was a local vintage racer, had been fed up with the new 4 stroke movement, and decided to build a website for those who still enjoy 2-stroke bikes. This isn't that difficult to find in the vintage motocross scene, as we all know, the majority of vintage race bikes are powered by a 2-stroke engine. However, as a group of racers who grew up on two stroke bikes, and still enjoy that type of power and low maintenance but now require the "easy on the body" suspension of a new machine, it is a place to call home. For a small membership fee, you can join the Two Stroke Militia, your name goes on the website, you get a T-shirt, and become a part of a sub culture of racers who still hold the torch for the two stroke.
As I mentioned, the website isn't really about the vintage scene, it's more about the hype of the 4-stroke, and racers like myself who still enjoy riding a two stroke MX bike. What's my point? The best racers, pro level riders, who are at the pinnacle of their game, always did and still do, get the best equipment. If they win on it, it gets improved, they win more races, the factory begins producing them in quantity, and then they are purchased as fast as they are made by the local wanna-be motocross racer who still lives by the credo, "Nothing is older than last years race bike."
When Marty Smith dominated American 125cc motocross in 1974 75, every kid HAD to have a Honda CR. In 1976 77 78 and 79 when Hannah and Glover were the stars of 125cc motocross, Yamaha's were selling like hot cakes. After that, you had Mark Barnett and Suzuki, winning three 125 championships and we were tripping over RM's in the pits. This is a little different in the sense that the "big four" all rolled out 4 strokes at about the same time, however the cliché of "Win on Sunday sell on Monday" still applies.
If early next season, 2008, Ryan Villapoto or James Stewart dominated on say...a 2 cylinder motorcycle that weighed 198 pounds and the bike was available for 09, what do you think the next big thing would be?
32 years ago, some skeptics thought the single shock theory was a passing fancy, needless to say, they were very wrong. A lot of eyebrows were raised 25 years ago when Lackey showed up with his forks mounted "up side down". Preston Petty had a "no dive" front end attachment which prevented down hill fork collapse, Gary Jones rolled the dice with the Jones Safety Grip, basically, the same grips we use today, except it had a rather large testicular ball on the end of it to prevent your hand from slipping off the end of the grip. Mr. Jones and Mr. Petty, it's highly unlikely your life is so mundane that you are reading my column, but if you are, I commend you both on all the other accomplishments you have made in motocross. Some things stand the test of time and others just never make it. Either way, when they are first presented to us, the motocross public, we often peruse them with a Clint Eastwood squinted look of question.
Obviously the four-stroke engine isn't anything new. It's just been revamped and jammed down the throats of dirt bike society by big corporations who persuaded the AMA to make a rule change. Is a racer supposed to continue riding a 125 two stroke when in the same class 250 4 strokes are eligible? I don't believe any professional racer would. So, the AMA makes a rule that gives them no choice until they are all gone and that's the end of them. Gone is the 2-stroke on the professional racing level, but not from the hearts of everyone.
Me wearing a 2 stroke Militia T shirt will not bring 2 strokes back into the main stream, no more than me wearing a Bultaco, Montesa or Ossa T shirt will help res-erect these three dead Spaniards. However, it will be emblematic of a by gone era, a long era of 40 years when some of Japan and Europe's best made motocross bikes resonated with a bing-bing-bing and not a thump-thump-thump.
20 years from now you may see Ricky Carmichael walking through a California race paddock wearing a 4 stroke Militia T-shirt while some "tree hugger" who presently is about 6 years old, stands before the Anaheim crowd flapping his yap about how wonderful the advances of non-pollutant electric motors are. For us, the internal combustion two and four stroke enthusiast, it will be a sad day indeed.
Marty rode a Honda, everyone rode a Honda, Bob rode a mono shock, everybody rode a mono shock, Bubba and Ryan ride four strokes, everybody rides a four stroke. Win on Sunday, sell on Monday... for now.
Joe Abbate #43F
***