My First Vintage Restoration
by John Nicholas #12
I suppose everyone has a different reason for beginning a new sport or re-visiting an old one. In my eyes no other sport can ever replace the fun, excitement and camaraderie of racing motocross.
Unfortunately, the sands of time take their toll on us all and it's difficult to race motocross when you get older, have responsibilities and are no longer willing to take huge risks to have some fun. This is why Vintage Motocross appeals to so many folks. It is a chance to relive the past and enjoy the sport we participated in when we were younger.
In recent years, the sound of motocross has changed dramatically. The roar of four stroke machines now replaces the bark of the "old school" two-strokes. When most of the bikes were two-stroke machines you could hear the difference in riding style and in some cases you could tell the brand of bike just by the exhaust sound. With the four stokes, they tend to sound the same from brand to brand and from B-rider to pro. Vintage MX racing allows you to re-visit the sound, sights and smells of the past. Do you remember the days when the start of the 125 Class sounded like a swarm of bumblebees? The engine fin rattle of the open class Maico? You could actually hear all the bikes shut down for the first turn and then when they got back on the gas. Man do I miss that sound!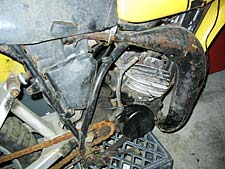 These reasons along with the chance to race in my own age group and to ride the B class, made the choice to restore a vintage MX bike an easy one. Okay so I made that decision more than three years ago and I have yet to actually race my vintage bike. What the heck happened? Well believe it or not for most of that time I was restoring the bike! Then there was that little incident that popped up when I completed the bike. We'll get back to that later.
I began my quest to build a vintage MX racer shortly after my wife and I had our first child. An amazing experience for anyone, but I was unprepared for the lack of sleep and the amount of attention a newborn requires in their first year. The trouble began when my daughter would wake up anytime I was making any noise in the garage. I learned to be a really quiet mechanic. The second hurdle that really slowed down the whole process was when my wife pointed out that with her staying home to care for our child and the additional expenses of our child, that my bike budget would be extremely limited. Only $20.00 per week! Of course during the restoration I found some extra money lying around here and there.
My friend Ken Napolitano was the first person to get me interested in Vintage MX. He would call and tell me about his fun vintage racing experiences. His constant phrase at the time was "This is the perfect way for you to race!" I attended quite a few ACR Vintage events and thoroughly enjoyed the experience. One of the real perks was that on occasion old time pros would attend and race these events and I had the pleasure of meeting and speaking to some of my childhood heroes. What could be any better than that?
The time came that I did want to join in on the fun and get a vintage racer. The piece of advise I received from more than one person was "buy a bike in running condition" which I promptly ignored. With the limited budget and a bit of hard headedness, I dove into something that I knew very little about. Believe me, it cost plenty to ignore that simple little bit of wisdom. They say that ignorance is bliss and a truer statement has never been told.
Since Ken and many of his friends were racing the same class, the bike I choose to restore reflected that. I have always been a 125cc guy. The bikes are light; fun to ride and you have to work really hard to make them go. The bike I choose was a Yamaha YZ125G. First because I really liked Yamaha's and second because no one was racing one at the time.
Back in the late 70's and early 80's Yamaha was my brand of choice. Of the first 10 bikes I owned, 6 of them were Yamaha's so it made sense to me to stay with that brand. Interestingly enough, I had never owned this model before starting the restoration.
At the beginning, I had more time to look on the Internet, so I searched out all the best restoration examples on the web. Of course, I loved the Vintage Iron, VMX, Cycle Therapy and the Greg Primm web sites. So the examples I choose to emulate were of the highest caliber and the finest quality.
Next, I kept reading that everyone was restoring or buying bikes that they had always wanted to have. When I thought about this, I decided what I really wanted was a Yamaha works bike of the late 1970's or early 1980's. With champagne tastes and a beer budget, I needed to concentrate on making my bike look like a works bike. Within my limited abilities and what was available to me, I feel I have come close.
The first Yamaha YZ125G that I found was sitting at a friend's house. He was nice enough to trade it for some DVD's I had made. It was in fair condition but was missing the front wheel and forks. I then spoke to Richard Fogel and told him I was interested in restoring this bike, he suggested that I talk to Brian Rivers. He told me that Brian was very familiar with this model and would point me in the right direction.
I spoke to Brian and he was super helpful. He told me about the weak spots of this particular model and made a fantastic offer. He had two YZ125G parts bikes and would include enough extra parts to make one complete race bike. All of this for only $1,000.00! But again I was hard headed and thought I'd be able to build my bike for less. Again, this was an extremely costly mistake on my part.
In the meantime, I was slowly collecting parts from E-bay, the swap meets and anywhere else I found them. Also around this time Ken called to tell me he found another YZ125G sitting under a tree at a friend's house. We went to the house and discovered that it was actually a 1980 YZ250G. Oh well. We left the bike there and a few days later, I was speaking to Brian and he offered a trade.
He had been looking for a YZ250G because the Great Super Hunky of Dirt Bike magazine fame had put it on his list of best bikes ever. I went back and picked up the YZ250 and Brian traded me for one of his YZ125 parts bikes. The YZ250 was in pretty bad condition, the wheels would not turn, and the kicker had a piece of re-bar welded on to it. The plastics were painted black; the seat was covered with fabric and was green with mold. To say it was in rough shape would be an understatement. I got the better end of this bargain if you ask me. Thank you Brian.
When I began the restoration I tried to use the best of all the parts I found. In the case of the frame one was badly rusted and one was bent. So I bought a couple from E-bay. The one that I used cost $70.00 plus shipping. It was in great shape with the exception that it had 3 coats of paint on it. Two coats of black and one of pink! Thus began my vintage restoration saga. One step forward and two or three steps back.
In retrospect it probably would have been easier to have one of the top vintage restorers build my bike. I have spent untold hours of labor on my machine and if you put a price on your own time, the cost of the bike would be triple. I spent a great deal of time cleaning, stripping, re-painting and re-assembling each sub-assembly. Each one having its own challenge and problems. Now I know every nut, bolt, washer, etc is just as it is supposed to be and as close to perfect as I could get it.
Yes I am a perfectionist and I just can't do something halfway. I am seeking therapy for this problem and with any luck should be cured in next 40 years!
I don't want to bore you with the step-by-step details of how I restored my entire bike here. I have a web site detailing all the steps in the restoration so if you are interested in all the gory details, please visit home.hvc.rr.com/projectyz to give you an idea of how crazy I was during this process; it would suffice to say that I polished each spoke separately by hand. This is probably a little overboard to say the least.
To give my YZ the Factory Works bike look, I stripped the paint off the cylinder, head, installed opaque number plates and gold rims. I installed 43mm forks from a 1982 YZ490, a longer swing-arm from a 1981 YZ125, foot-pegs from a late model YZ, throttle assembly from a 1992 YZ and a few other little tidbits. I cut off some metal from the frame, first the kickstand bracket (do you really need this on a racer?) and the bracket for the CDI that was mounted on the steering stem. I used the mounting bracket for the 1981 YZ125, which mounts the black box under the seat.
While rebuilding the motor I ended up using more and more NOS parts. It started innocently enough; I found a right side center case on E-bay for only $40. A Crank for $70. and then a Clutch cover for $25. During the rebuild we discovered the shift drum tabs were broken off left side center case. So I bought an NOS Center case from Speed & Sport Yamaha, which cost me $187. This kind of thing has a habit of getting out of control, fast.
The result of all this work and money is that I have a great bike. It looks just as I had hoped it would, very much like Yamaha Works bike. But now I had a bigger problem, it came out so good that I was afraid to get it dirty! So I let it sit in my garage for many months. Every-time I looked at the bike it seemed to be calling my name and saying please ride me. As it gathered more and more dust I just couldn't let it sit any longer. So I made the decision to race the bike. That is what I built the bike for.
What does the future hold for my YZ125G? First and foremost I will be racing it at many of the 2007 ACR vintage events. While tuning it to get ready for the first race of the year I found that I needed a new carburetor. So I installed it and now the bike runs great. When I get a bunch of money saved up I would like to get a Works Performance shock built for it and install a Race Tech fork kit. After that it is just maintaining the bike and keeping it running in tiptop shape.
A few people have written to tell me that my bike is not legal in AHRMA racing. I don't want to get into a political argument involving vintage racing, but there is a problem somewhere and my hope is that it does not hurt this wonderful sport. What I would like to see is events where you can run whatever bike you consider to be from the era you desire to race in and go out and have fun.
In my case the modifications that I made to my bike are not to gain an advantage. They have been done in the spirit of making my bike look like a factory racer. Believe me I know many folks who'll do anything to win including building their bikes to the limit of the rules and bending them whenever possible. But, to be honest, I just want to race against other bikes that are similar to mine and have fun. Besides, I don't need any more trophies in my house.
To quote Rodney King, "Why can't we all just get along?"
Let's all go to the races and check out at each other bikes, ride (okay race) around whatever track we have available and then bench race about what we just did. Life is short, let's not get mired in politics when all we want to do is race our vintage bikes.
I look forward to meeting you at the races. If you see my #12 YZ125G at the races please stop by and say hello.
***