2006 Going Forward But Still Looking Back
by Randy Smith
Wow, it's officially 2006. New Years Day was today. It was also my Dad's 70th Birthday. I know many of you have Parents much older than that or maybe have already lost your Parents, which is sad. I am lucky to have young Parents. My Dad is only 22 years older than me and that really hit home today as we were eating one of my Mom's delicious fried chicken dinners. I was joking around and said, "I will be age 70 in 22 more years". My Mom said something like "don't say that" and to be honest, after I said it, I thought Oh Crap, that's not that far away.
You see I restore and still race old Vintage MX Bikes from the 1970's. With that quick statement about being age 70 in 22 years was like a blunt stick poking me in the face. Heck the bikes I ride are 30+ years old now and I remember them being new just like it was yesterday and I very well might not be alive in another 30+ years. I am not being morbid, just a realist. I am an Insurance Agent in my day job and I know that the average death age is about age 75 give or take. Sure you can live longer but you can certainly live shorter too. Man that sucks!
New Years Day is the start of a new year and you are supposed to look forward at what things you will change, make better or never do again. Turn over a new leaf as some will say. I try to do that myself to some degree as I plan out the New Year but I can't help but look back at the same time. This evening was a prime example. After getting home from the Birthday dinner I gravitated out to the garage, my get away. I had been sick the last few days of 2005 so this was my first garage time in a few days and certainly my first in 2006. To start the year off properly I started a "new" project by prepping a "old" 1974 Hodaka Super Combat frame for sandblasting. This will be my first bike I will build in the New Year.
Not too long after I got started my oldest son Jason called. He's 20 now and has been living on his own for over a year. I had seen him at the Birthday dinner earlier today but he was calling me to say he had just finalized a deal on a little hot rod car he was buying. It is a heavily modified Pontiac Fiero that will do the quarter mile in 12 seconds at over 105 MPH. Cool, I like cars and going fast myself. Funny thing is Jason's first car was a Fiero and back then, when he was barely 16, we had looked at the same car he was now buying. He has owned several quick street cars over the last few years but he is starting out the New Year by looking back at a car from his past.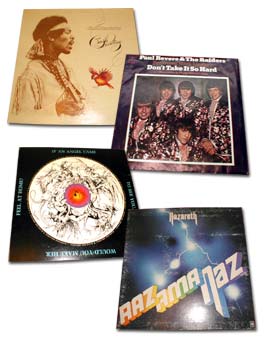 When I returned to the garage my other son Austin came out to hang out. Austin is 14 and has a knack for playing the guitar and listening to a lot of my old music, which is mostly on CD's now. Music has always been a big part of my life. I always have it on. In fact I have a Classic Rock station on right now as I write this story. All my CD's are out in my workshop and he will come out and pick out a few and take them back to the house for copying or listening. Tonight was a little different as he asked me about what all was in that wooden Budweiser crate of mine. Of course I had to show him and much to both of our pleasure, I pulled the lid off to expose my vinyl records of yesteryear. We first looked at some 45's and one that was my very first record I bought at Sears. It was Paul Revere and the Raiders. The LP's were next and there was my first big record I bought while in Junior High, Foghat. A few of the records I had replaced with CD's but most were albums I hadn't listened to in many years. I pulled them out one by one and told the stories about the bands and how, when and why I owned them.
I dusted off the turntable and gave them a spin, first playing select songs that you never hear on any radio show or greatest hits CD you can buy. We listened to Ted Nugent and the Amboy Dukes "Tooth Fang and Claw", then it was Jimi Hendrix "Crash Landing", then Jeff Beck, Nazareth and ZZ Top. As the records played and came to the end I had to show my son how to operate a turntable and how to flip the album over quickly to the other side. Funny how you don't forget how to do things like that album flip. I showed him how you had to drop the needle in the small gap between songs if you wanted to skip a song. Don't have to do that with a CD, that's for sure. As the records played I was pounding out steering head bearing races and touching up some welds on the Hodaka frame. The night went quick and soon Austin was off to bed.
As I cleaned up the shop and put away the records, I glanced at the backs of the album covers we had been listening to all night. It made me smile when I saw nearly every album was pre 1974. If you remember the Hodaka I was working on was a 1974 too so the music was timely. So here it is the first day of 2006 and as I look forward to Jason's new hot rod we pickup tomorrow and the Super Combat that will get painted this week I can't help but enjoy looking back at what a day it has been. Full of new and certainly full of old. You can't live in the past but it sure is fun to be going forward into a New Year with a ample dose of good thoughts and tunes from the days when we were all younger. I can't help but think I will also look back on days like today with fond memories. You have to look forward and plan ahead; just don't forget to look back whenever you can. You can't beat the view.
***