Rick Doughty's Top Ten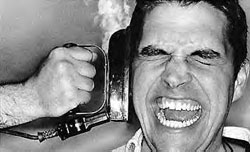 For those of you that don't know me, for the past 16 years I have been (for better or worse) the owner /floor sweeper of Vintage Iron, a company that sells parts, apparel and accessories to the vintage motocross market. In that time we have restored a more than a few hundred bikes of virtually every brand from AJS to Zundapp. I admittedly don't know everything about any one brand but I do know enough to be dangerous about most brands when it comes to motocrossers. It is fair to say that I eat, sleep and breathe the vintage motorcycle life and I have the lack of bank account to prove it! Like most small business owners I have the extreme luxury of only working on days that end in "Y" and I only work half days. Heck, I even get to pick which twelve hours!
I am also a closet magazine guy that helped start VMX magazine many moons ago and have written for most of the major dirt bike publications at one time or another, so when Mr. McCook had a spot to fill on his site I thought it would be fun to jump in and do something a little different.
My column is titled Top Ten because it will consist of the Top Ten relevant, non-relevant and humorous questions I get a daily via the phone, e-mail and at the races. Some will have to do with bikes, some will have to do with the sport and some will just make you scratch your head.
Think of it as part reality TV and part nightmare you can't wake up from.
---
If you would like to like to get into the act you can e-mail your questions to . Please make sure to note whether or not you want your name withheld should your question make the final cut. On that note, Let's dive in!
---
1.) What is the best vintage bike to buy? Barry- Perris, CA.
Rick: This is a broad question because it spans the gambit from investment to competition to sentimentality. The short answer is buy the bike you most want to own because in the long run you will be happier with you purchase for a longer period of time. There is nothing that can end the "honeymoon mood" of owning and racing vintage bikes than owning something that does not enthuse you. Without enthusiasm that comes from that connection you get with a favorite bike, you will soon tire of the maintenance, the headaches and the inevitable failures that are a part of the "old bike" experience.
The "IT" bike is different for many people so don't base your decision on fads and trends. Buy what you really like and enjoy it!
2.) What is my bike worth? Stan- Toledo, OH.
Rick: I get this question no less than ten times a day and my canned response is "I can't tell over the phone. General condition, originality, level of restoration, amount of new parts and rarity all play a roll in establishing price. So does the region of the country (or world) you live in. A 490 Maico is going to have a bigger market in California than North Dakota and therefore a better chance to command a higher selling price. Bikes that desirable because of their performance, rarity or broad appeal will also bring a better buck. Just because a bike is old or for that matter rare does not guarantee it is worth a significant amount of money. Most people would take a used '74 Elsinore over a pristine Hodaka Road Toad, any day.
At Vintage Iron, we provide free appraisals with a photo of each side of the bike and a brief description of the condition and/or restoration.
3.) Why are vintage parts so gall-damn expensive? Rudy- NW Arkansas
Rick: Because my wife likes to buy shoes. Next.
4.) Do these leathers make my butt look fat? Christopher- San Francisco, CA.
(I got this question via e-mail and it was accompanied with a photo that caused me to spew coffee on my computer monitor one Monday morning.)
Rick: Gee Chris, I didn't know that chaps were big in vintage motocross but what the hell do I know. I might suggest wearing some pants or at least underwear for the muddy events. Ewwww.
5.) I have a quick question. Somewhere, I ran upon a link for a company the re-furbishes plastic parts. I've since lost the bookmark. Do you know of such a company or someone who provides this service? If so, I greatly appreciate knowing where to go. Thanks for your help and wisdom. Al- Memphis, TN.
Rick: I am not aware of a company that will do plastic refinishing on dirt bike body parts. While there well may be someone out there in the land of poorly thought out business plans, I just haven' t run across them. Street bike plastic is a different story as it is made out of ABS plastic, is easier to repair, takes paint well and it very pricey if replaced at the dealer.
The problem with refurbing old dirt bike parts is that the time and effort required would not be worth what the customer is willing to pay. For example, when we are building a bike for the Primm MX Collection in Las Vegas, we sometimes have to refurbish an original plastic part like a fender because no one has reproduced a good replacement. When you factor in the labor time it takes to fill and blend all the scrapes and scratch, cracks and crevices, then paint a component that was never meant to be painted in the first place, in a state where the EPA is more like the KGB, you end up with a $300.00 front fender. When you are building a museum quality bike that might be acceptable but unfortunately for someone trying to make a business out of refurbishing old dirt bike fenders, there just isn't enough people building dirt bike museums these days.
Here is a solution for you. Send us all the parts you want to refurbish. We will promptly throw them in the dumpster and box up some great looking replica plastic for a fraction of the cost and you will think we are Gods!
6.) The shift lever on my AJS 250 is on the right side, one up and three down. Occasionally, during dicey racing moments, my MX brain goes Japanese and I'll shift into second instead of fourth. This puts serious stress on my goggle strap. How can I make it shift the normal way? Name withheld
Rick: Sometimes in life the solutions are staring us in the face and we don't even see them. This is one such case. Simply learn to ride your bike sitting backwards then the shifter will be on the left and it will have the correct pattern. Of course you will have to turn the shifter around and install a Visor Vu on your helmet but those are minor issues. If that doesn't work out for you, remove the handlebars from the Ajay and slide a Japanese bike under them.
7.) How can I get my '74 Yamaha MX drum-brake to stop like my disc-brake on my 2005 YZ? By the time I remember which bike I'm on, I've missed my braking point by a mile and I end up in the snow fence. Paul- Palm Springs, CA.
Rick: One sure fire way to get your bike to stop faster is to ride slower.
Brakes make a bigger difference in the overall performance and lap times than horsepower does. Most people think just the opposite. They also think that if there is any hint of brake shoe material left when they pull the wheels apart the shoes don't need to be replaced. Ah not so fast grasshopper.
Brake materials have gotten more than a little bit better in the past 30 years and drum braking is a full contact sport. If you don't have 100% of the shoes material contacting the brake drum lining you are not going to get the full braking potential. If you can see spots on the shoes than are not showing any wear you are going to have to take some sand paper or emery cloth and start taking off the high spots until you get full contact. It is a slow and boring project but the difference in stopping power is dramatic. Think of it as porting for your brakes.
It is also a good idea to remove the wheels and clean the drums after every washing so you don't end up with rusty drums.
8.) I still have all my original riding gear but the only thing that still fits is my helmet and I have been told I can't use it. I like to dress the part when racing my old sled. Bob- Yuma, AZ.
Rick: Even if the club you race with does not have a rule about the age of your helmet like AHRMA does, you shouldn't use a vintage helmet for anything other than decoration. The foam, Styrofoam and the fiberglass do not age well and therefore do not offer the same protection they did when they were new. Plus helmets technology like everything else has gotten better in the last 30 years so do yourself a favor and get a new skid lid, even if it is an open face helmet.
As for the rest of your gear, you are in luck because companies like ours and Metro make replica jerseys, pants, boots and gloves with modern materials and in big boy (I mean, real man) sizes.
9.) Is it safe to buy a bike off eBay? Phil- Tulsa OK.
Rick: The first thing you need to keep in mind is that most things look better in photos than they do in person (Playboy has made millions from this very fact), so whatever you see on eBay may not be as bitchin' in person. The best thing is to study the photos very closely and ask all the right questions about the condition. Some sellers think a rebuilt/restored engine is a new set of rings and a quick rattle can paint job. Ask them to list out what work has been done and if they have the receipts.
It is also good to have someone that is an expert on the particular brand and model look the bike over. Lastly remember to factor in the shipping cost in you overall cost. With gas prices threw the roof trucking stuff from coast to coast can be pricey.
10.) I have always wonder what the initials on the Japanese vintage motocross bikes mean? Tom- Albany NY.
Rick: Honda's CR stands for Cross (as in motocross). Kawasaki's KX stands for Kawasaki Cross (X is often used to symbolize the word Cross). Yamaha's YZ started off as A-Z because that was what Don Jones nicknamed the prototype due to it being made up of everything from A to Z. The factory changed it for production to YZ. Suzuki's TM started with the '71 400 Cyclone and if you ever rode one you knew instantly, that TM stood for Terribly Mean (but not in a good way).
And now you know the rest of the story…
***