Northwest Artist takes on VMX race promotion for proposed Pacific Northwest Region!!
by MR's roving reporter Stu Osborn
The American Historic Motorcycle Association (AHRMA) board of directors has passed a resolution favorably viewing the creation of an off-road region for the Pacific Northwest and will meet with the principals for an update at the upcoming Chehalis board meeting in August. If approved, the Northwest Region, which had included the state of California, would likely be split into two separate regions for the 2006 Vintage Motocross racing season. The new AHRMA "Pacific Northwest" Region for Vintage and Post-Vintage motorcycles would likely include only the states of Washington, Oregon and Idaho and would be headed up by long-time AHRMA member Dirk Williams coordinating Vintage MX classes, and Siege (a.k.a. "CJ", Christopher James) coordinating the Post-Vintage (Evolution) racing.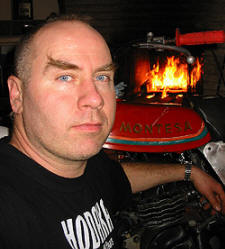 Siege
"Neither Dirk or I want to be the 'Big Man on Campus' or anything like that", says Siege. "We're just trying to get the races happening and go out and have some fun. That's what itıs all about."
The split makes a lot of sense for racers based in the northwest because of the long distance to travel to the closest AHRMA point series race in California. Williams asked Siege on board because of his established "track record", so to speak. Siege has for three years helped organize the "Hammer & Tongs" Vintage MX and Evolution MX series in Alderdale, Port Angeles and Eddieville (Goldendale), Washington seeing it grow from one event to three separate dates over that span of time. "Hammer & Tongs" will be held this season on May 29th, July 24th and August 28th and offers classes for both Novice and Intermediate skill levels including '100' to 'Open' classes and all age groups, and now attracts up to 300 entrants per race. Before "Hammer & Tongs", AHRMA Coordinators had resisted attempts to get races on real tracks (as opposed to grass tracks) in the Pacific Northwest but now AHRMA has asked that Post-Vintage Classes be included at the "Hammer & Tongs" series, which will grow to include a race at Washougal.
Siege is a Professional Artist
and Musician
So what is Siege all about? Who is this guy who obviously loves motorcycles and vintage racing? Where does he come from and what does he do? Siege was born and raised on Bainbridge Island, Washington and attended Lakeside High School, the same school that both Bill Gates (Microsoft) and Steve Jobs (Apple Computer) attended. His mother was a librarian and a professional storyteller originally from Canada and his father was an attorney, originally from Texas.
He is a self-employed artist now living in north Seattle, a bass player in a power trio and has been recording since '84 with his Seattle-based band, Nobody Home. He graduated in 1985 from Evergreen State College in Olympia with a degree in Film Production. Then six years later he graduated again, this time from Cornish College of the Arts with a degree in Fine Art. "I race motorcycles to blow off steam", Siege says. "My REAL work is painting and writing/recording music. If I'm not working, I'm roaring around Seattle with my girlfriend Marla Beth on an old Suzuki 1000, ordering sushi or taunting frat-boy posers on Gixers."
Profoundly unique artwork
Siege has an interesting, novel approach to his artwork. "People ask you what is your work about and I always say 'Rock & Roll Horsepower' and 'Coffee'! Art is a byproduct of a process", says Siege. "You can't be careful when you paint. You canıt worry about the finished product. You have to be reckless. Itıs as though someone else is doing the art. You're just hanging out in the studio drinking coffee and singing unselfconsciously."
He takes that philosophy and applies it to designing VMX T-shirts with gutsy-looking screen prints promoting Vintage Racing and events such as the "Hodaka Days" reunion coming up in Athena, Oregon on June 24th. Siege also designs and produces the T-shirts given as trophies to the class winners at "Hammer & Tongs" and maintains an Art/Music and VDR web site: http://www.siegecraftnw.com which gets about 800 hits per day from art, music and VMX enthusiasts.
Relaxing with some close friends
"Motorcycles aren't my life", Siege says. "Ninety-one percent of my time I spend on my art and playing music." Not too long after graduation from Evergreen, Siege bought an RD350 and eventually took up road racing for about 7 years with his brother, mostly on a trick RD400 and got hooked on motorcycle racing. "I seized a few engines and learned the hard way, but mainly had a blast."
Siege owns about 20 motorcycles. His first bike was a 1971 Honda SL100 that he bought, used in 1983. His first VDR race was at Woodland, Washington in late 1995 on a 1974 Kawasaki KS125, which was given to him by a complete stranger. "I was out driving one day and saw this bike shape under a tarp leaning up against a house so I stopped and the guy came out and he just gave it to me."
Yamaha 400 Street Ripper
Siege won his second motocross race the same day, beating two other racers on his so-called "Ten Dollar Special", a 1980 Yamaha IT125 sporting a '74 DT175 engine. "I saw this bike with no motor one day in a field near 145th and Aurora with grass growing up through the frame. It had been painted white by a nitwit with a spray can. The guy came out and said, 'Hey - make me an offer!' and I said, 'OK, five dollars!!' to which he said, 'Make it ten!!!' and I said, 'Does it have a title?' He said 'yeah' so I bought it. I put the DT motor in, strapped on the tank and seat with bungee cords and took it out racing."
His 4-wheeled vehicle of choice is a 1978 Ford E100 Van called Awesome, with a 351 Windsor V-8 that he drives to the races hauling his no nonsense-looking Yamaha YZ465 and his recently rebuilt 1975 vintage Montesa V-75 250 loaded in the back.
"There is nothing special about me.", says Siege. "I just believe in myself enough to be crazy. Then I just say to myself, 'Cool'."
For the Official AHRMA minutes of the meeting regarding this proposed Regional change, visit www.ahrma.org
***
Stu Osborn is a feature writer for MR and future AHRMA 100cc VMX racer.