My first race in more than 28 years
by Stu Osborn #657
Siege and I head down Aurora Avenue on Friday night with our three bikes loaded in my recently procured Paros trailer, purchased only two days before, hooked up behind my '82 Ford Econoline van with its trailer wiring repaired only the day before. We stop in to see Tom McAllister and CJ Hoover at the bike shop on Highway 99 to get some goggles and race numbers for me on our way to pick up Siege's girlfriend Marla Beth in downtown Seattle. After weaving through busy downtown streets in the long rig during rush hour dodging traffic and concrete Monorail support pillars, we spot her waiting on the corner, slam on the brakes, over-shoot her and block traffic just long enough to let her pile in.
On to Woodland, Washington some 150 miles to the south of Seattle using I-5, we arrive well past dark and find a great spot just opposite Woodland MX track's 20-foot tunnel jump. We fan out talking to the numerous racers who are drinking their libations around the 20 or so RVs that are already parked among the trees. I finally meet Lyndell Raphael and peek at his tricked out late Super Rat and also meet Roger Landberg, who rides a Bultaco Pursang. After ogling the only "dual-mono shock" 400 Maico that I'd ever seen and visiting with the racers until 11:30PM, following a pre-race meal of chicken "Cup-O-Noodles" with Siege and Marla, they stumble off to sleep in a friend's RV leaving me to crash in my van at 12:30 AM.
The following morning at 7:00 we offer a cup of instant coffee to fellow racer Tom Green and I don my Hodaka "Wombat Team" racing jersey, and with Siege and Marla we all walk the track. It's got everything and is in absolutely perfect shape just after a moderate rain the day before. It has that tall tunnel jump with a hairpin corner at the bottom followed by another 180-degree hairpin, a long straight and a sweeping right and a couple of jumps on the backstretch, some up hills and a few hairpins later, a table top set of deep carousel corners, first to the right and then to the left, straight into a woods section with more hairpins, a downhill drop-off jump, a sweeping right, an uphill jump into a muddy straight with a hard left coming back to the peaky tunnel jump. It's a great track and it's fairly hard and mostly dry.
Siege enters two classes, the 250 Evo Expert on his Montesa and the 40+ Evo Expert on his hybrid CZ with Maico forks and a BSA tank. Siege says to me, "You need track time" so I also enter two classes, the 125 Evo Amateur and the 50+ Evo Amateur on my 1980 Yamaha IT 125 Enduro. My first 125 Evo moto, funny thing… no butterflies in the stomach at the start line at all but I forget to put my goggles down and everyone tears off without me. So I start and after the table-top I pull off the track and put my goggles down, start it up again and continue racing, feeling out the track and trying to rediscover my racing skills, long since forgotten but hey… things are coming back to me, like staying on the pegs in the washboards and using body english around the sweepers as well as gripping the tank with my knees in the carousels. I finish 7th in my first 125 Evo moto, the first motocross racing for me since 1977.
My next race, the first moto of the 50+ class, you bet I put my goggles down early and get a pretty fair start this time in the middle of the pack and with a bit more confidence I am surprised at just how much the adrenaline pumping into my arteries is helping my stamina three laps into the race. A four-stoke Honda passes me in the woods and so I wick it a bit more and pass him right back in the next sweeper. He never gets by me again and I finish 3rd in my class in that moto. Hey – this is getting FUN!!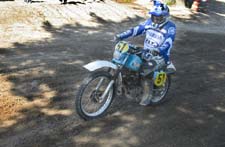 My third moto of the day is the second race in the 125 Evo and I think I'll try a little experiment since I'm there to learn and have some fun. I decide to start the race in second gear. Bad decision. Almost kill the bike at the start and get a bad, bad (by this time), dusty start near the rear of the pack. So I think to myself, "Let 'em go and have a little fun." So I do and actually learn a lot about the track and the bike in that race. It is drying out but traction is still good, the Yamaha is running flawlessly and I'm surprised at how fast it is so I push myself a bit harder and begin to tire out. Huffing and puffing, the last lap is just about too much for me to handle because at one point after a power slide and a near endo on a jump, I decide to stop my silly "riding on the edge" antics and finish the moto in 8th place, with the rubber side down.
So comes my final moto of the day, the second 50+ Evo race and it is time to get a little serious. I know number 41 and number 454 have beaten me in the first moto so after a good, front of the pack start in FIRST gear this time AND with the goggles DOWN, I find myself feeling good and still taking a few chances but riding OK, I think. After a lap, I come up behind a 250 Honda Elsinore and there he is… number 454! He is riding well and so I follow him for a lap studying his line and notice he takes the sweepers fairly wide. I'm hot on his tail and we're dicing but there are only two or three places to pass on the whole track and his 250 always has the power to shut the door on me. The white flag lap is coming up and I can't pass so I think, "Let's have a little fun over the tunnel jump this time". I take it about 5 MPH faster that I have before and launch into the air landing well down the hill just in time for the hairpin with the Elsinore a few bike lengths in front of me. Cool… White flag. One more try at him but he is just a bit faster than me in the straights. I catch him in the woods and come up behind him in the hairpins but he pulls me in the straights. Here comes the tunnel jump one last time, my last jump of the day and so I think, let's HOT DOG!! It's time! Launch high in the air again but this time with body english and a "Roger DeCoster cross-up" in mid air!! But hey… TOO MUCH SPEED and I over-shoot the hairpin finding myself in the soft berm stuff and in the wrong gear. BOG! [shift] BOG [shift] but then my rear wheel spins once again and throws a long roost. Two hairpins later, I finish 2nd place in the moto and my day is done for a second place overall in the 50+ Evo Amateur class. Wow!!
Most of the PABATCO clan including Marv Foster, Jim Gentry and Chuck Swanson were there enjoying the races and I believe Thal announced at the riders' meeting that for next year, the 100cc Class would grow into all three skill levels for the entire Woodland point series. Great move. Paul Stannard and Harry Taylor were there but Paul was bitten by mechanical failure. He broke a ring on his Hodaka 100 for a DNF in moto 1 and then rode Harry's bike to get a 5th in moto 2. Since Harry let Paul ride his bike, he logged a DNS in moto 2 but got a 2nd place in moto 1 in the 60+ Vintage Expert Class. My buddy Siege got a 5th in the 40+ Vintage Expert with a 4th and a 5th in his motos but after grabbing a 3rd in moto 1 of the 250 Evo Expert class, his Montesa's petcock clogged and it starved for fuel and so he DNF'ed. Thal Anderson had already wrapped up the 100cc Class point series championship and so his disappointing DNS and 5th on the day didn't hurt anything except his pride. Lyndell Rafael's second ride in the 100cc Class was a thing of beauty holding off several challengers the entire race, including a stiff challenge from moto 1 winner Nick Chapman to grab FIRST on the day. Lyndell also won a 2nd overall in the 250 Evo Expert for the entire Woodland points series on his Husky and FIRST overall in the 40+ Evo Intermediate class points series to go along with it. Lyndell also got a 3rd place on the day on his big Maico in the Unlimited Evo Intermediate class so he was a busy racer on Saturday. But the smile on his redheaded grandson's face was what he cherished the most. That was obvious. A great day of racing and a Woodland 2005 VDR finale to remember, especially for me. Even though I'm stiff and sore from neck to ankles, I just can't believe my unbelievable LUCK! I'm hooked on motocross once again…
***
Stu Osborn is McCookRacing.com's roving reporter and he's Back in the saddle!