Stu Osborn
Remembering Jimmy Pomeroy,
the 1st American
by Stu Osborn #657
When was it, when did it all happen… when did I first see Jim Pomeroy? As I think back now, it took me too long to get to know Jim but I saw him before a lot of my friends even knew who he was. My dad Hal knew his dad Don in the early days of Sunnygrand Speedway in Sunnyside, Washington where Jimmy got his start flat-track racing. As a young off-road racer in eastern Washington in the mid-60's, my dad and I used to travel around and dad would let me race that new motocross thing which became much different than when it was called rough scrambles. The European influence had taken hold and the tracks were changing. Once at

Jim Pomeroy, Mabton MX 1969
Mabton I saw him ride. Here was this guy in a purple helmet with black swirls on it only a little older than me in short sleeves and jeans doing things with a Yamaha MX250 that were unreal. No one on the track that day could jump that far or ride that fast. I raced the 100s and practiced every day to become a middle-of-the-pack racer back then but this guy was the class of the 250 class in his spare time taking a stock bike from his dad Don Pomeroy's Yamaha shop showroom floor, going out and blowing everyone away. I knew his name as the Pomeroy kid because we were kind of in the same racing scene, the eastern Washington hare scrambles, cross country and the new motocross events which included Kiona, Benton City, Mabton, Zillah and as far north as Moses Lake and as far west as Yakima where we went racing and people talked racing. It seemed as if no one in the area could beat this guy and little did I know at the time but Jimmy Pomeroy would make us all thrilled to be Americans one day in Spain in 1973.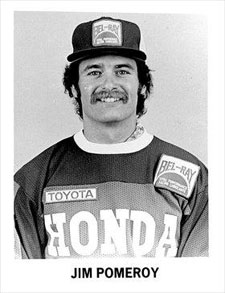 Jim Pomeroy portrait circa 1975 (?)
We lost one of our own at 10:46 AM, August 6th when Jim Pomeroy lost his life on a Sunday drive near Yakima when the jeep he was driving left the road, struck a telephone pole guy wire and turned over on the way to the Yakima Jeep Bowl with Jim and his 9-year old daughter Jamie Lee inside. God allowed Jamie to be spared to live out the rest of her life but sometimes the Lord wants the best for Himself. A shudder and a wave of disbelief and despair came rippling through the throngs of motorcycle enthusiasts who knew Jim or knew of him and we'll never be the same again because Jim touched so many lives with his joyful, infectious, exuberant personality. Jimmy's racing exploits meant so much to us prideful Americans but it is the man who remains with us all today… forever in our hearts. He always had time to talk to you, never presumptuous or vain, Jimmy was always ready to share a good laugh and reminisce about the old times. Jimmy will never be gone away from those who remember his infectious laugh, his competitive nature, his gentle spirit and his down-to-earth friendliness.
Jim Pomeroy was the first American to win a FIM World Championship motocross event, the first American motocross racer to take the points lead in the World Championship series, the first American to win a moto at a U.S. 500cc Grand Prix race, the first American to lead the Trans-AMA Championship, the first rider ever to win a World Motocross Grand Prix on a Spanish bike, the first rider ever to be the winner of an indoor Supercross race, the first rider ever to win his debut World GP MX race and the first non-world champion to win a Trophies des Nations motocross event. No wonder Jim signed every autograph, "Jim Pomeroy the 1st". Jimmy certainly deserved that recognition.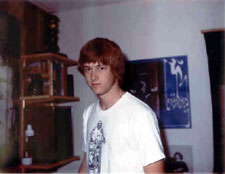 The author Stu Osborn, circa 1972
As I made attempts at last year's vintage motocross races to talk to Jim and get to know him, he started acting like a cousin or a big brother to me, not at all like a stranger. As I got more and more courage to approach him this year, I just couldn't ever pass up the opportunity to talk to Jim at all the vintage motocross races in the Pacific Northwest we both loved to twist wicks at. Jim was my hero and even though he probably didn't know me personally, I felt inside that he considered me one of his AHRMA racing buddies. So I was and am proud to say I knew Jimmy and that we grew up in the same home state. As a fellow American and motocross racer who dreamed of us beating the Europeans in the 60's, I'm proud of Jim's racing accomplishments of course but even prouder to know him after finding out first-hand just the kind of man Jim Pomeroy was.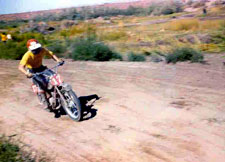 The author racing the Mabton MX in 1973
A close family friend of the Pomeroys when Jimmy was growing up was Bob Hazzard, who agreed to be interviewed by McCookRacing at the funeral in Yakima.
MR: "How long did you know Jimmy, Mr. Hazzard?"
Bob: "Well I've known Jimmy ever since he was a baby. I was a very good friend of his father and mother, Lorraine and Don, known them for years. Don and I went to school together. I was the starting flagman for all of the motorcycle races in the Sunnyside area when Don had the track. Course saw Jimmy come up through the ranks, Evel Knievel, the whole works. I expect Bob Knievel to be here today."
MR: "My dad actually worked as a race official at some of the early races at Sunnygrand Speedway when Evel was racing there. His name is Hal Osborn."
Bob: "Oh sure, I know Hal."
MR: "He tells a story one time where he caught Evel doing some pit-racing and so he disqualified him but the promoter said, 'Oh No!! You can't disqualify him! He's our draw!!' So they let him get away with it."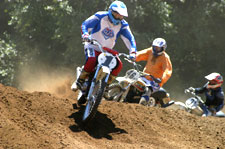 Jim Pomeroy racing at Burnt Ridge,
near Onalaska, Washington on July 23,
2 weeks before the accident that
took his life
MR: "So you really were close to the Pomeroy family back then?"
Bob: "I come right from the start. Don and I… I worked for Don a long time. Matter of fact I worked at his shop as a mechanic for him. Bob was a salesman at that time selling insurance too and of course Jimmy was just a baby. He was just learning how to ride at that time."
MR: "Baby… so that sounds like he was around 11 or 12?"
Bob: "Yeah, he had a little area in his back yard oh I'd say about straight across here to that hedge. (about 50 yards away) It was just an open field in there with a lot of junk and they made a few jumps and that's how he kinda learned, that little area."
MR: "What sort of bikes did Jimmy ride back then?"
Bob: "Mostly all 2-strokes because Don was a Cotton man. See his dad, he had a Cotton to start with. Jim had a little Yamaha 80."
MR: "Did Jimmy ever come to you for riding advice?"
Bob: "Well no, not that, but mechanical advice. Jimmy didn't appear he was going to be that great until he got to be, oh I'd say probably… It was after he got out of high school. He rode in a few young kid races we had at Sunnygrand. He did ride a few of them and I don't remember (many good finishes) … mediocre. He did well at one and he didn't do too well at the next one. I always felt like he was a little too backward to be a good racer. But boy when he come to life, he come to life!"

Jim Pomeroy starting the Dale Walter
benefit race at Burnt Ridge, near
Onalaska, Washington on July 23
MR: "I do remember seeing him at Mabton in 1969 or '70. He took a stock 250 and blew away everyone in the 250 class. Jim was my age so he must've been around 16 or 17 then."
Bob: "That's just about the time he took off, probably wearing his dad's old helmet."
MR: "I met him for the first time at Hodaka Days 2003 and he signed a Polaroid picture I took of him at that race."
Bob: "I'll be darned. Quite a youngster. Jimmy was a very, very likeable person, all the way through his life. I don't believe I ever saw him unhappy, never. Never at all that I can recall, even when he was younger. He was just a happy man."
MR: "In Jim's obituary I saw in the Yakima Herald they wrote, 'When Jimmy entered the room, you knew he was there.' And that was certainly true at the vintage motocross races I had been going to lately. He came on the scene and everybody looked up."
Bob: "For 20 years after I knew him in Yakima, I kind of lost contact with Jimmy's racing. We went to a couple of his races with him and (his brother) Tuffy (Ron). But even Don didn't follow him too well at the latter part because he was pretty ill. He went in a wheelchair once. And he became religious."
MR: "Interesting that you bring religion up. I talked to Jimmy about his dad's illness near the end and he told me that. And I believe Jimmy himself found religion which gives me a sense of peace now. Knowing that Jim had made his peace with God makes me feel good."
Bob: "Yeah. Yeah Jimmy kind of picked up on it."

The author Stu Osborn and Jim Pomeroy sharing a laugh, talking about Sunnygrand Speedway at Hodaka Days 2006 at Mid-Ohio June 25, 6 weeks before the accident
Jim Pomeroy was certainly a hero to many but just a regular guy to everyone he met, so approachable and genuinely nice. Jim made you feel important and never ignored a "hello". I consider myself very lucky to have known him and had opportunities to be with him and talk with him many times since Hodaka Days 2003. Oh we're so happy, Jimmy to have known you. What a hero you were to us not only for your racing skills but for your zest for life and the happiness and joy you spread among everyone you touched. We're missing a part of us now... Jimmy, it won't be the same down here without you.
http://www.jimpomeroymx.com/About_Jim.htm
---