Vintage Enthusiast Teardown Disease:
Or, How Not To Manage Your Vintage Program
by Terry Frazier #71E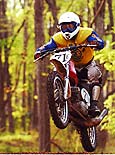 When I got into vintage racing a few years ago I sat around with my buddy and worked out in my head what I thought was the perfect VMX setup. I wanted both a 500 and a 250 to ride in AHRMA's Sportsman (7"/4" or '74) class, and I wanted a pair of longer travel bikes to ride in AHRMA's Historic ('75-77) class. I just knew if I could ever manage to put together a quartet of clean, smooth running bikes like that I'd be happy.
I started off buying a 380 CZ that was setup with a Honda front-end for the Historic/GP-I class. It was a lot of fun to ride and I took some wood at Diamond Don's the first year I raced there. I was happy. But I also got to watching the trials bikes at DD's that year and I thought, "Man, that looks like fun. I should try that."
After returning home I went to service the 380 and realized there was a *lot* of water in the tranny, and the oil smelled really bad. Worse, there were big chunks of metal sitting in the bottom of my oil drain pan. I had missed a few shifts at DD's, and I did notice the bike was not staying cleanly in gear. So I figured it was time to pull the motor out and have a look. Over a few days time I got the motor disassembled and, sure enough, there was a lot of missing metal on the gears. I carefully cleaned everything up, packed it away, and made my parts list for Bertus Jawa-CZ.
About this time a fellow near me put a CZ514 up for sale. The 514 is a throwback – a 1970s bike CZ tried to sell in the 1990s. That strategy didn't work so good. But according to AHRMA rules the bike can run against the '79-'81 twin shock bikes and, with a good rider onboard, it can make a respectable showing. I immediately recognized an opportunity. This bike did not fit my plan, that is it didn't fit in either of my planned race classes. But it did mean I could refit my existing 380 to run as a Sportsman bike, which wouldn't be that much extra work since I had it all apart anyway, and that would get me a bike to ride in two classes. Of course, the 514 needed a bit of work. On my final test ride it lost all spark and died. We could not restart it. But that was minor. And besides replacing a few odds-and-ends it was a good, clean bike. And it *was* running when I got there.
Now I owned two bikes that were not in running condition. But as luck would have it someone soon came 'a-callin' with a nice, clean Yamaha TY250 that was just "too good to pass up." Being the ever-astute vintage enthusiast I immediately recognized this golden opportunity. The TY didn't fit my plan either, but it *was* really clean and looked good and well, I did think trials riding would be fun after all. It had a little oil leak from under the motor somewhere and there was a lot of crap in the gas tank, but otherwise she was a beauty. And it ran. At least it did when I bought it.
I rode the TY around a bit, let my kids ride it a little, let a couple of friends ride it. It was a nice little bike. But the oil leak got worse. And the gas tank junk started clogging the petcock, which started leaking, and it began fouling plugs and making puddles of oil on the garage floor. Time to fix that danged gas leak and get the motor out to see where all that oil is coming from.
It doesn't seem like much but I am now the owner of three vintage bikes, none of which run.
It wasn't long before someone told me about an eBay listing for a little Suzuki TM100 not too far from my house. I had never considered riding a 100, I never owned a TM, and I didn't really know anything about the bikes. But I sent out a couple of e-mails, joined a Yahoo! Group on TMs, and decided it was worth looking into. I went to look at the bike, the price was right, and it ran pretty good. Once again, relying on my killer business acumen and strong sense of priority, I made a business decision and bought the bike. Of course it didn't fit my program - it was completely outside my program. In fact, AHRMA didn't even have a 100 class in which I could race the danged thing! But I bought it.
Upon getting it home I checked it over. It needed a few things – like a motor inspection, two new wheels, a thorough carb job, cables, controls, bars, etc. Typical stuff. I roll it into the garage with all the other bikes and start stripping it down so I can clean off 20 years of grunge and get a good look at what I have.
Then it hit me. I finally have my quartet of bikes - four vintage bikes in four different classes. But not a one of them is in running condition. And only one fits anywhere close to my racing plan. My initial goal was to own a quartet of specific bikes that I could race. I had a plan, and along my journey I have picked up spare engines, frames, and hubs. I have picked up exhaust header pipes and seat bases and all manner of little bits and pieces to complete my plan. Except I didn't own any of the bikes(save for my very first purchase) needed to complete the plan. No sir. I owned bikes that were all over the map. And none of them ran.
A pattern was becoming clear. I was afflicted with vintage teardown disease.
This is tough to admit. I thought I was a racer or, at the very least, a rider. I thought I was a decent mechanic or, at the very least, capable of doing my own service. But I'm not any of those things. I have teardown disease. The proof is right there in front of me and it's high time I stood up like a man and admitted my failings.
"Hi. My name is Terry Frazier and I have vintage teardown disease. I have four piles of parts created from four previously running motorcycles. I haven't been in a vintage race since Spring 2006. I have only thrown a leg over a dirt bike for a total of 5 laps in the last two years. I have fallen and I can't get up."
I cannot be alone. Surely I am not the only victim of this scourge. There must be others like me, others who suffer at the hands of this dread affliction. We must not suffer in silence! We need no longer be ashamed. We need not hide away behind our flimsy Office Depot computer desks, whiling away the hours dreaming of what could have been. Stand up, I say. Stand up and be counted. There is strength in numbers and we deserve the life of vintage freedom that comes from conquering this evil condition.
I announce today the formation of the Vintage Enthusiast Teardown Prevention and Recovery Organization (VET-PRO). VET-PRO will fight for vintage teardown victims, conduct critical research on how to control this debilitating disease, and work to establish guidelines for the care and feeding of chronic sufferers. But we can't do it alone. We need your help.
So don't suffer in silence. Stand up and speak out – for yourself and for your fallen brethren. Together we can put an end to this madness.
-TF

Send comments to
***