Equipment Review: Pro-Vue RX System
by Terry Frazier #71E
What's the most common piece of non motorcycle-specific gear seen on the starting line at a vintage motocross race? No, it's not a truss, or a back brace, or even a walking cane. It's glasses. If you're like me you've worn them since childhood and have probably tried all manner of contact lenses and frames and goggles. Or maybe you've adopted vision correction as one of the consequences of getting better (not older). But whatever the reason, glasses are very common on the starting line of a VMX moto.
Along with glasses come a host of issues – shoving them in and out of a full-face helmet, twisting/deforming frames, doubling the effort for getting goggles both on the helmet and over the glasses, etc. Not to mention the cost of buying a second, sturdier pair of frames to cut down on the abuse heaped on your pricey, hi-fashion, metro-sexual specs.
All of these things sent me scurrying a few weeks back, looking for something to give me great vision without all the hassles of glasses but at a reasonable cost. A little web searching led me to Randy Nagel's Pro-Vue RX System. Randy is an amateur MXer, and inventor of the Pro-Vue RX System. There's a good bit of information on the site, but I called and talked to Randy on the phone to be sure I understood all the nuances of getting my prescription data. Armed with the knowledge of exactly what I needed, I headed down to VisionWorld to get my prescription. Once I had the crx data in my hand and started to fill out the online form at the Pro-Vue site, I realized I had more questions. But with a quick call to Randy I just gave him the info over the phone and we were ready to go.
About three weeks later my Pro-Vue goggles arrived in the mail. I got a pair of Smith Option MX goggles – the same ones you'd buy if you wanted to wear them over your existing glasses. The difference is that with Randy's patented system your prescription lenses are actually mounted to a second Lexan carrier lens that mounts to the inside of the goggle lens with two screws as shown below.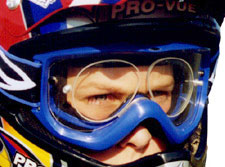 So how do they work? Excellent. I got my first chance to test the Pro-Vue System at Diamond Don's Vintage National in early April. Although I had worn the goggles for a brief jetting and shakedown ride the previous weekend, this was my first opportunity to wear them under competition conditions, for an extended time.
The carrier lens looks like it would be distracting, but it's not. It fades completely away once you put the goggles on. The actual prescription lenses are pretty large, very much like the popular fighter pilot sunglasses of the '80s. My vision was clear; the field of view was excellent. And I had no difficulty getting the goggles into the face opening of my HJC full-face helmet.
In the early morning on Saturday the weather was quite humid, and I did experience some fogging while sitting in the staging area. It wasn't any different than the fogging I have on traditional goggles, but it was a little unnerving to see it on two lenses. However, it dissipated quickly once I gave the goggles some air and wasn't an issue.
During my first moto I pretty much forgot about the goggles. If anything, my peripheral vision was better than with my glasses, which are now the fashionable, itty-bitty lenses that don't allow for much in the way of viewing angle. The large Pro-Vue lenses give a good viewing angle and let me keep an eye on all those riders I was passing as I sailed by.
As the day wore on I became more and more comfortable with the goggles, eventually putting my glasses in the truck and forgetting about them. For the first time I could actually see just by putting my goggles on. Taking my helmet on and off was no longer an ordeal, and putting the goggles on no longer required three hands.
What are the downsides? Not too many. One irritating thing was that, as the humidity rose, little gnats began to swarm and one of them got into my goggles as I rode to the staging area for my third moto (I wasn't wearing the goggles, but had them dangling from my handlebars.) The little bugger found its way into the space between the carrier and the goggle lens and was impossible to shake out. The flitting around in the visual field was pretty irritating, but once the rubber band popped it either flew out or got shaken out and I didn't notice.
Another issue is that all the over-the-glasses (OTG) goggles – Smith, Scott, Oakley, whatever – are wider and thicker than the standard models and can be a bit cramped inside the facial opening of full-face helmets. If you're already wearing OTG goggles you know this, and the Pro-Vue's are no different. But if you're using contacts then you may well find that OTG goggles get pushed farther down on your nose and restrict your breathing, depending on your helmet choice.
Finally, there is some extra hassle factor in doubling the number of lenses in your goggles, but I don't know what this is. I haven't had to take the lens out to clean it yet, or to clean the prescription carrier. But the carrier mounting system is sano and accessible so any extra hassle should be minimal.
Oh, what about looks? Do you really think you look cool with those big, 1980s horn-rims stuffed in your helmet? Nah, me either. The Pro-Vue's don't look any worse than wearing your glasses inside your goggles. At only $169 they are actually cheaper than buying a second set of specs for racing. And they work a darn site better.
Randy was at the Diamond Don's National, with his Pro-Vue trailer and plenty of goggles and parts to support any riders needing new sets or repairs. I had a chance to meet and thank him for his invention and good service. Pro-Vue's are truly one of the most useful pieces of racing gear to come along in a while. Even Tom Benolkin, one of the wicked-fast experts over the weekend, was visiting with Randy about getting a set of Pro-Vue's to improve his vision.
Visit www.pro-vue.com for more info or give Randy a call at 800-548-8354. Tell him Terry and McCookRacing.com sent you.
***