A Ghost of a 30 Year Dream
by Joey Poole #962
How do you describe a dream 30 years in the making? Well here goes. First things first, I had to change the Ghost from a guest room bike to a rider. This included building a new pipe, re-chroming it, drilling and lacing rims, a fresh pair of S12's, having a new tank painted, starting her up and so on. I only got out to spin on the Ghost 3 times before the race. It was love at first ride!
We left for the race on Thursday. I picked up the Uhaul before hand and loaded it with every spare part I could think of. It was packed so tight around the bike that even a tie down came loose and the bike didn't fall. After checking into our motel we left to set a pit area up at the track. We pitted next to Rob and Goldie. I'm sure we provided quite a bit of rookie entertainment for them. We took a picnic canopy that hasn't been used for 15 years. Needless to say, a few of the parts were missing. Off to the hardware store for makeshift parts. We never got the thing to stand, not to mention that a storm front was moving in and the wind was howling. Never the less 2 poles were left standing. Our claim was staked out. My bike was photographed several times and described as bitchin' by Dave Boydstun.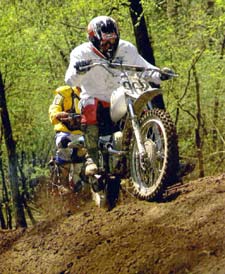 Friday was Jim Pomeroy's MX school day. The Ghost started right up and was ready for action. The school started late and went down hill from there. You couldn't blame Jim for it though; it's hard to conduct a class with trials riders all over the track that was supposed to be reserved for us. I must say Jim was a class act. When he saw there was no way he could teach, he called the class off and refunded half our money even though we said he didn't have to. There was one young rider in class on a small KTM that thought it was funny to throw mud on you while waiting in line. After about the fourth time I asked him to stop but he did it again and laughed about it! Jim motioned us down, and he was given a lesson in mud manners. The Zed did throw a good roost on him, so no more mud problems that day!
I had so much mud caked on the bike that I had to hose it down. Then of course it wouldn't start. I pushed it back to the pits for a free-for-all gotta beat-the-dark and make this thing Run. Finally narrowed down the problem to the points. Sure enough there was condensation in the points cover so I dried it all out. Still she wouldn't start! I then got a push and she fired right off. Time to put her in the trailer. Now here's an interesting point; when you unhook a single axle trailer so your wife can use the truck be sure someone is standing on the front when you load your bike into it, or you will do a trailer wheelie, and the over head door will crash onto and across your shoulder blades. At this point you don't know if you should cry from the pain or laugh from the whole event! I chose to sit on the ground and laugh. Again, more entertainment for the Poole Clan. Wes got the trailer down for me. Thanks Wes.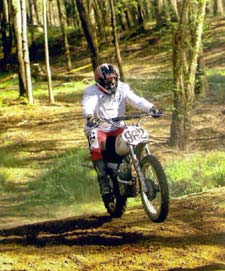 I took the wife and lil weed to the motel and went back to the track for some R&R. All I had to do was look around for a minute and it seemed like a whole sea of Team Weedy shirts were being worn! DD and Lackey both had one on. Brad and I swapped cotton as he called it. We gathered around the table and talked about everything from CZ's to VW's, Mazda's and more than I can remember. An attempt was made to get me to eat Crawdads…nope, it didn't happen. We ended up the evening by singing David Allen Coe's, "You never even call Me by My name" along with the band. Kinda brought a tear to Chris and my eyes……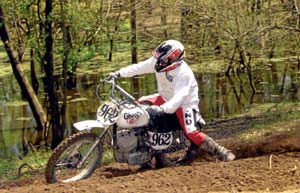 Race Day! I got to the track early to sign in and to go through Tech inspection. The Ghost was reluctant to start. Another push and she bump started right up. My wife (aka the Saint) was helping me keep count of the races. Giles, Chris Mincey and I were in race 12. When race 10 took off I went to the staging area. The wind had blown the sign to race 12. We started staging only to find out race 10 was going to be rerun and race 11 hadn't even happened yet! Giles and I lined up side by side. The gate drops and I pull a wheelie on take off. Forgot to slip the clutch! There is no way to describe the rush of the take off, and into the first corner. Giles and I had a good race going passing each other back and forth. He killed his engine in the turn at the bottom of the levy and I passed him. By now I'm wondering if that white flag is ever going to come out. The race ends and we're back to the pits. That feeling you get when you pull in and your wife and kid are there smiling giving you the thumbs up is incredible!
Second Moto at the gate the Team Weedy guys are really being fantastic by giving me pointers on getting a good start. Lawrence told me 'No more wheelies!' and of course I told him I was bird watching. I'm still feeling very tired from the first Moto, but I did get a good start this time around. I almost bought the Big One when I got caught in two different ruts at the same time. Good old CZ power fixed that. The seat still has clinch marks. By the third lap I'm really exhausted, but I press on. Finally the white flag! I thought everyone had passed me so I relaxed and enjoyed the rest of the ride but then I killed my engine in the same place Giles did. Just as I got her started back up, an Elsinore passed me. I almost caught back up to him but it was too late. I guess I made every rookie mistake a person could make, yet I've never had so much fun messing up! I ended up 6th overall out of 7 riders, G man was 4th.
Thanks to Chris Richardson for finding me a new fuel filter and to Lee Holth for talking me through all my jitters and debugging the bike. I'd like to also thank the entire Weedy Gang, you've All encouraged me along the way. A year ago I was having a hard time walking. This year I raced and finished….What a ride! You folks are the best!
To all the Weedites at the race, it was a Blast! I'll see you all at DD's next year if not before........Dreams do come true.....

Weed
*Special thanks to Barry and Patti Higgins for their help in building the Ghost replica.
***
MR thanks Joey Poole for sharing his experience with us! Joey is 'Cousin Weedy' himself and is co-founder of the Cousin Weedy discussion group. For those enthusiasts who love Vintage CZ Motocross Machines, join this great group of folks at CousinWeedy