MR Interviews AVDRA's Dave Boydstun
Interviewed by Michael McCook #41
MR: I've known you now for several years and have had the pleasure to compete in VMX events that you have coordinated. Always well run and I've had a blast. You have the knack of making it fun and safe. Let's start by having you tell us how you first got involved in competitive motorcycling... a bit of your personal history if you will.
DB: I got my first cycle magazine in 1965 while moving from Virginia to California. My sister got a dog for being good and I wanted a minibike. In 1966,when we arrived in California she got the dog and I got my Bonanza with a 3 hp Tecumseh. A little later met a guy in my neighborhood that worked at a shop and he raced flat track TT and road raced an early red and white Yamaha 250 twin. Ken Gardner was his name. He sold my Dad two 1967 Yamaha 100 trail bikes. We took them to the closest Yamaha shop for service and met Tom White. He was working there after school... anyway he was a racer that I had met riding around the Saddleback TT track one Sunday. He asked my Dad if I ever raced before ...he said my Mom would never let me do that. A few weeks later my Mom met Tom's Mom and she assured her that they were all good boys. My parents let me go to the cycle club meeting and I saw a room full of trophies. I knew that I just needed some of my own, so soon after I raced my 1st race which was a desert race in the Ponderosa Hare Scrambles. I Placed 19th out of 151. One week later I raced at Huntington Beach Cycle Park and won 1st place in the 100cc novice class. Within the 1st year I raced this new thing called Motocross held at Saddleback Park. The event was called the July 4th Firecracker Grand Prix and I got 11th out of 80 racers... Lars Larson won, Bailey was 2nd and me on my AT1 MX... yes I was hooked!
MR: Ok, so the bug bit you as a young kid and you had the support of your parents, always a plus! How did motorcycles and this youth experience direct your life path into your twenties?
DB: In 7th and 8th grade I was lucky to have gone to school with about a dozen other kids that had mini bikes at first we all made the transition to motorcycles together. Suzuki 50's, Yamaha 80's and 100's, Kawasaki 120's. A few dads had Montesa 250's, the Diablo, La Cross and Cappra's, DT-1, Husky 250/400, CZ 400...you get the idea. We grew up in SoCal in the late 60's, early 70's and everyone had a dirt bike or wanted one!
When we would go play ridding we would always set up a make shift track and race! I was the organizer even then.
As we started racing desert, then TT & Flat Track, we heard about MX, we all tried it and all that mattered to me is that when we went to school on Monday. None of my friends had beaten me so far at the races. Ten of us made it to the expert class in our first year of full racing. We were very competitive... VERY!
A few good breaks later in 1971(and I never knew then what they were because I messed them all up), I got a ride on a custom built bike by CMC founder Kelvin Franks from Australia He had made a few bikes called 'Franks' well I was kind of known to be wild and would ride anything until it broke (most did). Kelvin asked me to ride his TM 400 'Franks' in CMC 500 pro class MX... it hauled ass... and threw the chain off of it more than my old Bonanza mini bike did.
A little later in 1972 I was working at Kawasaki R&D testing prototype KX models and later tested bikes for the EPA in SoCal. Riding street bikes every day in SoCal was crazy!
A little help from Yamaha, AJS, Maico and finally Bultaco... a lot of chances but I didn't see it... I just wanted to race. From the time working at the CMC office on Kevin's bikes or helping keep the points in the office with Chris, I was always learning right from wrong at the race track... we traveled then and now... learning all the time.
When I got the vintage bug, I had been away from bikes (except for Carlsbad GP's and my magazines) since 74 till 1990 and was going to the race track to watch my friends son try to break his neck racing 3 wheelers… and oh yes... went to the Glen Helen 500 GP and saw Vintage Irons exhibition race with the old bikes and old pros and was hooked... the only thing was ...who wanted us and who was 'Us'?
The vintage scene was not here yet... I went to junkyards, shops, made a flyer and asked my 3-wheeler friend to introduce me to the promoter at Speed world ...and the rest is Arizona VMX history. I knew just what the bikes needed and the races were small, so the promoter would let me lay out my track wherever we needed to go. I learned the hard way through necessity and trial and error. Not much can happen at a track that I haven't seen before, however people do keep testing me... well there's another story for you Mike.
MR: Your passion for the sport is evident in your efforts. Tell us how AVDRA began.
DB: After watching the vintage exhibition race at Glen Helen, I was hooked. While driving back to Arizona we talked about how we could get something going on at home. The next weekend we were at a local race at Canyon Raceway and I asked the Promoter (John Miller) if he would let me put together a Vintage Half time race some time in the future. He said yes and that he and his two son in laws (the Dirks Boys) were going out to see this new track called Phoenix Raceway Park and that they could use my help setting up a new track out there! This place was renamed Speedworld a few years and several promoters later.
I went to the junkyards and accessory shops and asked them for help for this race, they all helped me a little and let me put fliers in their shops windows. The AVDRA was about to have its 1st race and never knew if it would ever have a 2nd one. We called ourselves Vintage Racers then. We came up with AVDRA about 1 year later; the 1st race had over 20 bikes.
At the 1st race we rode the whole track. It was a great outdoor layout and made us look good. The current State Champion on Modern bikes raced with us that day and that had many people watching him (Chip Young) showing us all the way around the track. I was 2nd that day.
The following week I got a call from John Miller and he asked if we wanted to do it again at another race and we said Yes! And that's how it started here in Arizona Sept 30th 1990. 18 years ago, and the AVDRA has been racing Vintage in Arizona about 10 times a year ever since. The Local district #1 has over 150 members now and we average about 125 entries at each race.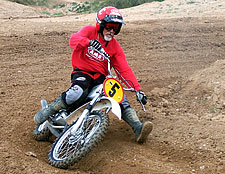 MR: I know in the past that you had been very active in AHRMA. Tell us about your travels in those days and how you helped shape VMX during your involvement with them.
DB: I found out about a National Group called AHRMA by visiting a new friends home and seeing a trophy with their logo on it. I asked him (Paul Shoen) what it was and he told me about the Steamboat Springs Colorado event and that I needed to be there.
After riding a few of there events I noticed that they looked like they could use some help, so I volunteered to help layout the big parking lot in Colorado like a neighborhood with streets and pedestrian walkways... after that they started to see me as a little work horse... I helped at the Park City race and then later was asked by Jeff Smith if I would be interested in being a Tech inspector, then on the Rules Committee. I then ran for Trustee 4 times without winning. Then Jack Turner asked me to become the National Off Road Director of AHRMA at the Unadilla race. Soon after that he asked me to run for Trustee again. I did and won this time beating Colorado's Rob Stickler. Soon after becoming a Trustee, a few other Trustee's decided they didn't like the way I was doing things, so they decided to tell me that I could no longer be in both a paid position and a elected one at the same time… and told me it was a conflict of interest. They made me resign from one of my jobs, Trustee (the other trustees didn't like me anyway). I brought to the meetings what was actually happening at the track and they didn't want to hear it… go figure!
During this same time my buisness AMSRACING.Com was their National series title sponsor and I was writing their club a nice check each year for both the Cross Country and VMX series
For three seasons as the Off Road Director, I attended over 40 off road Nationals each year for AHRMA... they paid me $12K per year for which I paid taxes. The cheapest the series ever cost me out-of-pocket personally was $33,000.00 including hotel rooms (many of which I shared with Jimmy Pomeroy), rental cars, shipping my bikes, plane flights, and food. I would show up at each event early and stay late. Do the course work, including track mods, taping etc. Then help with sign-up, do the riders meeting, get the event under way, field all the protests and problems, try to race myself, then get ready for awards and packing everything up. Sometimes four events on one weekend, only to fly home on Monday and get ready to leave for the next event on Thursday. I really like life at the track so this was a good job for me at the time. However if you do the math, I consistently lost significant sums of money due to the corporate financial payment/reimbursement plan, or lack thereof by AHRMA. I was spending about three times the money to do the job correctly than the job paid! Let's not forget the phone bills for all the pre-race and pre-series contacts that needed to be made for each event. This meant that in cash alone, I was upside down about $21k each year. Quite a few people asked me how I could afford to be at all these races… I would tell them that I had a 200 + bike collection and that I was selling a few here and there to keep up and I now have 44 bike left.
Anyway… being progressive for the organization during these 3 to 4 years, I was allowed to move some race dates around (looking for better weather) and add a few races, such as Diamond Don's. I was able to get a couple of dogs off the schedule too (Gratten, Peoria and Aonia Pass). Just trying to make the series a better series, a more balanced series. I also moved the traditional riders meeting from after practice to before practice, to make the day a little safer, and it worked too!
I have met so many great people and seen so much of this country racing vintage, it is great to experience all of this.
MR: I've often questioned the overall tax benefits and reimbursement practices for corporate position holders and Regional coordinators in a non-profit organization due to the realities you have outlined here. Are you Regional 'volunteers' out there with empty wallets and no way to claim it, listening? These are modern day realities that need to be addressed by those who may wish to be involved in any future VMX organization.
Ok Dave, it's obvious that you have paid your VMX dues, have proven yourself and we all know that you have parted ways with AHRMA. What caused you to leave and take AVDRA Nationwide?
DB: Well I really wish it was a quick easy answer. It was pretty simple though, they (the board) didn't want me or my business (Dave Boydstun/AMS Racing.com) involved with their club anymore, and made that very clear when 1 ½ years earlier, none of the AHRMA officials had entered my National here in Arizona. Last year they chose to have a town hall meeting that blew up in their face. Thanks Dirk, you had to be there to understand but it wasn't good.
In September at New Mexico I had a meeting with Cindy Cowell, Jeff Smith, Allen Wentzel and Mark Arsenault. At this meeting they asked me if I was starting a new National club... at that time the answer was NO. At this meeting I was guaranteed that I would be the promoter of Both National off road events to be held in the Southwest. The Arizona Event is the 12th annual opener for the complete National Series and the other event has been held 9 times in SoCal by my crew and directed by me (no one else has stepped forward in SoCal for many years). I promised them that I would follow the AHRMA rules and structure at these events.
Early November I received a voice mail from the new ORD Alex Moroz saying that the contracts were finally approved by the Executive Committee, would be sent out asap and that they needed mine back by the 15th, which was in about 5 days from the message. No one ever called to talk to me again about the 2 races. Sometime in late November I received another email from Cindy Cowell (AHRMA E.D.) saying that she had heard about my new series and had heard nothing from me so she had given away my series sponsorship of the National Cross Country series which I had sponsored for the last 3 years, and If I was interested in being involved that I call DICK MANN… B.S.
The next day I had a long conversation with my girl friend and then with my crew and we all agreed that this was all the B.S. we were taking and decided then to put together the "Western States Vintage Moto Cross Series", the 1st race would be our own "Duel in the Desert 12".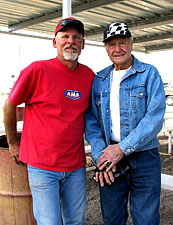 Then AHRMA shows their true colors through their leaders (appointed) and schedules a race on top of our traditional Big Vintage race weekend here in Arizona. This means war, and the riders will hurt for a time while they figure out who is Really on their side, AVDRA is all about what the riders need and what's in a race program, and AHRMA is all about payback and vendetta's.
AHRMA's ORD was even printing lies on their own web site about the turn out being equal to last years Duel in the Desert #11 and the tracks elevation changes. Even the legends didn't show up there as advertised and you would think the in light of the trouble AHRMA got it's self into all ready, the last thing they would do is tell false truths about rider entries... someone once said: people lie, numbers don't!
When I look at who's who in AHRMA right now, I can remember a few things about the past... like Dave Janice being a tech guy and I told him to run for trustee He did and he won… Tom Bentley was a spectator when I met him and he wanted to get involved and I told him to be a tech guy, then run for trustee, he did and he won. Alex Moroz was interested in getting involved, I convinced him at Monster Mountain to be a write-in candidate he did and almost won the 1st time out. Soon after AHRMA made him the East coast guy and now the National guy! When Dave Janice was going for the chairman's job it was ME that swayed the 1 vote that got him in position. If you look at most of the coordinators in place now they are not the same ones that were there a few years back either. I found most of their replacements from my friend-bank. All of these guys were my friends 1st and volunteers 2nd.
MR: What will make AVDRA unique, different, special and better?
DB: AVDRA is already different in many ways.
A place for every age racer from 4 to 100
A place for every bike (no matter how old or new)
Friendly Tech Inspectors
Friendly & Helpful Staff
Well-run races
Correctly scored races
Great track layouts
Regionally correct race dates
We offer a weekend temporary membership for $10.00
Easy Online entry form
Easy Online membership
Points & Results posted with 48 hours on race completion
A Friendly voice when you call Monday through Friday
Simple sign-up and check-in at all races
Free T-Shirt with full membership!
MR: I just signed up via your web site and it was simple and easy. It's about time a National organization embraced the 21st Century. Tell us about the people around you that are helping to make AVDRA a reality.
DB: Yes the On Line entry and membership works great! I can't understand why others have not put this in place before now.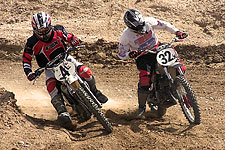 There are very many out there that are supporting our efforts, but 1st here at home is my right hand woman/girlfriend Nancy Ferguson from Jefferson Texas (yes we met at Diamond Don's a few years back). She takes care of membership, paper work, helps with sign up and just about anything that she can get her hands into. You will speak to her if you call us. She is a good southern woman.
Laura, Tom and David Rogers have been helping me from the beginning with what ever needs to be done to make it happen. Candy and Owen Morgan make most of the events. My starter Bruce Huling is great; my points keeper/web master Eric is my next-door neighbor.
Mark Arsenault, Ric Tipton, Pat Holmes, Pete Villacaro, Larry Stahl, Ric Armstrong, John Bren, Dave Coupe, John Hart, Bill Silverthorn, Gene Fetty, Carlos Seranno, Siege, Rick Poulin, Jim Rike, Gary Johnson, Bill Nazelrod, Wes Willis, Dave Pierce, George Marshall, and many other racers are all behind the new AVDRA movement!
We can never forget all the track operators and all the volunteers that make all these races happen ...a very big Thank You!
Everyone out there in VMX land, we would also like to say thank you to all of those willing to give AVDRA a chance and I hope to see all of you soon at a AVDRA race in the near future... Remember we love vintage bikes just like you!
Dave Boydstun & Nancy Ferguson and the crew of AVDRA.
MR: Thank you for your time Dave, we wish you all the best!