The Untold Story of an American Motocross Hero
-MR interviews David White, 1977 German 500cc National champ-
by Giles Nelson #665
Part 2
D: David White
G: Giles Nelson
W: David's wife
Continued from the last issue of McCookRacing - Click here for Part 1
The last year – in the wintertime, we would practice as a club. We would rent a gym on Friday nights and then we would ride on Saturday. We'd rent this gym for four hours and we'd show up at 7:00 o'clock – no, 6:00 o'clock, and we would do three hours of different exercises and challenging things and station training, also. Then the last hour we would play no rules contact basketball. I mean, there was bloody noses and everything going on in this thing, but anyway, it was just a hell of a workout.
G: So contact was very OK?
D: Contact was OK, since Germans can't play basketball, anyway, unless they're college guys that are six-seven. But, anyway, we'd do that. We'd go out to dinner and then the next day we'd go ride at a practice track. Well, after the practice day, just before the season started in '77, I remember the club president and vice president coming up to me. We were having dinner after one of the practice days, and I had just blown both of them away. They were international riders, and they said, "This is your year. If you don't get hurt, you're gonna be motoring." And it was a good year.
There was one kid named Jergen Nass that was a KTM rider. The kid was 16. It was his first year riding that was so blazing fast. He could beat me on any day, but the luck of the draw was he was going for the 125 National Championship, and you couldn't go for more than one championship. So he came to a couple of the 500 races and he beat me in a couple of them, but those were the only races he came to and the rest of them were mine.
G: So why did you stay on the national level versus going international once you had the sponsorship?
D: After I won this championship, the following year I would have been racing internationally. I would have been able to race Grand Prix's.
G: Why didn't you?
D: I came back after the last race to the states. I got surgery. I had those pieces of bone motoring around. My intent was to go back and race, and I just never made it back there.
G: Let me ask you another question. What was it like, I mean, from our point of view, Brad Lackey was out there for America doing it. I didn't know there was people like you and this Sullivan guy out there riding who were Americans in other countries who were competitive people.
D: It was a little bit of an advantage for us, because you'd show up at a race, like, we showed up at Gaildorf. There was a national race on Saturday, and Gaildorf is the Grand Prix track in Germany where Magoo won two of his four wins in The Motocross Des Nations. I've got a bunch of pictures of that here.
G: Of Danny Magoo?
D: Yes. Danny Magoo Chandler. He won all four moto's of the Trophy Motocross Des Nations. Well, one of those races was at Gaildorf, the German Grand Prix track.
Anyway, Tim and I wanted to race. This is when we were on CZ's. We wanted to go to Gaildorf and race this national race, but we didn't do an entry, and our sponsor said, "No way. You can't do that. You've got to go through this process, so you can't race." So we went, ahh. We'll just load the bikes up and show up; they'll let us race. We're Americans." You know, and Americans don't know the rules. "Whoa! There's Americans here and they've got motorcycles. Let 'em ride."
So we loaded the stuff up and Horst, the sponsor, was going, and I mean, wait until you see the van we showed up in. I've got pictures of it. It was a rat van. I paid three hundred bucks for this old '65 Chevy van that we had to ride in with the windows open because there was no insulation. We'd get asphyxiated from the carbon monoxide coming from the engine. It was so hot we couldn't touch the engine cover, you know, the shield and everything. So, anyway, we show up and we're driving right into the pits. They had a parking lot for spectators and the pits, and it was Friday afternoon, and they're, like – the guy spoke English. He said, "Can I help you?" He saw the U.S. plates on the truck. We said we're two national riders. We want to race, and he said, "Do you have your entry form?" We said, "No. We're not entered. We need to talk to the promoter to see if we can race." And he goes, "Oh, just a minute," and he gets on the phone and calls up. This was a nice track. He calls up and the guys says, "Well, hell, yeah!"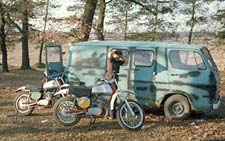 G: And these were the CZ's?
D: Yeah, these were on CZ's, and, "Hell, yeah. You got Americans down there with bikes? Yeah. They can ride. Bring 'em on. Send 'em up here. We'll do some paperwork and get it done."
So we went up and did our paperwork and we're entered. Well, we're in the pits, got the bikes out; it's Friday and we're doing some work on the bikes, and Shultz, our sponsor, shows up, and he says, "What are you doing with the bikes out?" "We're entered." "No. That doesn't happen in Germany. No. Doesn't happen. You can't do that here. Only in America." "No. We're entered. We're racing."
So, anyway, it was kind of an advantage for us, and you talk about the surprise and nobody ever heard and everything. In the year '77, when I won the championship, David Maltey, like I said, was the photographer for Motocross Action, and we went to Sittendorf, Austria, for that Grand Prix. I was going to watch Brad, and I knew Heiki Mikola and all those guys. I was actually going to help out one of the Norwegian riders, or Swedish riders, that was on a Husqvarna. He didn't have a mechanic. He was a Grand Prix rider, and I said, "I'll wrench for you." I'd talked to him at a previous race.
So, anyway, I show up there and Pierre Karsmaker is there. We're standing outside Heiki's big Yamaha semi, now. You know, it's just this huge thing.
G: Japanese money.
D: Yeah, so we're sitting out there talking, and David Maltey or Heiki looks over and he goes, "How's racing going this year?" I'd been speaking English with Heiki and David, and Pierre Karsmaker is standing there and, "Hmmm? Racing? American? You're in Europe. What are you racing? I've never seen you before. I don't know who you are." And David introduced me and he said, "He's racing in the national class in Germany." Pierre is just looking at me like I was some kind of alien. "Where did you come from?"
D: Brad was serious. He trained hard. My only regret is I wasn't there when he won the world championship. I would have loved to be there the year he won.
G: Well, surely you must have been following the Grand Prix scene even though you were racing national?
D: Oh, yes.
G: So when you started hearing about this American doing better and better. Like, when did you first meet him?
D: I met Brad in '76. I had seen him, I mean, when he was on Husky, but I didn't meet him until I really hooked up with David Maltey, the photographer. That was probably in '76, so for two years he was on Husky and then he went to Honda.
D: Yeah, so when he was on Honda was when – oh – the club meeting. Every Wednesday night we would have a club meeting in Offenbach at a guesthouse, and what they would do is we'd show up and they'd fill out our, we had two secretaries that would fill out the paperwork for what races we were entering and do all the other stuff. Well, I grabbed Brad and Laurie and said, "Do you want to go to dinner?" I show up at the club meeting with Brad Lackey, and they were like, "No!" I said, "He came for the club meeting."
G: I bet that was a great time.
D: Oh, yeah. That was a great time. Back when he was racing, he was real serious and he was focused and he came off as being aloof or kind of an ass, and I never got that from him at all. I thought he was a great guy. He had his sense of humor.
G: He was one of the four heroes I had in Motocross at the time: Roger DeCoster, Joel Robert, and then a Southern California guy, Rex Staten. Those were kind of the four guys I really looked up to.
D: And Jonsson was pretty cool, too.
G: Ake Jonsson?
D: Yes. I got there when Ake was riding the Yamaha with the Maico forks, and that was the first international race that I got to see. It was at Gaildorf. It was in the Grand Prix. It was an international race with Willi Bauer and Adolf Weil. I mean, all those guys that you have seen in all the magazines.
G: Adolf, the Iron man; forty years old. Adolf was 40 years old then.
D: Yeah, but all the guys that you had seen in the magazines and you were just this close, and all of a sudden, OK, and I'm in Germany.
G: And it's all real.
D: And now I'm at an international race and the pits were open, and you're just walking around and there's DeCoster and Gerritt Wolsink sitting there, talking to their Suzuki mechanics and getting their stuff done, and you go to the next one and there's Willi Bauer and it was just an amazing time. That was the big history time for me.
G: Did you get any problems with fans at all because you were an American in Germany?
D: They loved me.
G: So they weren't like swinging sticks at you like they were for Lackey?
D: I went to one race the year that I won the championship, and they were working on this bike, and I was entered in a 500 class race and I didn't have an open bike. In fact, it was the first three or four races weren't points races, and so I show up at this race. It was a cool track, and I had a 250. I didn't have a 500. They're very strict, so I go to the promoter and I say, "I'm entered in the 500 class," and there was an open class and a 125. And I said, "I don't have a 400 bike." I said, "I'll have to withdraw unless you let me ride a 250 in the class."
G: In the 500 class?
D: Right. And he said, "Yeah. You can ride a 250." It was a real hilly track. He said, "I don't think you're gonna do very well." I won the race, and then I got protested.
G: Oh. No doubt.
D: So, anyway, I go out and I win this race and I get protested, and they're announcing this. During the race they're announcing, "OK. First place, we've got an American boy and he's on a 250 cc bike, and this is the 500 cc class and he's smoking everybody." They're saying this in German over the PA, and everybody's listening to this. So I finish the race. It's always the big to do to get the trophies and everything and there's always a big crowd, and they said, "David White won't be showing up for the trophy because one of the other riders protested that he was riding a 250 in the 500 class and he has forfeited the trophy and the prize money and everything else." I was in the pit signing autographs for three hours. I was inundated with Germans, signing autographs.
G: How fun that must have been.
D: Oh, it was cool. It was a lot of fun. As it turned out, and it was kind of sad, the guy that protested me the next week got hit by a car on a street bike and he died. So there was nobody protesting anymore. The protest was dropped, and I continued on racing.
G: So you got the credit for the win?
D: No, I didn't.
D: Another cool thing that happened. You get the recognition. The first points race for the national in '77. We get to this track, and it's really nice on Saturday for practice, and then Saturday night it snowed. I admittedly was not a good mud rider. I mean, I slowed down noticeably when it got muddy.
G: Yes. Mud's not my favorite element.
D: I'd stick my head out as I was camping out in the back of my van, and I stick my head out and there's snow, and I'm like, oh, crap, because I knew it was going to be muddy. So I went out for practice and I wasn't going that well, and then the time trials came and it tacked up. I'm, like, oh, yeah, baby, and I was riding a 400 Maico, and I'm gone. It had this big, long sweeping turn. I mean, fourth gear, you're just hauling ass around this thing.
G: Power sliding it?
D: Yeah. The start went up this big hill, and then it went into this big sweeper and then it kind of snaked. Well, I'm getting ready for the first race, and that year at that race, the format was two 30-minute motos. They took 60 riders and they put 30 in one moto, 30 in the next moto, and then the top 15 of each one of those motos went to the end race . . .
G: Wow. What a neat format.
D: So we did that and I won my heat race, and then we're going out for the final, and I went to kick the Maico over and the kick starter goes vhrrrr. The shaft broke on the inside. I went, "Oh, shit!" And Horst, the mechanic was there, and he goes "10 millimeter." He grabs the 10 millimeter and he pulls it off and he says, "Don't stall it."
G: So you've just got to push start the bike?
D: I had to push start the bike, and I push started it down there and got to the start and took off and I won the race.
G: Wow. If you'd killed the motor, you'd have been dead. You'd have been too tired to get it started.
D: It would have been over, but I had a good race, too. I felt I rode really, really well, and I got a cramp in my leg on that sweeper. There was a left-hand sweeper. My left leg was in on the peg, and I'm sitting on the seat and just motoring along, and all of a sudden my thigh starts cramping up, and I'm like oh, man. So the next four laps I went around that sweeper standing straight up on the pegs, just gone.
So the next week we go to the club meeting Wednesday evening, and this guy that I'd never seen before, a German guy, comes in that knows the Germans that are in the club and the club president and everything. I'm listening. I understand almost fluent German now, and I speak pretty good German, and I hear this guy talking to Horst Mueller, our club president, and Horst says, "Did you go to Gross Bieberan?", which was the race this weekend. He says, "Yeah." He says, "Der Ameriean hat classa gefaureu" which means "the American rode sweet." And here I am beaming, and Horst looks down at me and he tells the guy, "Ya. Americana is dah." He said he's in my club, and the guy looks down and he goes, "Oh. Good ride." So it was pretty cool. It could have been disastrous, because if it had stayed snowy and wet, I don't think I would have come in the Top 10. I just was not a mud guy. Make it hard and make it rough, stuff like that, but if you made it muddy, I was screwed.
Let me show you some of these pictures.
G: All right. Back to the pictures.
D: This is when we first got the CZ's, because it doesn't have the Maico forks, so I was still pretty new, but learning.
G: Oh, you had every other fin taken out, huh?
D: No. That was stock. This was the beast van. This is my dad. This was at a really cool track in Southern Germany. It was set in a vineyard. And it was a whole bunch of different ups and downs and there was an international race going on there. That was a fun track. This is at Gaildorf.
G: Good shot.
D: This track was either nasty muddy or like Washougal gets hard, hard dry.
G: Oh. You've got the Maico forks.
D: But it's way off camber and way hilly.
G: Oh, really? Lots of sliding.
D: But everything on this track was off camber, but it was a cool – and somewhere I've got a postcard that shows an aerial view of this whole track. This is coming off the hill here.
D: In the wintertime, we would go up to Rhein-Main Air Base in Frankfurt - this is one of those Kramer Maico's. You can see the cantilever – and a bunch of us would go there and just practice. We would have mock races and stuff, but that was at Rhein-Main. There's the CZ. We cut the back of the frame off, and put a loop on.
G: What kind of shock was that?
D: Koni, I think. We used mainly Koni's and Bilsteins. Then we got some Ohlins at the end. That's the radio tower at Gaildorf and this is when we went to work for the Bultaco importer. This is my practice bike there. Those were Bilsteins. Those were pretty much straight up and down.
G: Boy, after the CZ and Maico experience, that had to be kind of a come down. I mean, I'm not a big fan of the Bultaco's.
D: No. I wasn't a big fan, either, but it was free bikes, and the 360 didn't even run. I mean, I don't think I made a lap on the 360 where it made it around.
G: Boy. That's a good aggressive style on these loose berms.
D: These pictures were taken by David Maltey, the Grand Prix photographer for MXA, and this was just, we were all riding and practicing up at Frankfurt. He was riding. He had a Husky that the factory gave him, and we would go riding together on the weekends and stuff, but he took these pictures.
G: With all the lawsuits and everything you can't do this anymore. These spectators standing right outside the berm.
D: That was on the KTM.
G: So those same CZ jerseys, still practicing?
D: Yeah. I used those for practice, and this was the Maico.
G: What an awesome motor.
D: You can see the carburetor and stuff there.
G: This is probably the better shot.
D: That's on the Bultaco. These didn't come out very well. This was the development mechanic that made the engine. Yanosilev Hopsa is his name. This was before my very last race. This was in the pits. These were a couple of Americans that showed up that were asking questions about the bike, but this bike used to generate all kinds of that. The riders would all come over and say, "What the hell have you got there?"
G: How could that be so fast?
D: What is up with that? I had a Chevy van the last few years I was there. I just had an inline six with a three-speed standard. This is before time trials.
G: Did you know it was your last race?
D: Yeah, I knew it was my last race.
G: You knew it was going to be? And then you were going to go to the states and fix your knee?
D: Right.
G: But you didn't know you weren't coming back, right?
D: No. I had planned on coming back.
G: Wow.
D: At work here the secretaries used to say, "Man, we always knew when you went by, you were so big." And I was only about 175, 180 pounds, but I did not have shoulder pads on there. I worked out like crazy. I was in the best shape ever.
G: So what were you doing when you were racing up here, then, modern? Just racing expert?
D: Yes. old-time expert. I was way overweight.
G: So how did you do up here with the other guys?
D: You know, I got so tired of – this was out at SIR – I got so tired of paying 25 bucks to get three laps of practice and two four-lap motos when I could pay 20 bucks and ride all the practice that I could stand at these tracks all day long that I just stopped racing.
G: Just went out and rode?
D: I just went out and rode the practice days. What I would do is, since my schedule is I get days during the week off and stuff, I would go down and hook up with Tim. He owns a commercial glass company just outside of Portland. I would go down on Tuesday afternoon. Sandy would have practice day, and I would ride with Tim and his son on the practice day, stay at his house in Estacada, and then Wednesday we would go to Washougal and ride the practice day at Washougal. Then I'd come back up here and sometimes I would do the Friday night stuff at SIR and stuff, but I just started doing just practice days, because it was just too expensive to go there and sit around all day for two four-lap motos. It just didn't make any sense to me.
D: I might have told you, those guys hooked up with me and took me out to the track.
G: The Connecticut guys?
D: No. The Germans, when I first got there.
G: Oh, right, right, and they said follow us?
D: This is actually a race at that track that I got third, and this is in '76?
G: I don't' see any date on there.
D: It might have been '76, but I ended up, and this is the 250 class, and I got third place. Just a scrap of stuff. The article that I'd sent off to Maico. When we got back, I sent the article off on this to Maico and I never got it back. These are some of the same pictures you saw before, but I got some - David was screwing around with the focus.
G: Trying to make something more bizarre.
D: This was just like on a practice day out there at Rhein-Main Air Base, and we'd had a rubber band and we'd set up a, OK, let's all race now.
G: I hope you can find those other shots, too, the one of Falta, you've got them somewhere?
D: Yeah. I'll find them. I've got them somewhere.
G: What's this?
D: That's Brad's publicity photo.
G: So that's Lackey, obviously?
D: Honda.
G: Look at the cylinder. That's a big motor.
D: Well, at the beginning of the season when they were building that dual carburetor bike for me, I had a race coming up and the bike wasn't ready and I didn't have a race and I went up and I was talking with Brad. He said, "Ride my practice bike."
G: Really? So you got to take it out? And Honda let you?
D: Oh, no. They would have let me, and I went no. I just couldn't have handled it. It was a 500 cc Grand Prix bike. I was not ready for that.
G: Yeah. You would have hurt yourself, probably.
D: Yeah. This is when I first got there. That's on my Suzuki.
G: So I had a 125 Yamaha that I put tons of money into, and it was a pretty fast bike, but then when those Suzuki's came out, they came out before the 125 Elsinore's did. Just did an evolution in Southern California. As soon as these things came out, they just pulled away from me. I'm like, I've got to get a new bike. This one's no good anymore.
D: Billy Grosse and Rich Eirstadt they got sponsored by Trim Leathers and they got that picture to show me. I only rode for them for a short bit. That guy was a real shyster.
These were the results of the first four races of the '77 season, and I was in first place at the end of that. This kid, the two wins here, 15 – 15, Jergen Noss was that kid that was racing for the 125 championship. He was a non-factor because the rest of the races, he raced 125, and then Gerhardt Leide was Adolph Weil's shop rider on the Maico.
G: What does a shop rider mean?
D: He was sponsored by Adolph Weil's shop.
G: He had his own place? OK.
D: And that was the rider that rode, so he got all the hand-me-downs from Adolph for Maico trick stuff.
G: The 250 Maico I had, I really regret selling, but it was about state-of-the-art Wheelsmith. Pretty much everything Wheelsmith did in the after-market hop-ups was done to the bike, and it belonged to three different friends who we raced together with, except for one guy. Then I bought it as a basket case, $100. I go, "I'll buy that bike." I sold it up here.
D: This is back in Colorado when I came back.
G: So this is you?
D: I was working at a Honda shop. I still had my Maico leathers, and this was a pro race east out of Colorado Springs. Bultaco. I've got some better pictures of the CZ. I like that picture. David took that, an old Bultaco.
G: You had a little bit of two-wheel drift there.
D: I think that's about it. These were all the Americans that were racing.
G: Do you have all the names of everybody? So this is Americans in all of Germany? Is this their family, too, because there's a bunch of kids.
D: Yes. All in Germany that were racing. This was that Frankfurt Rhein-Main. They had a little motorcycle club, and guys would come from all around to ride. Some of them were the Moms and Dads. This was a motocross family. Their name was Daily. That's Dad and Mom and Allen. This is the youngest son. Allen was a good rider. I don't even see him in there.
These two guys were wild. They were on OSSA's, and they were either just haulin' ass or crashing.
G: I had a very good friend like that.
D: Daniel Pean a French Maico rider. I got that from his van at the race. In '76, I got sixth place.
G: This is for the national, overall for the national?
D: Yes.
G: You should frame that.
D: That and Brad. I think that's it. There's some guys that live up here. I don't know if they're still involved with vintage, that were over in Germany when I was and know who I am. They've been at races here, and a couple of them came up to me, and one was like, "Remember? I rode the Can Am." Well, shoot, there was only three people riding Can Am's in Europe in the '70's. "Yeah. I remember who you are and stuff." Pretty cool to run into them. I've found that the world is a real small place.
G: Oh, I'll bet.
D: I'm running into people that I knew across the United States or in Germany. It's like what I told you about running into that gal that was at SIR with the German accent. "Well, did you know Horst Mueller?" "Yeah. My dad's best friend." You know, half a world away and I run into this person at the drive-in for SIR, so, yeah, it amazes me how small the world is.
G: You know what blows me away is why there aren't more of the pros from that era racing?
D: Just old.
G: And they just must not have stayed in shape.
D: Hannah doesn't race because he flies. He rides bikes still, but he doesn't race anything. He'll never race in an old-timer race or in the style that, you know, Yamaha puts on these things every year with Mike Bell and Marty Tripes. I wrenched for Marty Moates when I came back from Germany. I went to AMI, American Motorcycle Institute, down in Daytona Beach, during the winter when the Florida winter series was the big thing. And I had met Marty. He came over in '77 and was riding 250 Grand Prix's on OSSA. He didn't ride them all; he rode some. Then he came back to the states and was riding the winter series and I just hooked up with him while I was down there for the school. On the weekends, I'd go tighten chains and check air and tires and stuff like that and went to the winter series races with him. He's pretty, if you're a Motocross nostalgia, he's pretty famous. The first American to win a Carlsbad Grand Prix, and he did it as a privateer.
G: I didn't remember that. Wow.
D: Yes. He rode as a privateer on the Lopp Yamaha and won the 500 cc Grand Prix at Carlsbad as a privateer.
G: That's amazing.
D: In this video, they've got Magoo, the first year that he took it away from him. That was the same year that Magoo won all four motos of the Trophy and Motocross Des Nations, and did all that other stuff. The footage in here is awesome, because it shows him passing Steve Wise on one side. Come in and he passes Steve Wise, and then Wise passes him back, and then they come down again and Wise looks like this to see if, in the same spot, to see if Magoo is gonna pass him. Magoo goes right by him on the other side and wins the race.
But Magoo was wild to watch. I saw him in some nationals here, and he was just gone. He was so much better, and he thought he was so much better than anybody else. He would have been a national champion a multitude of times over if he didn't break his back.
G: Did you see Rex Staten race much?
D: I saw Rex. I was at the Trophy & Motocross Des Nations that had Bob Hannah, Tony D, Rex Staten and Kent Howerton. Bob was on Yamaha, Tony D was on a Suzuki, Staten was on the Harley-Davidson.
G: The 250 with the forks up front and back?
D: Yeah and they had an open bike, and then Kent Howerton was riding Husqvarna. And I have to tell you, at that race, I was impressed with Bob Hannah, and I was impressed with Tony Dee. I wasn't impressed with Ken Howerton, and Rex Staten looked like an absolute goof out there.
G: Why is that? Out of control?
D: He just was out of control.
G: Rocket Rex is well applied as a nickname.
D: But the track there was, it was the same track that Falta and Mosiev did that Grand Prix on, Wahlen, Switzerland. That's where this race was, and Hannah, I remember watching the practice, and Hannah and Gaston Raihein who was the world champion at that time in 125, hooked up, and they were in practice, and they were just going at it, and everybody is just watching that. They were just vroom, vroom, the whole time. I'm like, wow. A guy comes over here from the U.S., hasn't raced Grand Prix's at all, and is sticking with the world champion. That is cool.
G: Bob Hannah was gifted. He was very, very gifted.
D: Yes. He was amazing. And Tony D, at that time, was very gifted, and strong. He was just – I saw him suck up some bumps and rough stuff on that track on the Suzuki.
G: Let me tell you a Rex Staten story. This is a good one. This is at Saddleback Park. Do you know that track well at Saddleback?
D: I haven't ever been there.
G: In the very back part, there's a fast downhill, fast uphill jump, and then a tabletop kind of, and then it goes a downhill left-hand into the trees, the lowest part of the track. There's a lot of elevation change on this track. So I'm standing with a friend of mine, and there's a bunch of trees where we were standing, so you couldn't see the whole downhill-uphill thing. So we're standing to where they're going to come over that jump, because it's very impressive. It's very high speed, and then you've got to really lay onto the brakes to make this downhill. So there's the track fairly level, then there's this big side uphill, and then there's all this snow fence and very, very rough terrain, and it was probably 20 ft. elevation gain up this thing into the totally unimproved area full of ruts and rain gullies and stuff.
We see about three, four of the leaders come by, and Staten comes by at the top, next to the snow fence, in a full power slide. His bike is parallel to the ground, full speed, passing people, well off the track, you know, the serious part. But it wasn't, you know, it's a track, it's there, if you want to use it, you can use it. My friend and I just looked at each other and he goes, "He's in another league. He's so beyond where these people are." He broke bikes all the time.
D: Howerton broke, his shock fell off in this race on the Husky, so he was out of it, and Staten just wasn't as fast as the rest, and that was at that time.
G: This was on the Maico at Saddleback. He was riding an open Maico.
D: Yeah. This was on the Harley. It was a dog.
G: Obviously. It never went anywhere.
D: When I came back to the states, I went to a couple nationals, and I saw Howerton on the Suzuki, and he was blazing fast.
G: I only saw him on Huskies.
D: But Hannah was still the dominant guy. I went to, when they used to have the national in Nebraska, I went to that race, and Hannah didn't even practice. I mean, he came out for like three laps of practice, and then he came out for the race and just bye-bye. He was just gone. It was just amazing to watch. He was jumping through the whoop sections like nobody else was even close. No, it was kind of different.
I saw those guys there, and when I came back, I raced at Englishtown, New Jersey. I had got some water in my gas, and Terry Tucker was there, Mickey Kessler, and all those guys. It was a big race, in the pro class, and I get second in the first turn in the first race. You turn, and I had never seen any big double jumps. The first thing you hit after the first turn is this huge double jump in front of the grandstand. I just went up, jumped it. Oh, cool. That wasn't so hard. Vroom. Motored on.
G: I'll tell you, you don't like them on vintage bikes.
D: Turned to the guy that got the whole shot, crashes right in front of me. So I get up and I'm trying to make up, and then my bike just started sputtering. That was because it had water in the gas, and I was done.
That was a cool track. They took a completely flat piece of ground and made a world-class motocross track there. That's the one that the Kawasaki Race of Champions is at every year and all that stuff.
G: The thing here that's a big event, from my understanding, that I haven't gone to yet, is the CZ World Championship, they call it.
D: Where is that at?
G: It started in Southern California, and it really kind of defined the vintage motocrossing scene. It started a long time ago.
D: CZ is what got me into motocross.
G: It started in the late '70's, I think.
D: My first Motocross Action magazine was a picture of Pete Malley on a 250 CZ in a wheelie, with his hand up . . .
G: That's a very famous picture.
D: I went, that was my first Motocross Action magazine. I'm like, that's for me.
G: You should go to the czmadness.com site, and there's a picture, and it's Farmer Mike, I'm pretty sure, who runs the site.
D: Arlo Englund was really big when I started in Colorado.
G: Never heard the name.
D: He's the guy that beat Evel Knievel at the Snake River Jump Wheelie contest.
G: Oh, wow.
D: And he's the first American to ever win a national on an automatic Husky.
G: Really? The 390 thing?
D: Yes. He did it in Oklahoma or something, one of the nationals back then, but he was from Colorado. A very fast rider, could wheelie like Doug Damokas. And he didn't need the little wheel on the front keeping the thing rolling. He could wheelie anywhere. It was just amazing, and my first motocross that I went to, we pull up. I've got a Honda 350, SL 350, and we're just out for a ride in Colorado and Motocross Today, we motor in there.
G: On a Honda 350?
D: I wasn't going to ride. I was just going to watch. The first thing I see is Arlo come out of this gulley, up onto this straightaway on a 400 Suzuki. This was the year before the yellow TM's. It was a red 400. I just remember that. He comes up and stands it on the rear, and just wheelies all the way down this straightaway. I went, "Yeah! They do that on motorcycles? That is cool." I went out and bought . . .
G: It's not the fastest thing to do, though.
D: Huh?
G: You have to slow down to do it.
D: I know, but it was just so cool.
G: Rear wheel to the ground.
D: I've seen Robert; the year that I got there in '73 was like the tail end of Robert's career. He was riding for Suzuki. He wasn't winning anything and he wasn't staying in shape, but he would go out and I'd listen to him in the pits. They were talking English, because it was the universal language, and he'd basically say to one of the other guys, "I'm going to go out and f**k with the Russians." And he would go out there, and Mosiev, and who were the other ones? Mosiev and something Toff. They were the two fast guys on the KTM and the Russians. He would go out there and he'd pass them, and then he'd turn around. They'd try to pass him, and he's just like vroom and takes off.
G: Good, because he really could ride.
D: They would come up this really cool sweeping turn, and I've got a picture of Torlief Hansen on the Kawasaki in that group of pictures just haulin' ass. There was another guy that deserved the world championship and the bike kept breaking. He was so fast, but the Kawasaki was just breaking, race after race.
But, anyway, they would come down this hill and then it was just a drop off in to this gulley, and they'd come out and turn and then it was just this nasty, knurly hill going up. Robert comes down the bottom on that RH Suzuki turns the corner and stands up on the rear wheel. He does wheelies all the way up the thing. I was just like, wow! It was just amazing to watch.
G: In another league.
D: DeCoster. He was a little guy. When he's racing the Grand Prix, he's heavier than he was then and there, and on that 500 Suzuki, he's just a little guy. He was unique in his style and he would just go.
G: Weight 165 or so?
D: He was 150, I would say.
G: Oh, that light? Because he looked bigger on the bike, bigger than life.
D: No. He wasn't very big at all.
G: He's my mental model right now for what I'm doing. I'm going very slow, getting back into vintage. I'm being very careful about it. It's like, well, this whole year for me is just go slow and relearn, and I'm thinking, well, maybe next year I'll really start racing. So I'm thinking form and style and I'm talking to a bunch of people about peg weighting, you know, weight to the outside peg.
In fact, give me some commentary on that. This is an ongoing debate. Let's say you're in a left-hand turn, nice big berm, and the form thinking is, OK, you extend your left arm out straight, keep your elbows up bent so you're way up front, and push as much weight as you can on your high peg, your outside right peg, right?
D: Right.
G: What is it doing to the bike versus leaning with the bike through the turn?
D: It puts more weight on the tires.
G: Versus what? Being suspended over the ground then? More like a centrifugal force to hold you up?
D: It's going to depend on what kind of ground you're using. If you've got a good berm or deep sand or something like that, like you're showing an aggressive style. We looked at that one picture in there going around the corner.
G: Right.
D: I'm leaning this way, but you get into a hard-packed corner where you don't have a berm or something to rail on, then you need to get up on that peg and put weight right over those tires.
G: Above ground? Above the center line of gravity?
D: Right, because if you're down like this, then the weight tends to push, the centrifugal force tends to push the bike out.
G: So the looser the ground, the more you should be upright, weighting that outside peg?
D: Right. If you've got sand, something that you're going to be able to dig into, then you can push. You want to push that way, so your angle is going to become more like this. The looser the ground, the flatter the terrain, the more you want to get up on that peg, and you do want to be forward on those. Your rear suspension on those bikes bounced around so much. Even that Maico when the Fox air shocks were on, that last race, we would go on this big, open, winding turn, and then we'd come into a 90-degree right-hand corner and there were just stutter bumps this high. I was just bouncing into that next turn. The rear-end was coming up, and you just set yourself up. If you got too far forward, you were just going to go right over.
G: See, but I don't have all the memory of this new stuff. My most saddle time, I raced four different bikes, but mostly the 250 Elsinore. So now I'm comparing it to my CZ, and I'm realizing, man, this bike is forgiving.
D: When I came back, I had a '77 Maico and I came back and farted around for six months, and then I went in the Army. I became a helicopter pilot. That's how I ended up here. I was a Cobra pilot.
G: No kidding? Wow.
D: When I finished flight school, Tim was up here already. I said well, I want to be up there where my buddy is. We're gonna ride and everything else, and I still had my Maico. My Maico was in Colorado. So now it's '78, almost '79. My Maico is two years old, and at that time, technology was moving at leaps and bounds.
G: Oh yeah, every year. Every year was going nuts.
D: So I show up here with this '77 Maico, and Tim wanted to go riding with his son, and there were a couple guys that I met down at flight school that had bikes, and they were stationed here and they sent a whole bunch of us up here at the same time. Well, one of these guys had a new Suzuki open bike. The other one had a new Yamaha, and then there's my Maico sitting three or four inches shorter than their bikes in the back of the van as we're going down to Thurston County to go ride. They're all making fun of me. They're laughing, and Tim knows I can go fast on that Maico, and they're just busting my balls.
G: They didn't know you were the national champion in Germany?
D: No. So we get down there and on the other side of the track at Thurston County, there was a gravel pit. The track was closed. We did a little bit of trail riding, but then we went down to the gravel pit and we kind of made this course and there were berms and turns and everything. Everybody was on the same track and everything and there were four or five of us. Well, on the way out to the gravel pit, I fouled a plug. They're looking, and they said, "The thing can't even make it over to the pit." Tim comes up and he goes, "What's up?" I said, "I fouled a plug." He goes, I'll go back. You got another one in the toolbox?" "Yeah." He motors back to the van, gets a plug, comes, puts it in and I said, "I'll be there. You guys set up a track."
So I go back and I put the stuff in the van and I motor back out there and they're riding this track. I got out and I follow one of them around, two laps. They said, "OK. Let's have a little race." And, like, huh? They said, "Let's get together. We'll have a little race," and I said OK.
So they take off and I'm not even in gear. I'm like, ready, go. And they're like, "You aren't racing?" I said, "Oh, yeah. I'm racing with you." I said, one, two, ready, go. vroom. Tim and his son were riding 125 Yamaha's, so they didn't have any power, and it was gravely, sandy. The other two guys take off. Well, at the end of the first lap I caught everybody and motored by Tim and his son and then motored by the guy in the Yamaha. The guy in the Suzuki, there was this big berm, and he went low and I went high and I went vroom, right around him and up over this hill and I'm gone. He just stopped there and he looked. The other guy in the Yamaha comes up and he goes, "What are you doing? Are you broke?" He goes, "No. Did you f__king see that?" He says, "I can't believe it." I was just gone.
We get back and Tim says, "He didn't tell you about his history, did he?" I said, "Hey. This Maico is fast. It's just outdated, but it still motors."
I'm sad, you know, with all the vintage stuff going on, but hindsight is 20-20. I'm sad I got rid of the thing, because it would have been fun. Stick it in the basement.
G: The evolutionary class is Saturday racing usually; Sunday is vintage. Every time you have these, you know, Hollister and Whitman. I went down to Arizona for Whitman for my first race.
D: So, anyway, when those guys, a two-year old Maico beater thing, a guy that they didn't know from Adam, comes out there and they're making fun of my bike and the thing fouls a plug and to just go out and spank 'em.
G: Awesome story. You know David I'd better roll. Thanks so much for your time and sharing so openly with me.
***