MR Sponsor Profile: An Interview with
Joe Abbate of Cycle Therapy
By Michael McCook
Joe Abbate
Thank you for taking the time to sit down with me for this interview Joe. Many across North America know you as a meticulous vintage motorcycle aficionado and restorer, but first let's talk about your early days of motorcycling.
How old were you when you first started riding, how did you acquire your first bikes, and what brand/models were they?
Michael, thank you for asking me to do the interview. "Motorcycle Aficionado"; great name for a magazine don't you think? I first became fascinated with motorcycles at a very early age, about 3 or 4 years old. At the time we had lived across the street from a police station. Officers would pull out of that garage everyday on two and three wheeled bikes, and I'd watch them ride off. I asked my Dad to take me there one day to look at the bikes. I remember the slight frustration of not being able to sit on the seat, and touch the handlebars at the same time (smiling). That is my first memory of motorcycles. At about the age of 10 a sporting goods store in the town where I lived was going out of business. They had 3 mini bikes left, and my Dad bought me a 3 HP, Muskin mini-bike. We moved to NY state a year later, and between 1972 and 75 I had acquired a Yamaha 60.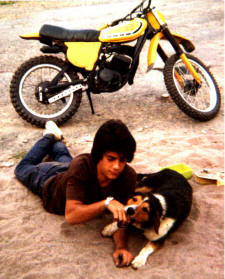 Young Joe with his pup 'Petey' and his 76 Yamaha YZ 125C
It wasn't a Mini-Enduro or a JT, it was more like a little road bike, and a Yamaha 100. I think it was a YD2C. It had a pressed frame, and was more of a trail bike than what I owned previously. I attended my first race as a spectator at Unadilla in November of 74 and still have the event program. I was totally hooked on motocross! I couldn't afford a real MX bike, so I began to "modify" the Yamaha, starting with removing all of the lights. Preston Petty was pumping out plastic for everything at the time, so I put some Petty stuff on it including a high mounted front fender kit. I would buy Motocross Action and Dirt Bike magazines every month and began seeing things on long travel suspension and down pipes. I was able to weld in shop class, so I fabricated two small triangle pieces and welded those to my swingarm to forward mount the shocks. I also came across an expansion chamber from a snow mobile and managed to make a down pipe for that bike too. I'm not sure it did much more than make a lot of noise (laughing) but it looked trick. I worked with my Dad everyday during the summer of 1975. I managed to save some money and finally got a real motocross bike in August, a 76 Yamaha YZ 125C monoshock.
I know that most riders, including myself, who participate in vintage racing today started out by racing in scrambles and motocross in the late 1960's, and into the 70's. Did you race in AMA sanctioned races back then, if so, what district, how did you do, and what were some of your memorable experiences?
It was the following April in 1976 that I entered my first race in Ellenville NY; the track was Mt Cathalia. It was a ski resort in the winter, motocross track in the summer; where I entered as a 125 novice. It was an AMA sanctioned event in district 34. Some of those tracks still exist today; Walden, Diamond Back, Ace and Claverack. I also raced at Fishkill and South Woods, which was in Monticello.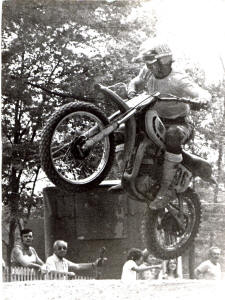 Airborne at Monticello
Now you have asked me if there were any memorable experiences, well the answer is yes. My first race was April, and my last race was on July 18th, only four short months later. I got the hole shot and led for about a lap and a half. Obviously I was very inexperienced and was soon passed by at least half of the field consisting of 35 riders. I raced maybe 7 or 8 times after that, and my riding was progressing nicely. I began to qualify and broke into the top ten a few times, then into the top five.
Flying at Fishkill
Just as I was beginning to get the hang of things, a strange twist of fate stepped in; the race was at Claverack. I can't remember how I did in the first race, but I qualified and made it to the second moto. On the first lap of that race, I was running fairly close to the front of the pack when I fell coming off of a drop-off down hill jump. I was a bit dazed but was all right. My bike lay perpendicular to the track. As I picked it up, another rider came off that same drop off and squarely with his front wheel, hit the side of my bike. I was looking right at him as he came over his handlebars. His helmet hit me square in the face. I had on a Pacific "Face Fender" at the time, but it really did nothing for me. I woke up in an ambulance on my way to the hospital. I had lost six of my top front teeth in one shot. Both lips had to be stitched up inside and out. I couldn't see a dentist until the swelling had gone down which took about a week. Even after seeing a dentist, there wasn't much they could do for me for almost a month. The pain and swelling was excruciating. That was it for my racing, as my parents would have no part of it. They did let me keep the bike, and I rode it around the property where we lived. In 1978 we moved back to New Jersey and I sold the bike when I began going to school in NY City. In 1995 I went to a dealership with my friend Jerry Cantone.
In the lead at Wallkill
He bought a new Yamaha Banshee and said he was going to begin racing. When I drove him to get the bike, I ended up buying a new YZ125. I never really had closure with motocross after the accident, so I figured I'd try it again. I raced maybe three times, but it was hardly like it was back in 76., In 1996 I had a good business which was growing at the time, and the fact that I was able to return to motocross and leave on my own terms, in one piece, was good enough for me; or so I thought.
I first met you at an AHRMA race in the Northeast and I know you also ride in the ACR (American Classic Racing) events. Let's fast-forward from 1996 and tell me how and why you got back into racing.
When I decided to stop racing the second time in 1996, I saw an advertisement for a vintage race at Diamond Back. I went there as a spectator but didn't own a vintage bike at the time. At that race I bought a 74 CZ250 for $500.00. It ran but needed a pipe. I took it home, ordered a pipe, and prepared it for a race that was coming up. Just a few days before that race I received a pipe for a 400, not a 250. I never made that race, and the bike sat in my garage until May of 1999.
I started my own business in 1993, an auto and equipment leasing company. Between 1996 and 1999, the company had grown tremendously. Financially and professionally; a man couldn't ask for more. I went through two Ferraris (a 328 & a 348 Spyder) and a Lamborghini Countach in three years. Banks were banging down my doors to give me lines of credit. If I wanted it, I bought it. However, personally and emotionally, I was nearly bankrupt. In the fall of 1998 my wife was just about ready to 'throw in the towel', and long before David Chase invented Tony Soprano That's when I learned what panic disorder and depression was all about. After careful consideration I sold everything for 35 cents on the dollar and went home, to my wife and my garage. I reorganized my life and began tinkering in my garage almost every night. In the spring of 1999, I read about a vintage race being held in Monticello NY. I rolled out the CZ that had been laying there for almost 3 and a half years, got the right pipe, and went racing in Monticello. I won the first vintage race I entered, finishing first in +30 Novice class that year. The next season I moved up to intermediate and I did very well again, in +40 with AHRMA and ACR (American Classic Racing). Since then I have raced many different classes and was really happy when AHRMA decided to bring Post Vintage into the program. I've tried my best to support vintage motocross in the northeast and I believe I have missed only one or two events each year in both AHRMA and ACR over the past four years.
Of course the entire story is longer than this, but let's just say when the time came, the name "Joe Abbate's Cycle Therapy" was easy to come up with.
From one businessman to another, I can relate to your personal experience. From one rider to another, damn you are good; I've enjoyed watching you race. On the business side, what inspired you to take what some guys do for a hobby and take it to the next level, offering your restoration talent for hire under the banner 'Cycle Therapy'?
Thank you for the compliment on the racing. Less cigars and more tread mill and I'd really have it together. The 74 YZ 250A isn't hurting me either. My inspiration; in a word "PASSION"! I truly love what I do. There are only two parts of a restoration I don't do, electro plating, for the obvious reason, and build wheels, which I can do, but prefer to have it out sourced due to the reasonably low cost from my supplier. So it's the passion for what I do that keeps me inspired, but the response to my work from racers and people at motorcycle shows when I would display my bikes was also inspirational to me.
In the fall of 2003, as a spectator, I attended the Kawasaki Race of Champions in Englishtown NJ. Several former pro riders from the 70's and 80's were there that day. Mike Bell, Jo Jo Keller, Jim Pomeroy, Tom Rapp, Rick Burgett, Mickey Kessler, Gary Semics and Jim Weinert to name just a few. I had known Jimmy for a few years, but hadn't seen him in a while. I brought several of my bikes to Englishtown that day knowing the riders who made them popular were going to be present. When Jimmy Weinert saw the bikes I brought, he said to me, "Hold on a minute you HAVE to meet Billy West". Honestly, I didn't really know who Billy West was at the time, but he was the famed factory Yamaha "wrench" for Rick Burgett. Jimmy introduced us, and Billy and I hit it off really well. When he looked over my bikes, he explained to me that he has a restoration shop on the West coast. He also asked me if this is what I did for a living; at the time the answer was "no" "Well, you should be doing it, you obviously have the talent, and I can't think of anyone on the East coast that is". Coming from Billy West, a guy who has been around this stuff for decades got me thinking. A few months later, I was in California on vacation in Napa Valley. We went down to Fresno to visit with Billy for the day. From the bikes that I saw there, I can tell you his work was impeccable and were completed in a rather humble shop next to his house. That's when the wheels began turning for me and helped with my decision to open my own shop.
Billy West and Joe talking shop
Before the leasing business, I bought and sold Corvettes for three years. During that period I spent time learning bodywork and paint, so that goes well with what I do now. I also spent a lot of time in a small machine shop over the past few years while restoring bikes for myself. I asked a lot of questions, read numerous books on machine work. When I had enough knowledge I bought a lathe and a milling machine. I'm passionate about what I do and I enjoy being able to let my customers rest assured that I'm personally giving detailed attention to their motorcycle; I think that makes all the difference.
Each of us who are involved in vintage racing has a very rare opportunity. It is a chance to go back to a special time in our lives, yet remain present. It's a rare occasion as we get older and finally have the funds to do what we want, that something we had interest in decades ago is once again available and is still in our hearts.
That's part of my inspiration too, having a second opportunity at something I have loved all my life, and enjoyably keeping myself in the moment.
People are having me restore bikes to display in their living rooms. I'm working on a 1973 Honda CR 250 right now that is an anniversary present!
It isn't so much that we have recaptured old motorcycles, old motorcycles have recaptured us.
As the 'Baby Boomers' have been hitting mid-life, more and more guys are oiling out the rust and getting back into racing via AHRMA and other regional organizations. In turn, a cottage industry has emerged, supporting the restoration and maintenance requirements for these enthusiasts. How will Cycle Therapy be promoted in this relatively new marketplace and what will you do to set yourself apart from others providing similar services?
I began promoting Cycle Therapy from its inception last January, bringing a 1978 Harley Davidson 250 MX restoration of mine to the AHRMA Northeast awards banquet. During the banquet, Coordinator Alex Moroz announced the plan to raffle the bike off at the Monster Mountain National last November, which we did. I felt it was best that everyone actually see my work first hand. Regardless of what business anyone is in, a website can convey via pictures and words what that company may be capable of doing. It was a wise choice to let everyone see that bike, to touch it, to examine the craftsmanship. That's where the promotion of Cycle Therapy began. It will be followed up with more print advertising, the sponsoring of races next season and co-sponsoring certain riders in the East who have their bikes race prepped by me. As a matter of course and in keeping up with modern media; a website too.
You I can help. The motorcycle needs Cycle Therapy
Now as far as your question pertaining to what sets me apart from others providing similar services; let me say this. Everyone needs to make a living at what they do, regardless of what it is. If two people are in the same industry, and for the most part are selling the same product, there is only one variable that separates them, yet it is of the utmost importance, 'personalized service'. Some may argue that it is price, and that is partially true, but remember, 'The bitterness of poor quality remains long after the thrill of low price is forgotten'. Personalized service is my approach to building a respectful relationship with customers.
I'm not, nor do I want to be a high production shop. I pride myself on attention to detail and authenticity. I respect what the manufacturer of the motorcycle had gone through originally to produce a quality product. I also respect the customer for putting their faith in me to bring this bike back to its original beauty. You will never hear the words from me "This is what we use" just so I can get a bike out the door. For example, I restored a motorcycle at a time where there wasn't a replacement seat cover available. I had a cover made, but the grain of the leather wasn't what I had in mind, so I had another one made. This time I personally chose the grain of the leather.
You will never see reproduction parts with a modern company's logo on a bike that I restore unless that is what the customer asks of me.
I will do everything in my power on a reproduced replacement part, which is no longer available from a dealer, look 'period correct'. As an example, Excel makes a great wheel, but the anodized logo on the side of the rim will have to go if it is going to be on a bike I restore.
Restore your very first bike?
No problem!
If you are considering having me perform a race or show restoration and you are not in the Northeast, your motorcycle can be transported from most major US cities in a fully insured, enclosed vehicle for a very affordable fee.
These are just a few of the things I believe separates me from other people with similar services.
Going back to the earlier question about promoting, I will be restoring another bike that will be raffled off at a National this summer. For the last raffle on the Harley, tickets were sold all season long. This raffle will take place over the course of three days and not only will the winner need to be present, anyone who considers themselves to be vintage motocross enthusiasts will want to be present.
As I mentioned earlier, I am not a high volume shop, nor would I want to be. This can be very beneficial to someone considering having a motorcycle restored, and here's why. I've seen advertising for bikes being totally restored in 45 days, and this is wonderful, if, according to what I have read, you have about six thousand dollars to plunk down in six weeks. Not everyone has the discipline to save several thousand dollars, but we all want to have an awesome vintage bike. People often collect parts for years, but seldom have the time to spend refinishing parts they didn't replace. Few have the space and the proper environment to keep things organized, therefore years go by without any results. They end up sitting there with a pile of new parts and the words 'someday' and 'eventually' in their mind, however 'someday' never comes.
My point being, whether you have the parts or you don't, I'm willing to work with people on an individual basis, to get their restoration project off the ground today, and give them the time they need to pay for the project. If anyone is interested in something like that, I encourage them to call me so we can discuss it further.
With the 2005 racing season right around the corner, what bikes will Joe Abbate be racing this year, and tell us which are your favorite tracks?
For the vintage classes, I'll be riding my 74 YZ 250A, 75 Kawasaki 250KX, CanAm 250 MX, and after a long rest, for certain regional events only, my CZ 250. My plan is to try for a National Championship this year as an Intermediate, then turn Expert the following year. Racing Nationals can be hectic between the travel time and getting a bike there. If I drive to a race, it will always be the YZ. If I fly, the KX or Can Am will be sent ahead. In Post Vintage/Evolution my 79 CR 125,for regional decade classes, a 1988 RM 250.
My favorite tracks? The best track I have ever seen is Monster Mountain in Alabama; I also like Southwick, Budds Creek and Broome Tioga. Evansville and Raush Creek in Pennsylvania are a lot of fun too. There really isn't a track I dislike. I'm very thankful that track owners have kept the doors open to vintage racing and we have a place to go.
I know each of us have a few Motocross Hero's. Who are the racers that you admire and have followed over the years?
There are several racers I have admired, and I will get to those; but I've always been fascinated with innovators in the world of motocross. I also realize this question uses the word "heroes" in it; however I always prefer the word "legends". To me, the difference between hero's and legends, are that legends live forever.
That being said, here are some of the people in motocross I have admired.
Lucien Tilkens of Belgium, for the invention of single shock suspension long before we knew it as a "Monoshock" or "monocross" His single shock was developed on a CZ, offered to Maico and was eventually sold to Yamaha.
Mike Goodwin, the Father of indoor motocross. People flocked in droves to the LA Coliseum when it was introduced; and we all know where it is today.
Preston Petty is my all time favorite person as far as non-racers go in this sport. He was motocross' first millionaire and worked for many years to develop his products before we saw them in the early 70's. He was way ahead of his time not only with plastic products, but he also had a "no-dive" fork kit that prevented unwanted fork collapse in turns and while going down steep hills. He was a hell of a desert racer too. If I could spend one day with anyone involved in motocross, it would be Preston.
As far as riders go, Marty Smith. He was the "boy wonder" back when....well...I was a boy. He was a teenager in high school, leaving class early on Friday to be flown to motocross races by the largest motorcycle company in the world. In 1975 I believe it was, the first US 125GP was held in Ohio, Marty won that race. On that day Marty was the first to clear 2 jumps in one fell swoop. This was back in 1975, it wasn't a double jump! It was two jumps that weren't supposed to be cleared by anyone in one shot. Marty did it! I followed his career from that day on.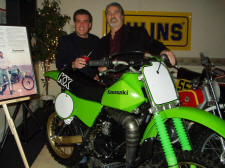 Joe, Bad Brad and a Killer KX
Brad Lackey: I can remember my first pro race as a spectator, Unadilla, 1974. It was the Trans AMA, and although the Worlds greatest riders were there, DeCoster, Mikkola, Weil etc, all the people were talking about "Bad Brad" He was rebel with a cause. I instantly became a Lackey fan wanting very much to see him defeat the Europeans that day.
Jimmy Weinert and Bob Hannah, both were fierce competitors and I followed their racing careers closely, because at the time, they both rode Yamahas and I had a YZ 125.
Jimmy Weinert with the 'Doctor'
Tony DiStefano. I remember reading a story about him when I was a kid. He was a privateer, doing his own mechanical work, going from race to race in a van. He was defeating many factory pros while on a CZ. For a brief moment, I thought if I could ever get good enough at motocross, I could load up a van and be like my "Paizon" Tony D! Of course, I'd have to be old enough drive, and that wouldn't be for another two years ~~~sigh~~~
Getting away from motorcycles for a moment, most of us in the vintage racing scene are pretty much in the same age group, and being a musician myself, I'm always interested in what kinds of music the guys are into. What about you? What are your musical tastes both old and new?
On September 11, 2001, I went into my garage late that afternoon, and I had no idea what radio station to put on. I've always tried to remain in tune with present music, but we all know where that was going prior to 2001. Since then, in my opinion, it has only gotten worse. The only music that seemed real to me that day, on any radio station was classic rock. I have been listening to it ever since and find it funny how I know a lot more now about the Rolling Stones, Pink Floyd, The Who and Led Zepplin than I ever did when I was 18.
How about movies and books? Tell us what you've read lately and what some of your favorite movies are.
I haven't read too much lately with the exception of a few books on milling machines and lathes, none of which were "epics" However, my two favorite books are "The Prince" by Machiavelli and "The Road Less Traveled" by M. Scott Peck. I've read them both several times
As far as movies go, I'll watch anything with Al Pacino, Robert DeNiro, Jack Nicholson or Dustin Hoffman. However, you asked me about "favorite movies" so here they are in no particular order: Goodfellas, Tucker, Scent of a Women, Slingblade, Rainman, Good Will Hunting and As Good as it Gets.
Back on two wheels. I understand that you have accepted the assistant coordinator position for AHRMA Northeast. Where do you see the future of vintage motocross going and can riders look for any changes in the 2005 northeast racing program?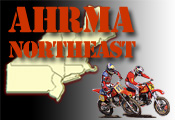 I'm not aware of any changes made by AHRMA board members that would affect the northeast racing program at this time. I accepted the position of assistant coordinator as a first step to become more personally involved in the sport. Perhaps in the future, when the time is right, I'll be able to introduce some new ideas that will help with the growth of vintage racing.
As far as the future of vintage motocross, I believe it will have a bright future as long as we can have progressive thinking while not losing sight of the foundation of the sport. We need to attract younger riders and keep them interested in vintage racing. Independent clubs seem to have a way of making that happen, this is progressive thinking and it is good for the future of vintage racing.
Independent clubs have surfaced across the country over the past few years. The bell has rung, and you can't un-ring it. I feel it has been good for the sport as a whole, and would rather see independent clubs thriving with members who are disenchanted with rules, than see them give up on vintage racing all together. Perhaps somewhere in the future, something like a "series race" between AHRMA and independent clubs can take place. Regional groups will need to "extend the olive branch" and hopefully the other group will graciously accept it.
Everyone needs to keep something in mind if you truly love to race vintage bikes, and are concerned with the longevity and protection of it. If something unforeseen occurs either with your independent vintage group, or AHRMA in your region, and you want to remain a racer, you may face the fact that at your next race one of two things may happen. Either you're going to end up in tech inspection with someone measuring your suspension and putting a sticker on your helmet, or you may be lined up next to a bike with a lay down kit on it as you wait for the youth class to complete their moto. That's the reality of it.
For vintage racing to have a future we all need to support it; in all its forms. At this time AHRMA doesn't offer a youth class. Perhaps in the future they will. In the mean time, get out with your son or daughter and race with an independent club. The same mind set goes for adults who only race with an independent group. If there is a gap in your racing program, go to an AHRMA event. Get your bike set up properly for the class it belongs in and go race. Show your support, think progressively and don't lose sight of the foundation of the sport.
One final question for you Joe. Looking into a crystal ball, it's the year 2015. What is the state of vintage motocross and where do you see Joe Abbate and Cycle Therapy going?
2015? Oh my God! New bikes are run on electricity; the Eco-Nazis have all but closed every piece of open land to motorcyclist. Some riders still run bikes on gasoline, but have to do that inside abandoned warehouses. Bikes no longer ride on springs or shocks as they have been replaced with opposite pole magnets where the bikes ride on an "electrical wave". There isn't anyone that remanufactures plastic anymore as the factories have devised a way to for the plastic parts to "self-repair". This is accomplished by microscopic "paintballs" impregnated in the fenders and side panels, when one bends, the paintballs break open instantly repairing the damage. An LCD is inside the rider's goggles and tells him exactly when to turn the rheostat (there are no throttles or cables anymore it's all electric, remember?) Cycle Therapy is no longer a restoration business; it has been franchised across America with actual psychiatrists. Its niche market being 50 to 80 year old men who sit in group therapy, talking about the good old days, just around the turn of the century (2000) watching 'On Any Sunday' and burning scented candles that smell like pre-mix. Not to worry though, "motocross" is as big as ever! There is an arena in every town across America! Most arenas are old supermarkets that are no longer in use due to people shopping for groceries online. Gone is the "drudgery" of Sunday racing, loading up, fresh air, seeing if your hard work all week long holds up to the torturous track conditions. Children and their parents enjoy "moto-ing" two nights a week much like soccer. There are only two motos a night; no need for anymore than that. There is racing in every town now. No need to haul the bike around either, the bike just stays at the "track" recharging until the next race. Last but not least, we don't want to make youthful racers feel inferior in any way. We no longer "place" riders at a level of any kind, nor does it matter where they finish because there are no trophies, you now earn points when you race which buys you "recharge time" for the bike.
Jeff Smith is 84, and still considers Brad Lackey 66, to be a "hippy".
Doc and Jim discussing...
ummm... you know.
Jim Pomeroy after 42 years is STILL the only American to win a GP in Europe the first time out. "Bimbo's" right hand is now permanently stuck in the "thumbs up" position and has been that way since 2008.
Recently on eBay, famed Yamaha mechanic of the 70's, Keith McCarty has sold the infamous pit board that read "Let Broc By" It was purchased by Bob Hannah for $4,280.00. It still reads Let Broc By on one side. However on the opposite side the irrepressible "Hurricane Hannah" has added "Screw McCarty, Glover AND Yamaha! The pit board is once again for sale on eBay, with an opening bid of $6,000.00. Ok? Enough about the future.
This is really the toughest question you have asked me, seriously it is.
If history has taught us anything, it's everything eventually comes to an end. No matter how popular something may have been or is today, it will come to a halt once interest is lost. We can prevent interest being lost through progressive thinking and a slow but steady growth as I mentioned earlier.
Right now America seems to be enamored with many things that are vintage. We see much of it on television, "This Old House" "Restore America" "What is this Worth?" programming like that tells you where the mindset is right now. We as vintage motocross enthusiasts fall into that category. Mature and successful enough to buy it, yet young enough to still get use out of it and enjoy it. There is also a lot of vintage car racing going on these days; therefore the value of many of the cars you see competing is astronomical. There is a place for these racers/enthusiasts to go, to share their passion with their peers. They race them, they break them, they spend a lot to fix them, and then they do it all over again.
Providing vintage motorcycle racing stays alive, vintage motocross in its entirety will thrive, in all areas. Without racing, much of it will fade, only to leave us with a garage full of memories and no place to go with them. This is why I stress the importance of everyone getting out to every race you can attend, regardless of who is promoting it or what sanction it falls under. Here in the Northeast, district 34 runs a vintage class at every race. It's one class for twin shock air cooled bikes, but if interest grows, and more people turn out for it, there could be other vintage classes added.
There is no crystal ball Mike, there is only today. For the betterment, protection, and longevity of vintage motocross, each of us must do whatever we can to help it grow proportionately. Vintage motocross is a teenager, it's a child, and we are all a part of its rearing. You can't keep it home too long as that will only prevent its growth, nor do you want it to grow too quickly for it will loose its values, its roots, so to speak, and its individuality.
I'd like to thank you for providing this forum Michael. I appreciate it very much, and like the way you have made McCookRacing.com an interesting place to visit, I enjoy reading the race reports, articles and reviews.
I'm happy to be a Sponsor of McCookRacing.com and all of the things having to do with vintage motocross. Where is Joe Abbate and Cycle Therapy going? Well, the "Doc" has two patients waiting to see him this morning. One is an old man, (1971 BSA B50MX) and the other is an ornery teenager, (1991 KX 125) and both are in serious need of… Cycle Therapy.
***
McCookRacing is Proud to have Joe Abbate's Cycle Therapy as a Sponsor!
To learn more about Cycle Therapy visit:
www.JoeAbbatesCycleTherapy.com
or call 201-634-0600
Thanks Joe!