MR Interviews Rae Tyson
President, Potomac Vintage Riders
Interviewed by Al Conte #48J
PVR Member and President, OC Design
What is your first memorable 2-wheel experience that involved a minibike, motorcycle, scooter, or…?
In college, I tried to ride a Triumph Bonneville to class daily; found out about unreliable British electronics. Beyond that, my introduction to off-road riding was on a friend's Ossa Plonker after I graduated from college.
Who was the biggest enabler in your family growing up? The one who really pushed you in the motorcycle direction.
More appropriately, it should be: who was my biggest disabler. I was not allowed to ride motorcycles growing up. My first bike was in college, surreptitiously.
Did you race in your younger years? How old were you and tell us about your early racing experiences.
No. I did not compete until I was in my 20s. I began riding enduros on a DT1-Yamaha then switched to CanAms when they were introduced in 1973. I began observed trials competition too. Nearly killed myself riding trials on the DT-1; shortly thereafter bought one of the first Honda TL125s, in 1974. I began vintage motocross, trials and road race competition in the late 1990s. Since then, I have won a national and several regional championships.
Have you ever been involved in other forms of motorized competition? (race cars, ATV's, Boats)
Yes. I have extensive auto racing experience – drag, stock cars, sports cars. I am a graduate of the Skip Barber Racing School and currently hold a competition license. In my younger years, I did some pit crew work for Don Garlits, a well-known top fuel drag racer. I also crewed for a friend who raced hydroplanes
Tell us about your bread and butter, what you do for a living?
I am director of public affairs for the National Highway Traffic Safety Administration. I also do a fair amount of free-lance writing for Cycle News and other publications.
I understand your son is quite a rider. Tell us a bit about him.
Both my son and daughter have completed the Motorcycle Safety Foundation's rider training course. My son Peter, 20, is actively competing in AHRMA vintage racing. He rides a '72 CZ 250 and a 1980 Can Am 125. He's currently an intermediate level rider and does quite well against the older guys. He got faster than me about two seasons ago.
What other interests do you have besides motorcycles? How do you relax and enjoy yourself?
Cooking, collecting antiques, listening to live music at a local club.
What CD is in your player right now? And music preferences?
Metallica, Audio Slave and John Lee Hooker Live.
Your favorite beer is…? Wine?
I generally prefer microbrews though my refrigerator is usually stocked with Yuengling Black and Tan. My white wine preferences are, in general, Pinot Grigiot from Australia. For red, it depends on the occasion. I like California Merlot as an everyday wine though I prefer a more robust Italian Chianti with certain foods.
What was it that sparked your interest in Vintage racing?
As a reporter at USA Today, I was sent to Steamboat Springs, Colorado to cover an AHRMA vintage event, which included dirt track, roadracing, trials and motocross. I was hooked. Shortly thereafter I found a nice vintage Bultaco Sherpa-T trials bike. Not much later, I bought a '74 Honda CR125 for motocross and a Yamaha RD350 for roadracing.
How long have you been into restorations? What was your first rebuild project?
My first restoration attempt coincided with my interest in vintage competition. I restored a Rickman Zundapp 125 that was a gift from a friend. It was a big mistake.
At what level are you capable of doing your own motorcycle modifications and repairs?
I am like a lot of vintage guys. I can do a lot of my own work but often farm it out because of time constraints. Plus, we have a guy in our club, Tim Taylor, who is an absolute genius when it comes to repairing vintage bikes.
Tell us how Potomac Vintage Riders came into being? How long have you been the driving force?
A guy named Chris Huhn owned a vintage motorcycle supply company called VMX in Sterling, VA. In 1998, Chris established the AHRMA Mid-Atlantic motocross series. I met Chris through VMX and one day we were talking about the need for a vintage-only club in the DC area. We contacted a bunch of guys, invited them to an organizational meeting at VMX headquarters in the summer of 1999. We got our AMA charter in the fall of 1999. I have been president since the beginning. Interestingly, it is the second club I've been involved in. I am past president of the Niagara County (NY) Motorcycle Club, one of the oldest AMA-chartered organizations in the country.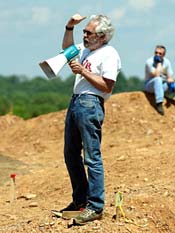 When you created this group, did you ever think it would be as large as it is now and still growing?
Absolutely not. In the beginning, the club catered mostly to mx riders. But we expanded into trials, cross country and road events and the club continued to grow. We now have close to 100 members. We run road events and sponsor the AHRMA Mid-Atlantic MX and Cross-Country series. We also promote several observed trials events under the Mid-Atlantic Vintage Trials (MAVT) series. And the club has played an active role in the British-European Bike Day in Maryland. Two years ago, the club took over the former Will Stoner Swap Meets in York, PA, after the AMA decided to abandon those events. That was a major step for us. It also has provided us with additional income to support club activities.
Have you ever been arrested (OK, just kidding on that one. It would be interesting though).
No. But that may due to blind luck.
What types of riding gets your heart really pumping?
Hard to say. I enjoy them all. But I must say that a fast ride on a good-handling sport bike early on a Sunday morning is pretty neat.
What is your favorite track and why?
For motocross, Budds Creek and the now closed Honda Hills in Ohio. My favorite road course is Summit Point, mostly because I know it better than any other venue.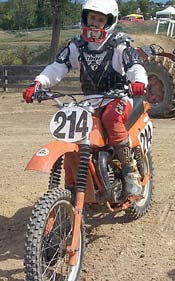 How do you physically prepare for a race?
When I am actively competing, I try to practice nearly every off weekend. I also ride a mountain bike. As to diet, I make darn sure I drink beer and eat fried foods the night before a big race.
Tell us about your current stable of motorcycles and of those which are your favorites.
Though my collection has been thinned considerably this year, I still have an interesting array of vintage bikes. My current favorite MX bike is a '71 AJS Stormer 250. My favorite Enduro bike is a 1980 Can Am Qualifier III 175. My regular trials bike is a '77 Bultaco though I am currently enamored with a '71 Cotton trials bike, mostly because I just finished a total restoration. I like the Cotton because it represents the worst of all worlds: British motorcycle with an Italian motor.
If you could own any one motorcycle (street or dirt) and money is no object, what would it be?
Any Mike Hailwood replica Ducati.
If you could thank one person (alive or dead) that has had a large impact on your life, who would that be?
It depends on the context. From a personal standpoint, probably my mother, even though she hated motorcycles.
What would your dream job be?
No such creature. I have enjoyed every job I have ever had and, believe me, I have had quite a few. My dream job is the one I have now.
If you could change anything in your life, what would it be?
Like most of us, it would be great to have more time to pursue hobbies, including motorcycles.
What are your plans involving motorcycles for the next few years?
The longer I am involved, the more I get interested in restoring obscure competition bikes. My current restoration project is a 1952 Famous James, which was used as a trials bike. After that, I covet a street bike from the early 1900s.
McCookRacing.com thanks Rae Tyson for his time with us!