MR Interviews Travis Agle, Vintage Racer and Moderator of the premier Maico discussion group
By Michael McCook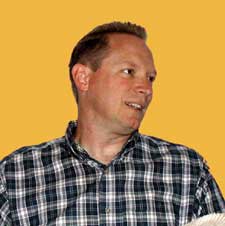 Travis Agle
What is your first memorable moment that involves a minibike, motorcycle, scooter?
When I was 8 years old my neighbor had a little Briggs & Stratton minibike that he used to let me ride up and down the street. I thought it was a real dirt bike and felt like was one of the guys I saw in 'On Any Sunday'.
Who was the biggest enabler that helped you get your first machine?
In 1971 I was 9 and we moved to a new neighborhood and my next door neighbor was my age and his dad and uncle competed in desert races. His dad had a Maico 400 and it seemed like a real man's machine, not a kid's bike. I always read the motorcycle magazines they had around and my friend and I dreamed of getting our own bikes. I finally got one at age 13. More about that first bike later.
Did you race in your younger years? How old were you and tell us about your early racing experiences.
When I was a kid I never raced, I only rode around on the trails in the hills near my house. I didn't actually race until after I got married in 1990 because my wife's brother was a desert racer (Viking MC club member). My first race was a Hare and Hound in 1990 on a 1984 Yamaha IT 175 and I DNF'd.
Have you ever been involved in other forms of motorized competition?
I helped build and pit crewed for a VW engined dragster in the '80s. I took it down the strips a lot but never actually competed.
What CD or Tape is in your player right now and what kind of music do you like best?
In my car right now I have 5 CDs: Ramones - It's Alive, Creedance Clearwater Revival - Greatest Hits Vol. 1, Johnny Cash - The Sun Sessions, Velvet Underground - VU, and Louis Jordan - No Mos. I get bored listening to one kind of music too long so I like to mix things up. I don't think there has been much music of consequence produced in the last ten years.
Travis (left) with the "Swamp Zombies" in a 1987
publicity photo
Have you ever been arrested? (We're having a little fun here)
Yes, for playing too loud in a rock band after 10pm in a residential neighborhood. I played guitar in a band in college.
Besides Motorcycles, what are your other interests?
Family, home improvements, World War II history, playing the guitar. I have played guitar since I was 14 and formed my first band at 17. I've been in a few different bands from punk to blues to instrumental surf rock. I haven't been in a band since 1991 but still have my two favorite guitars: A Martin D-35 and a '64 Fender Jaguar that is metal flake blue. As an aside, the Fender inspired me to do the tank on my '66 Maico in the same metal flake blue. I hope I can replicate it.
1981 250 Mega II
At what level are you capable at doing your own repairs?
Complete top end jobs, clutch work (Maicos, of course), fork rebuilds, seat recovering, painting, etc. I leave tranny work, cranks, etc. and welding to the pros. I don't weld but wish I did.
If you could own any one motorcycle (street or dirt) and money is no object, what would it be and why?
Probably a Harley knucklehead bobber with springer forks. I'm at the point in my career where I can afford the dirt bikes I want (Maicos, of course, which I consider the ultimate vintage and post vintage bikes), but the cost of any Americana V-twin seems a little excessive.
What are your plans involving motorcycles for the next up coming year?
Finish my 1966 Maico 360 oval barrel for competition. Possibly campaign for the Classic Novice championship in CalVMX, one of our local So. Cal. clubs.
If you could thank one person (alive or dead) that has had a large impact on your life, who would that be and why?
My dad, who taught me responsibility by example. He's still alive, been married to my mom for 44 years, enjoys life.
Tell us about your very first dirt bike and how you acquired it.
In 1976, when I was 13, my friend, my brother, and I went in 3-ways on a used 1974 Honda 125 Elsie. We took turns riding it and basically pounded it into the ground. It disappeared when I was in my late teens.
What was it that sparked your interest in Vintage racing?
As I mentioned earlier, when I got married I acquired a new brother-in-law who was a desert racer. He had an old 1980 YZ 465 that he let me have so I could ride in the desert with him. It was in sore shape but I was determined to fix it up so I bought a Dirt Bike magazine but of course there was nothing about bikes that old (1991 - it was only eleven years old at the time) and there weren't a lot of options for me. I was able to get most of the hard parts I needed at dealers, and Maier made plastic for it. I found an original seat cover but I could not find tank decals for it anywhere. A few years later I saw an ad in the back of Dirt Bike magazine for Vintage Iron and I contacted them and they had just reproduced the graphics. They sent me a photocopied list of parts they had available for various bikes and it had a little write up about AHRMA (obviously before VI and AHRMA developed bad blood) and that's when I realized there was a whole world out there - heard names like Bultaco, Ossa, CZ, etc, that I hadn't heard in years. I decided the 1980 YZ was too new for me and wanted something pre-'74 and decided on either Husky or Maico. People told me I would just have headaches unless I got a Japanese bike but I was determined and decided on Maico, even though I had never owned one before, because I thought they were so bitchin' when I was a kid. I found a cheap 1972 Maico 250 with a laydown conversion locally and that's where it started. The hubs, triple clamps, and seat base from that bike are all that are left and are now on my '74 250 radial that I race.
1974 250
What is your favorite track and why?
The Carlsbad USGP track was my favorite. It closed this summer after 40 years of operation. I liked the familiarity and history of the track and it was just plain fun to ride and was very vintage friendly yet challenging.
Tell us about your current stable of motorcycles and of those which are your favorites.
1974 Maico 250, swapping to a 400 motor currently. 1981 Maico 250. 1966 Maico 360 ready to be built up into a racer. Modern YZ250 2 stroke and various kid's minibikes. I like the '74 Maico best. With the lower center of gravity and updated shocks it is just plain fun to ride.
How do you physically prepare for a race?
I work out at the gym 3-4 mornings a week - 20 minutes cardio, then 20-30 minutes with weights. I wish I had more time to spend on the cardio but time doesn't allow it. If I have a race coming up I will increase the cardio and decrease the weight training.
What gave you the idea to start your internet discussion group?
Mark "Gooey" McGrew started the Yahoo Maico discussion group after the one at MaicoMadness.com went away. I joined the day after he started it and contributed or asked questions nearly everyday. After about a year he became busy with his employment and asked if I wanted to take over. I jumped at the chance and have managed it ever since. We are now the 4th largest Yahoo motocross group with over 400 members and over 8,000 posts. If you race, restore, or maintain a Maico it is a must.
http://groups.yahoo.com/group/MAICOMOTORCYCLES/

Boxers or Briefs?
How about boxer-length briefs?
***
Travis Agle resides with his family in Laguna Niguel, CA.