---
There I was just kicking back in the shop finishing up the legendary British writer, Wendy Leigh's unauthorized biography on Arnold Schwarzenegger, when it hit me! Hear me out on this one guys. As weird as we may appear on the surface, perhaps by way of making an ass out of yourself on a VMX news group, we all share a common aspect which could arguably be that thing which makes us tick and tock together in harmonious unity. What is this magic cyanoacrylate, you wonder?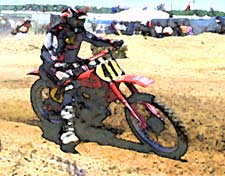 It's Testosterone! That attitude adjusting, muscle building, sex driving, fist fighting hormone that is our common fuel on the track. A long time British friend of mine recently turned me on to a BBC Series broadcast on PBS, entitled "Secrets of the Sexes" and the segment relating to our buddy Testosterone is called 'Brainsex'. I highly recommend watching it if you can find it. Nevertheless, this stuff intrigues me. Now think about a potential situation driven combo such as Adrenaline and Testosterone. Yikes! Can't you just feel the ability to jump a building in a single bound? I've emailed fellow VMX'r John Putkey #253, PhD, Professor of Biochemistry and Molecular Biology, about this dynamic combination and he commented, "With regard to the testosterone and adrenaline mix, there this one dangerous side affect for racers. The bravado induced by testosterone combined with the adrenaline rush, could lead to the dreaded "Superman" syndrome, which is tightly coupled to dangerous crash and burns at high speed. Superman syndrome is more prevalent in teenage racers who have raging hormones, are jazzed on power drinks and need to impress the pit babes".
Man, I'm grinding my teeth just thinking about it (no not about the pit babes) and I've got that taste in my mouth like I've just chewed on some tinfoil (Oh C'mon, you've all done it).
Alright, alright, I've shaken it off. Now back to what I've learned while watching 'Brainsex'. Testosterone is one Powerful hormone and recent discoveries have purported that the levels of testosterone we are exposed to while in the womb, determine very much how we end up, or should I say, who we become as adults. Athletic, aggressive, competitive and sometimes pushing our bodies over the limit.
Professor John Manning of the University of Central Lancashire, England, has a very interesting theory that he puts to test in 'Brainsex'. Ok guys; get out your trusty dial-caliper. Professor Manning asserts that the difference in the length of your index finger compared to your ring finger directly relates to the amount of Testosterone that you were exposed to in the womb. The longer that your ring finger is than your index finger, the more Testosterone was jacking you up way back inside your momma at week sixteen.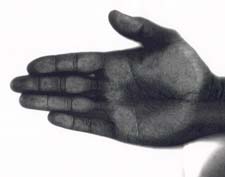 I've got the Magic Fingers.
Thanks Mom!
To prove his theory, Professor Manning recruited five runners. He measured their ring and index finger differences and recorded them. He then fitted the runners with concealed numbered bibs in the order in which he thought they would finish. Upon the conclusion of the race he pealed off the covers over the number bibs to reveal that his #1 pick was in fact the runner who came in first. #2 came in second. Numbers 3 & 4 were reversed and his number 5 pick finished fifth!
Ok, now that you've all gone and measured your fingers and perhaps feel either empowered or terribly inadequate, let me tell you that if you're one of the studly 'longer ring finger' men, you also run the risk of encountering the Superman syndrome. High Testosterone levels produced in competitors during a motor vehicle race, as Professor Manning also discovered opens you up to taking edgy risks while in the zone. You'll tend to either win... or crash, and if you crash, you're probably the kind of guy who will kick his helmet through the Goal Posts. On a high note, you long finger boys are shown to have an efficient heart and vascular system as an adult. Also, this study finds that most of those in the group are genuinely caring and empathetic. I'll enjoy that one, thank you very much.
Now the social curiosity begins for us all. While in public or at the races, we'll be eyeing up fingers on any fine species we encounter. Our imaginations will wonder off into the competitive aspects or even perhaps sexual compatibility. Oh, I forgot to mention that this phenomenon occurs equally between both sexes. That long 'ring fingered' Tom-Boy is just that for this very reason.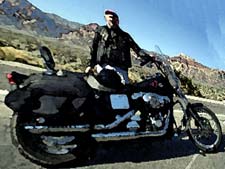 Now that I'm officially in the Secret Society of the 'Long Ring Finger Club' or "LRFC", I'll be expecting to get email from fellow LRFC'rs for the sole purpose of developing Race Teams and of course for the controlled perpetuation of the species.
Email me here
Welp, I'm back to finish my Wendy Leigh Novel and enjoy a VP C-12 on the rocks… shaken not stirred.
Cheers,
Michael #41
The Race goes not to the swift, but he that endures till the end.
Next up: Where are We going now Soup? To St. Maarten to open a Vespa Dealership!