---
The study of human nature has always intrigued me, especially the social interaction between good friends whether it be complacent, co-enabling or dynamic drama. The high times, the low times and how honesty and integrity or lack thereof, creates the paintings of our minds. Do you like what you see? Are your neurosynaptic pathways a beautiful landscape or are they riddled with litter? Do you maintain a sober mind or find that fluidic smoky ghosts dominate you and divert you from happiness and the truth?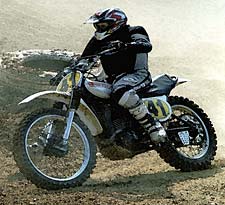 What does all of this have to do with Vintage racing and all that goes with it? It's obvious that we can't race alone and since we are generally a passionate bunch, we have to interact together on many levels. The cottage industry of VMX is small. About 1/10,000th the size of disposable baby diaper sales. We pretty much all know each other and the opinions reach far and wide on just how our sport should be run. Some of you actually despise each other and refuse to talk… pity; life is too short for such childish behavior. We buy, sell and trade bikes and bits via a variety of avenues all across the globe. We gossip. I hate gossip; it is poison that lives in the heart of the sender. We wrench alone or in groups. We paint, polish, grind, solder, play with chemicals, glues, air compressors and rechargeable batteries. Our shops are our haven with untold hours spent there and on occasion leads to spousal spats if not worse. We become brand loyal and support it with a wardrobe of logo'd swag. We are proud to tell others that we race Motocross and for myself, I tell them that I just can't get a high like it any other way. We can't just have a couple of bikes, the more the better. We feed like piranha on barn finds and rollers. To some we are obsessed, to others we are cool and live dangerously. But, the single most important aspect of VMX are the flashes in time when we are on the track... Racing!
Those precious moments, to me, make it all worthwhile and diffuse the current National crip-crap scene to a virtually meaningless distraction. "I just want to be free to ride my bikes and not get hassled by the Man" (Thanks for that one Chili Pepper, and of course Peter Fonda). McCookRacing.com has always been generic, free to be the independent voice reflected by its writers. MR is not influenced by anything other than the enthusiasts themselves. When I started this site with my good friend Skip Williamson almost four years ago, I was excited by the fact that Motocross had returned to my life after a thirty-year hiatus. My excitement continues today but with a bit of jade that I never expected.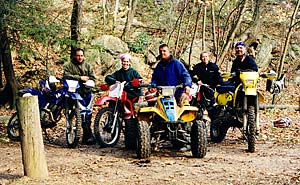 I'm going to go out on a limb here and put forth a life ethic, which I have come to understand and work hard to comply with in my day-to-day humble existence. You can take it or leave it, but the following agreements have come to guide my consciousness.
Always be impeccable with your word
Don't take anything personally
Don't make assumptions
Always do your best
Pretty simple, but very difficult without a commitment to actively trying to make your life better. Oh, and try a little forgiveness, it works wonders.
-Soap Box Off.
Cheers,
Michael #41