Weedstock and the Diamond Don's Riverport National
by John Putkey #238
Photos by John Putkey and Terry Frazier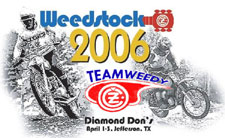 My '72 250 CZ, Old Yeller, sits in the garage untouched since returning from the AHRMA Diamond Don's Riverport National held earlier this month in Jefferson, Texas. Before I wash the of East Texas dirt off the old bike, I thought I would put down on virtual paper some highlights of my first AHRMA event.
The Prelude:
I briefly raced in northern California between the summers of 1972 and 1974 when a knee injury put an end to these good times. Old Yeller was put aside while I started down the path of college, graduate school, marriage, kids, a mortgage - all the things that give us grey hair and the need for chronic medication to treat high cholesterol and hypertension.
The trophies rusted and were discarded, but I held on to memories of my racing days, and even entertained occasional thoughts of racing again, but never bought another motorcycle. In the meantime Old Yeller waited patiently in a damp garage for my return. Thirty years latter I brought the bike to my home in Houston for an extreme makeover.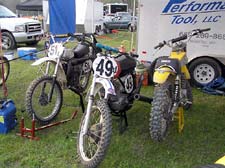 My CZ knowledge faded over the years, but I had the good fortune of discovering Bob's Northwest Maico CZ, CR High Performance Products, the amazing Bertus, and most importantly the Cousin Weedy web site. The Cousin Weedy CZ Jedi are protectors of all things CZ, and have a seemingly endless store of technical knowledge. They also gave me encouragement, inspiration and friendship during the rebuild process.
Old Yeller's engine lit up with a healthy roar in April of last year after 31 years of silence.
The Weeds were Sprouting at Diamond Don's for Weedstock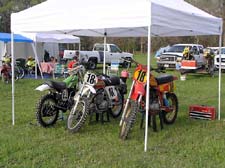 The Diamond Don National is somewhat of a magnet for Cousin Weedy members. So much so that this years gathering was called "Weedstock". I could not pass up the opportunity to meet in person Cousin Weedy members who I knew only through the virtual world of the Internet. Diamond Don Rainey and his wonderful wife Francine were kind enough to reserve a pit area for the Cousin Weedy crew.
I pulled into the pit early Friday afternoon the day before the vintage race, were I was greeted by Weedy Mark Baird. Other Weedies soon started to sprout. Joey Poole, who founded the Cousin Weedy site with Lee Holth, pulled in with his wife and son. Bill Ramsey was there, as were Lawrence Shellaby, Ronnie Welch, Chris Mincey, Rich Vallandingham, Terry Frazier, Tommy Montgomery, Chris Richardson, Debbie Poole, Robert Poole and others. I have met many people from all walks of life, and from all over the world, since my hiatus from motocross, the Weedy crew are among the most honest and friendly folks I have met.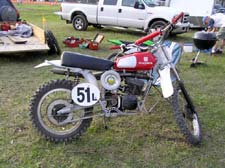 One of the highlights of Weedstock was the unveiling of Project Pink - a CZ with a pink frame. I assure you I had no part in sowing the seed for Project Pink, but Ronnie Welch will probably say that Weedy conspirators goaded him into building a pink bike for his wonderful lady, Teresa. Teresa got her hands dirty during the project as well and is now the proud owner of a 250 CZ with a pink frame, chrome gas tank, and black fenders. OK, truth be told, we did goad Ronnie a bit, but he should thank us. The beaming smile on Teresa as she proudly stood by her bike was memorable.
The Friday Feast and Saturday Bashes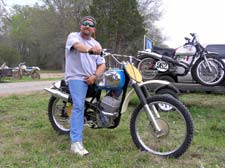 Prominent residents of Jefferson, Texas, say that Mr. Don Rainey is referred to as simply "The Don", and when The Don throws a party it is done right. The Friday BBQ served up sausage, brisket, potatoes and crawfish (mudbugs) thanks to the culinary talents of Weedy Chris Richardson. I am not a fan of the mudbugs. There is something about sucking the head that strikes me as unnatural, and it is a lot or work to dissect the little buggers for a small morsel of meat. BBQ, on the other hand, is my kind of food. It is easy to eat and it goes well with beer. The youngsters dishing out the meat and potatoes piled it high to my satisfaction.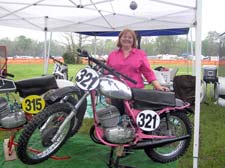 It suddenly occurred to me halfway through my BBQ bliss that the heavy mega chunks of cooked flesh passing through my lips would be churning in my stomach the next day during the races unless my digestive system went into overdrive, and even if it did, I remember the outhouses at motocross tracks as being among the most unpleasant places on the planet. Sweat was beading on my brow at the thought of these dire alternatives, so I put aside the rest of the meal.
Saturday night served up a smorgasbord of pit parties sponsored by groups like the Texas Vintage Racing Club, Gary Davis and the BTW group, and of course Diamond Don. BBQ, gumbo and even rattlesnake could be sampled, and naturally the beer was flowing.
The Pit Area - a Step Back in Time
A concentration of hundreds of vintage bikes in the pits evoked a sense of traveling back in time. There were numerous stables of race-ready Maicos, Huskies, Bultacos and the supreme master of early 70's motocross, the CZ. Time even rolled back to before I started racing when I sighted Greeves, AJS, and BSA mounts, and my favorite, a beautiful red Rickman Metisse frame cradling a gleaming four stroke Triumph motor. It was a truly memorable and nostalgic experience.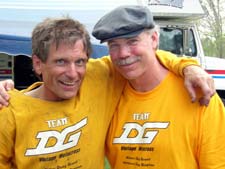 Interestingly, there seemed to be very few people in the pit area. Certainly there must be riders for these gorgeous bikes. Therein lies a major difference between a modern AHRMA event and races I attended back in the day. The people were relaxing within the luxurious confines of mammoth motor homes. Clusters of bikes were dispersed between huge yachts on wheels that made my Suburban look like a mere life raft. The megabuck vehicles snapped me out of my time travel experience.
The Track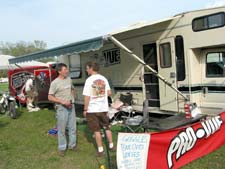 Don Rainy takes great pride in his track, and for good reason. He and his crew have done an outstanding job of creating a vintage-friendly layout that winds through a stand of trees on low-lying ground near a river. Many decades of growing seasons has conditioned soil on the forest floor with decaying plant matter that retains moisture, provides good traction, and can be easily groomed.
The start area is fair and safe. A long starting straight feeds into a very wide 70-degree turn and then into another long straight that is part of the track. The pack was usually well dispersed before entering the more challenging areas. The track combines some very tight sections, with straights and wide turns that have multiple lines for ample passing opportunities. To my relief, there were few jumps and no double jumps. My old body and old bike thank you Mr. Rainey.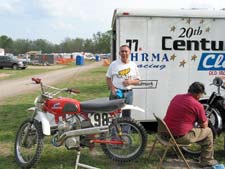 An interesting feature of the track is a pedestrian tunnel that passes under the track to provide a shortcut between major areas of the facility. Handyman Tim Allen would be proud of the massive timber used to construct the tunnel, and the hanging lanterns that make the tunnel resemble an old gold mine. Pedestrians in the tunnel are greeted with an eerie silence even though vintage bikes race directly above. If the cold war were still active, this tunnel would be and ideal fallout shelter.
The Riders Meeting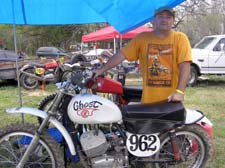 My peaceful sleep on Saturday morning was shattered by blaring loud speakers playing "It's a beautiful morning". I got the message, its time to get up.
Rain was in the forecast for the entire weekend. I have lived in Texas long enough to distrust weather forecasters, but the gray skies on Saturday morning were ominous. I had visions of sloshing through wheel-deep mud, and the shelter of those land yachts started to look mighty inviting. Fortunately, the forecasters were predictably wrong. We had very light rain during the riders meeting, but this stopped as if on queue when Dave Boydstun wrapped up the meeting. Conditions were perfect throughout the rest of the day of racing.
The riders meeting provided a memorable experience. On one side of me was Jim Pomeroy and behind me was Brad Lackey, who inspired me to buy a CZ when I saw him ride his side piper at a race near Gilroy, Calif., in 1970. I was not a fan of the dove that Brad sported on his crossbar at that time. Such a prop on my bike would likely find itself imbedded in my chest, but Bad Brad was impressively smooth on that side piper.
At one point during the riders meeting, Dave Boydstrum asked former 2 time 500 Motocross World Champion, Jeff Smith, to raise his arm to be recognized by the crowd. I almost bumped the gentleman on my right as I anxiously looked around to see Mr. Smith.. The gentleman had a small dog and a raised arm! Surrounded by Jim Pomeroy, Brad Lackey and Jeff Smith at a riders meeting – priceless.
The Race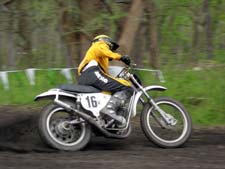 I entered the +50 Sportsman novice and 250 Sportsman novice races. Naturally, I hoped the race order would allow time to recuperate between starts, but I had no such luck. I was assigned to races 5 and 7, giving me barely enough time to clean the goggles, fill the tank and get my heart rate below a billion before heading out head out for the next start.
Old Yeller ran like a purebred as she carried me to first and third place overall finishes. The only blemish on my racing day occurred near the end of the of the first moto of the 250 Sportsman class when I dropped from the lead to 5th place after Old Yeller stalled and was reluctant to start. I think she was mad at me for making her ride four
motos.
Upon pulling into my pit area after the last moto, I shed my sweaty gear, sat down on my lawn chair, gave my bike an admiring look and eased my head back to gaze at the sky. I then did something I could not legally do in 1974, the last time I rode an AMA-sponsored event, I popped open a beer. It was a serene and satisfying way to cap off a great experience.
***