Sponsor Profile
MX Restorations
My name is Brian Fedigan, owner operator of MXR. This is a small shop and I want it to stay that way. I personally handle every aspect of each project. I try to limit the workload to one car or two bikes at a time.
I started working at a body shop after school when I was 14. I got into tool and die at 18 while doing some car and bike building on the side. I became involved with CNC, EDM and Laser machining. I also spent a couple of years at a race car fabrication shop which produced super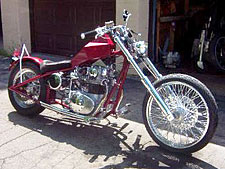 modified and modified stock cars as well as working on a crew as a mechanic on the NASCAR Featherlite modified tour in the 1980s.
So how did I get where I am today? Manufacturing has suffered in Rochester since 2001. Unable to find machining work I moved to doing restorations full time.
The most notable work includes a 1936 Auburn which was on display at the Duesenberg Museum in Auburn Indiana, the '64 Ford Galaxy "Fred Lorenzen" vintage NASCAR which won
11 shows it's first year out and the '66 Nova which is going to the Barrett Jackson auction in West Palm Beach. In '07 I decided I wanted to get into Vintage MX. The result is the Maico 490 pictured on my website. Riding that bike really got me going.
I bought 10 more vintage MX bikes to restore. I'm now dividing the shop in half to dedicate space for the bikes with the plan to eventually do only bikes.
***