Vintage Club Profile - ACR
American Classic Racing - Ready to Race into the Future

As with most vintage independent MX groups, ACR is all about promoting a family-friendly environment for all to enjoy. We encourage all racers to bring the entire family out for a fun day of vintage-friendly racing. This non-dues-paying member-driven club, formed back in September 1999, is celebrating its eight-year anniversary.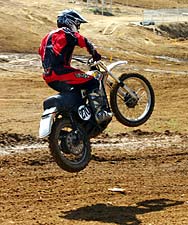 After 3 years of promoting AHRMA NE, 1997-1999, it was decided by a small but loyal vintage group that wished to encourage a true family atmosphere at the races, organize a new, independent VMX club. We had a simple enthusiast- oriented concept - Inclusion, not exclusion. This led us to the formation of American Classic Racing, or ACR for short. This movement was led by Tom France. The other founding volunteer organizers are all still with us to this day. The policies of the past organization excluded children and post-74 bikes at that time, not to mention one gate of modern bikes for all vintage racers who wished to not only run a vintage bike, but to race safely with his fellow vintage brethren. We saw past all the restrictive rules to a new, less rulebook heavy racing environment and one that is more of a like-design. We evaluate our class structure as we evolve, and make appropriate modifications as needed.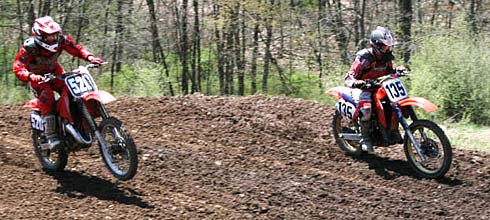 ACR has standard classes for all types of vintage motorcycles, from the late sixties to the late nineties. We consider any bike that is at least ten years old to be vintage. After all, every generation has their own motocross era that they fondly recall and future generations will be no different. No bike shall gather dust sitting and rotting away as now there is a place to safely race these bikes against bikes of similar design and ability. Not only can you race these bikes, you can race them at world-class facilities. We race at tracks rich with history. Southwick, MA. Is one of the oldest tracks on the National circuit. Budds Creek and Broome
Tioga are two of the finest tracks in the world today. Englishtown, NJ, is a heralded local track that should have it's own Pro-National and Evansville Raceway in Berwick, PA, which is where Rick Johnson & Jeff Ward practiced as they prepared for the 1989 MX des Nations at Unadilla.
We try to run a schedule that is not overwhelming and allows for other activities to take place over the course of the season as we feel the there should be a balance in racing as in life. It is understood that there will be a need for some families to have vacation time and family time away from the track, so we do not put together too heavy of a schedule.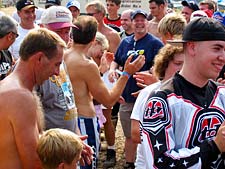 ACR looks to help the racer, either novice or old pro to improve their skills. Every year we bring in a past National Champion to help teach the students how to ride faster and with more confidence. This brings about a safer racer, one in more control of his mount. So far, ACR has had Mike Bell, 1980 Supercross Champion, Marty Smith, 3 time National Champion, Mark Barnett, a 4 time National Champion and the late, great Jim Pomeroy.
In keeping with the no-bike-shall-remain-un-ridden credo, ACR has implemented the GP class. In this class you may race any bike, of any year, but...all 125cc machines race ONLY 125cc machines. The 250F's must race the 250 Class with 250 2 strokes and 450F's must race the 500cc class with 500cc 2 strokes. 125's and 500's are alive and kicking at ACR events.
The ACR Mini-bike class is a great way to have fun with your kids and is open to all ages from eight years on up. Most riders are on 4-stroke play bikes.
We've also got the Junior class, sort of a vintage schoolboy class for riders 12 - 15 years on air-cooled, drum-braked, non-linkage 125 machines.
ACR understands that riding; racing and restoration (our 3 R's) are not the only things that take place at our events. We have many people come to our events to catch up with friends, enjoy the racers and walk throughout the pits traveling back in time as they look at all the motorcycles from past eras. There are cookouts, lawn chairs and EZ-UP's to hang around as you enjoy the company of your new friends. These
events are as much a social event as they are a race. The countryside is beautiful and the locations lend themselves to long weekends. As a case in point, Mark Barnett extended his stay at the Budds Creek event so he could visit Washington DC for a day as it is about 50 minutes from the track. So, race Saturday, and take the family on a mini vacation on Sunday.
If you are a Northeast vintage Motocrosser, we would love to see you at an ACR event. If you have been riding in another series and may not be familiar with either ACR or our class structure, please don't let that keep you from joining us and having
a lot of fun. All riders are welcome! Our sign-up people are at every race and will personally guide you through the process and explain the simple classes that are available to you. If you have a bike, there are at least two classes for you to ride. As we enter our eighth full season, our motto - Inclusion, not exclusion seems stronger than ever...
American Classic Racing looks forward to seeing you!
Visit www.acrmx.com for more!
***