VMX Club Profile - AVDRA
American Vintage Dirt Riders Association

AVDRA started racing VMX and PVMX on September 30th 1990. We have had a class for the GP bikes since the start and we have never eliminated a class that we have added over the years. We have increased membership and rider turn out on average every year! AVDRA has classes from mini to modern at each race. We added mini's 3 years a go and modern 2 years ago. We now have added GP4 and a Decade class for a 10 year old MX bike with something for every one, the women race together, mini, vintage, GP, and Modern all in one race just for them with all the classes being scored separately. What ever it takes to keep them coming out!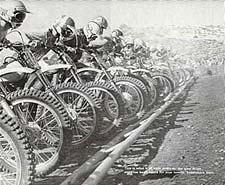 We race exclusively at Speedworld MX track and established a great working relationship with Dan Mathews and his crew. There we have a storage container that we can keep all of our race equipment in; golf cart, tools, P.A. System, flags, paperwork, stakes, tape, tables, chairs, shovels, rakes, and fire wood. Everything it takes to run a race. We have power now at sign up and will be using Track Side computer sign-up and scoring soon. We also have hot showers and flush toilets at our track.
Each Saturday evening AVDRA has a free Pot Luck dinner for anyone that is hungry and present. Nancy has taken great care to coordinate the food and the get together. Next race she will feature Cajun food
Every race features a new track layout. Sometimes clockwise and at others, counterclockwise. Different layouts each and every time so it is a different track every race. We just finished installing our new starting gate, 30 wide.
AVDRA has an IRON MAN competition...for the total scores from no more than 3 classes a day. At years end the winner receives a special award, free 1 year membership and free 1st class entry at each of next seasons races. Ed Kavanaugh is this years and last years Iron Man.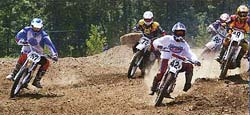 We also award a Most Improved, Hard Luck, Youngest, Oldest, Mechanic of the year, Worker of the year... etc... something for every one.
AVDRA features 100% trophies at every race, just be on the line and get to the checkered flag 2 times in the same moto in the same class and you are a finisher. We pay points by the overall not by moto. 20 16 13 11 10 9 8 7 6 5 4 3 2 and 1 point for anyone that enters weather or not they race or finish... they were there and entered, they get 1 point and are shown as a competitor that day. Series awards are paid to racers who have ridden 1/2 the races plus 1 this year that will be 6... we gave out over 4,000.00 in prizes this year at our awards banquet.
AVDRA awards banquet will be held in the hot summer just before our kids start school. We run 1/2 1 year and 1/2 the other... so that we can take advantage of the great Arizona winter weather and take the summer off! Members pay for a ticket that gets them a raffle ticket for the prizes that are given out at random... we pick their name and they pick there prizes form a hat. They ALL get a free banquet T-shirt that will usually feature a Legend such as Brad Lackey, Bill Silverthorn, Gene Fetty and Jim Pomeroy are just a few that have attended over the years.
OUR club has more than a few 3-generation families racing with us this season. We have seen kids become experts and we also have the OLDEST MX Racer in the World in AZ., 96-year-old Spike Warden. He races with us about once a year usually around Christmas time at our R.A.D. Rider Appreciation Day. We have a free Pizza party and a special Half time race for new bees that are brought out (sponsored) to try vintage racing for the 1st time, by a existing member. We usually get twenty or so each year.
This how we do it here in Arizona. I have taken my experience with AHRMA and the WORLD Skateboard Association (W.S.A.) listened to the competitors, promoters and my own heart to all ways try to do what is right and fair and come up with something for everyone... that is what the AVDRA is all about... something for every one!
United We Ride!
Visit www.avdra.com for more Club information!
***