VMX Racer Profile - Grant Humble #38
Born 08/07/1957
Place: Shawnee Kansas
Wife: Lisa, Children: Michelle (26) Kevin (23) Chad (22)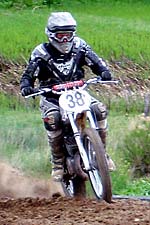 As a youngster growing up in Shawnee Kansas (population 10,000) there was never a dull moment thanks to 5 brothers & 1 sister. Our entertainment centered around sports activities, fishing at the creek, outdoor games with the 20 other kids in the neighborhood, chores, lots of fighting, & my favorite getaway, bicycling. My father was in the construction industry & on Saturdays he would take me and my 2 older brothers to work and let us play on the heavy equipment. As we aged, he taught us how to run some of this equipment. From a very early age I was fascinated with anything that had an engine. I would play with my dads chainsaw just so I could feel & here the engine scream. Same goes for the rototiller, lawnmower or anything else I could get my hands on.
I was a terror on a bicycle. It was always about speed & jumping. I tore up a few bicycles only to find out I would have to find a way to get another, but what I really wanted was something with an engine on it. When I was about 10 or 11, I kept bugging my dad to bring me home an engine. He brought home a well-used 4 HP Briggs & Stratton that didn't run. Within a couple of days I had it singing & painted, with a straight water pipe exhaust. I bought a rolling minibike frame from a friend for $10.00 & within a week I had my first ride. Had a lot of fun on that minibike.
| | |
| --- | --- |
| | |
A few years on down the road, some of the older guys in the neighborhood bought dirt bikes & within a year there were Pentons, Bultacos, Ossas, Montesa, CZ, Super Rats, & a DKW running down the street to the 200 acres that would later become my riding area, but for now, I needed to start saving my money because from that point on buying a dirt bike was my mission in life. The DKW was my brothers & before long all the guys were racing moto-x. I would tag along to the races with my brother & thought it was the coolest scene in the world. I couldn't wait to buy a bike & start racing.
| | |
| --- | --- |
| | |
That day finally came. In the spring of "73" I bought a "67" Husky 250 for $400. I rode the wheels off that bike in the field & at a local playground by the Kansas River called Save-on which is where Jeff & Brian Emig would later hone their sand riding skills. My first race was in the fall of "73" in Topeka which turned out to be a mud race. This moto-x was harder than it looked. I had a terrible race, getting lapped, but I still had fun & the stage was set. Not long after that race, the rod bearings went out & that turned out to be the last race the Husky entered.
I ended up buying my brothers DKW. I raced it locally at Kansas City International Raceway which had Friday night racing under the lights, Baldwin KS which was a national track in the mid to late "70"s, Paola, Lake City, Butler & a few other tracks that elude me at the moment. That same year while practicing at Save-On, I hit a tree & crushed the front end of my bike. I spent that winter rebuilding the Deek.
| | |
| --- | --- |
| | |
Enter Roger Dowden my neighbor. There were 3 sets of brothers that raced in my neighborhood. My brother & I, The Schleicter bros. & Roger & Davey Dowden. Roger was the oldest. Roger is very technical & mechanical minded along with his brother Davey. Whenever we had bike problems they were the doctors. I used to tag along with Roger to the races quite often & even though he was 10 years older than me, he taught me how to work on bikes & a lot about racing. Roger was a fast B Class racer. Roger doesn't know it, but he was probably the biggest role model in my life because he not only taught me about bikes & racing, through his actions and kindness he taught me about life & how to live it. He is definitely one of the nicest guys I know. Anyway, that winter Roger helped me piece my Deek back together. Along the way, he showed me how to lighten it up, lay down the shocks; many welding tips & his brother did some frame mods. In "75" I campaigned the Deek at the local tracks in the B Class and improved as a racer. In "76" I traded the Deek for a "75" 400 Maico & raced the local scene with basically the same results, win some lose some. In "77" & "78" I raced a"76" 370 Suzuki with decent results but I had been living on my own since "76" & bikes were becoming expensive. Besides, there was a new show in town called women. I raced my last race in "78" & hung up my leathers & married in "78".
| | |
| --- | --- |
| | |
The "80"s & most of the "90"s were spent working and raising our family. The kids kept us constantly busy with their sports activities & I quenched that competitive urge by coaching baseball & playing softball all the while keeping moto-x locked up in a compartment in the back of my brain. Then in the late "90"s a funny thing happened. A door-to-door salesman sold me 3 magazine subscriptions for 3 years very cheap. I took my pick from about 50 mags. One of the magazines was Motocross Action for lack of a better choice. At first they laid around unread but then gradually I started reading them & after almost 20 years the bug was biting me again. I bought a "97" CR 250 R & started practicing every chance I got. After a year of practice, a friend talked me into racing. My first race I got lapped, but I still had fun. I thought man this moto-x is tougher than it looks. Since then I've raced approx. 25 to 30 races a year improving every year. I still don't think I've hit my prime yet. No matter how good I do, I still know I can improve. In "02", I was talking to Roger who now owns the KTM dealership in Loveland Colo. called Elite Motorcycles. He said I ought to come up for the Vintage National at Milliken Colo. so I bought a "73" 400 CZ & have raced 3 out of the last 4 nationals at Milliken & had a blast. Just like old times. Currently I race the Midwest Championship Series on a "03 CR 250 R in the +35 & +40 class, usually about 25 races a year. I also do several Vintage Nationals a year & some MOVMX. I keep on saying I'm going to concentrate more on vintage but haven't been able to get this modern racing out of my system yet. As for the future, I plan on racing more vintage and possibly try to win a Vintage National title time permitting. I would love to restore vintage & post vintage motocrossers as a profession but I also like to eat. At last count I have 13 vintage & post vintage motocrossers in the garage with my next resto being a 74 YZ 250 A. My current vintage racers are a "73" 400 CZ & a "74" YZ 250 A that rips.
| | |
| --- | --- |
| | |
To me moto-x is more than the competition, the rush, the blood, sweat & broken bones. A big part of it is the people you meet at the track who become life long friends. Guys like vintage expert rider Bob Spies who didn't know me from Jack but out of the blue offered to let me race his 400 Kawi when I had a flat tire. Thank you Bob. Guys like Rich Fogel, who I met online who offered to help me find rare parts & ended up inviting me to race with his club (American Classic Racing) at Budds Creek + setting me up with a rocket "74" 250 Can Am. Thank You Rich Fogle & Eric for your Can Am. You guys & ACR are a class act. Guys like Michael McCook who I met at that Budds Creek race, who spend countless hours providing the best website available for us vintage addicts. McCook Racing is my vintage online bible. Thank You Michael McCook. To my wife Lisa. She is my biggest supporter & my best friend. Without her support I would not be racing. She buys me gear, out of 5 years of heavy racing, I can only think of 3 races she has missed, she lets me race on mothers day, on our wedding day I had about 6 hours to kill & she me made go to the track while she got ready. She occasionally throws a leg over one of my bikes and rides. What more could a guy ask for? Thanks a million Honey.
| | |
| --- | --- |
| | |
In closing I'd like to say that Lisa & I do several fund raisers a year for JDRF (Juvenile Diabetes Research Foundation) If anybody out there would like to make a donation, you can reach me by phone at 913-375-1343 or . Any donation would be greatly appreciated.
Moto On!
Grant #38
***