Vintage MotoCross Profile - Mark Strassner #426
Rochester New York
My love of motorcycles began with my first ride on my friend Yamaha mini enduro. I knew from the moment I dropped the clutch and wheelied from one end of the field to the other hanging off the back like a flag that I was hooked. My first exposure to motocross was in 1971 when my dad took me and my buddies from the neighborhood to Unadilla for a GP.
The thing I remember most is the stinger pipes and the red snow fence that lined the track. We all came home with our clothes stained with red paint. From that day on I bugged my dad about getting a bike. Latter that summer he surprised me with a 1966 Yamaha 125cc twin. I replaced the street tires with knobbys that my now brother in law was throwing away and took the baffles out of the pipe. I trail rode every minute I could.
My first race was on that Yamaha with pie plate number plates and numbers made with electrical tape. The following year I bought a very used 250 Bultaco Pursang from local expert Mike Robinson. I raced it for two years till I bought a 1975 model 135 Pursang. Still my favorite bike. Mid way thru the season I broke my Femur and was out till the next spring. The following year I raced the Pursang for the full season. In 1977, after seeing Bob Hannah ride the YZ250D at Daytona, I switched to Yamaha. I still have that bike today. I raced on and off for a couple of more years.
Tried flat track racing on a TT500 in a Kenny Roberts frame and eventually stopped, got married and started a family. The marriage didn't go so well however I have two great sons. I eventually started a new life with the love of my life Wendy and her two beautiful girls. This brings me to my Vintage life. After a few years of me bugging Wendy (sort of the way I did my dad) about wanting to race vintage bikes, she contacted my friend Mike Robinson and surprised me with a 1974 360 Pursang. She said "shut up and show me". That was in 1996 and my first vintage race was at Unadilla. It was the best day I ever had on a motorcycle. Riding my Bultaco on the track I never thought I would ride on with my four kids hanging over that faded snow fence cheering me on was awesome! And I won.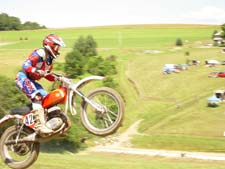 Vintage racing has allowed me to ride on national tracks like Unadilla, Broome Tioga and Southwick. Vintage racing has allowed me to rub elbows with people like Brad Lackey, Mick Andrews, Dick Mann, Jeff Smith and Jim Pomeroy. I know that I will never be a great motocross racer but vintage racing allows me to be a kid again. I am grateful that I was able to race back in the beginning of this great sport and that we can recreate races on these great machines and tracks. I cannot imagine 20 years from now that Ricky Carmichael will be doing triples on a restored Suzuki 450, but then again 20 years ago I did not think that some day I would line up next to Jim Pomeroy in a "Running of the 'Buls" race. I am thankful to all the great people from AHRMA NE and ACR for the great job they do putting together races. Vintage racing has kept me in contact with my friend Mike Robinson. It has reunited me with my friend Pete McGill (featured in Motocross action May 1974) and brought him back to race. Vintage racing has also made it possible for me to meet some very cool and very talented people.
Vintage Accomplishments:
1996 Unidilla AHRMA Vintage National 1st Sportsman 500 novice
1999 Unidilla AHRMA Vintage National - 3rd Sportsman 500 intermediate
2001 Wheeler AHRMA regional - 1st Sportsman 500 intermediate
2001 Wheeler AHRMA regional - 1st Sportsman +40
2002 Mid-Ohio AHRMA National - 4th Sportsman 500 intermediate
2002 Mid-Ohio AHRMA National - 4th Sportsman +40
2003 MotoMasters AHRMA regional - 1st Sportsman 500 intermediate
2003 MotoMasters AHRMA regional - 1st Sportsman +40
2003 Thunder Ridge AHRMA National - 2nd Sportsman 500 intermediate
2004 Cohocton AHRMA regional - 1st Sportsman 500 intermediate
2004 Cohocton AHRMA regional - 1st Sportsman +40
2004 Hancock AHRMA regional - 1st Sportsman 500 intermediate
2004 Hancock AHRMA regional - 1st Sportsman +40
2005 Cohocton AHRMA regional - 1st Sportsman 500 intermediate
2006 Broome Tioga ACR regional - 1st Sportsman 500 intermediate
2006 Southwick ACR regional - 4th Sportsman 500 intermediate
2006 Southwick ACR - 6th Running of the Buls
2006 Thunder Ridge AHRMA regional - 1st Sportsman 500 intermediate
2006 Allens Creek AHRMA regional - 1st Sportsman 500 intermediate
2006 AHRMA NE Sportsman 500 intermediate class champ
***