Sponsor Profile
Metro Racing
From the President of a little company called Metro
by Peg Miller
Metro Racing is Don and Peg Miller. When you come to visit Metro, our personal photos are on the wall, our bikes are in the shop, and we are usually the ones that print the shirts.
Now, I was not always a motorcycle person. I wasn't brought up around them and feel that I am relatively new to this sport - about 20 years or so. Aside from Evel Knievel showing up on my TV on Wide World of Sports on Saturday afternoons, I didn't know im Pomeroy from Mert Lawwill. Then I met my husband, Don, who always had motorcycles in his blood. He had show cars when I met him. Luckily, one day at the Englishtown Car Swap Meet, we found a 1930 Indian Wall of Death bike. It reminded him of the bike that his Dad rode to get back and forth to work in Philly. So we borrowed the $1000. from Mom, which was way more money than we could think of scraping together back then, and that was it. My rebirth into the world of motorcycling. We took the bike to an AMCA (Antique Motorcycle Club of America) Meet, where I could not believe the kindness of all we met. I had a warm feeling that I belonged. Then Don started flat track racing in an organization called AHRMA where again, could not believe the wonderfu people there too. Sometimes, when I am on a forum or in a group of racers that have their own language, usually talking with their hands showing their way around the track, I feel like an outsider, but then I look around, talk to the people and know again that I belong.
Over the years we have crossed the boundaries of brand specific - been to the Brit Only weekend and the first Husky Gathering; and the race disciplines - from m/x to trials to flat track; and organization memberships - I have a wallet just for all of my motorcycle club memberships cards; and have found the one common thread - motorcycle enthusiasm.
As there were over 80,000 people through the gate this past weekend at Mid-Ohio, it is an exciting time. Other people are being converted every day to see the appreciation of the vintage motorcycle and realize that this is a great group of people. I appreciate all that have been in the business of vintage motorcycles longer that probably profitable for them - Rick Doughty, Hugh and Barbara Weaver - but I guess they stay because they are happy doing what they do.
Along with the wives that come to our local track every other Saturday to score the race and the Dads that teach their kids to ride a motorcycle because they remember the good times and each of the thousands that keep their local groups riding, racing and enjoying. I am just one of those that got on the train after it pulled out of the station and what a ride it has been. I hope to have 20 more.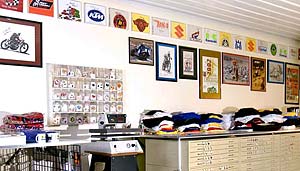 Shop wall in Metro HQ. Some great prints signed by our Legend friends. And a great display of Metro shirts signed by the greats above the work station
I feel so very fortunate that I get to spend every day with my husband (yes, still working side by side for the last 10 years and not wanting to kill each other); getting to talk to some of the great motorcycle racers from back in the day (Gary Nixon calls me at least 4 times a week); and to be lucky enough to make a living at what we love. Hailwoods moto was "For the love of the Sport". It is definitely the creed too here at Metro.
I still get excited to see someone in our shirts and feel that they are an enthusiast just like me. Whether they learned to ride on a Hodaka when they were six in their front yard or, like me, realized at 25, that this is where I want to be.
Thank you all who support Metro and keep the habit going and allow us to keep doing what we love.
***