New VMX Art from Rob Kinsey!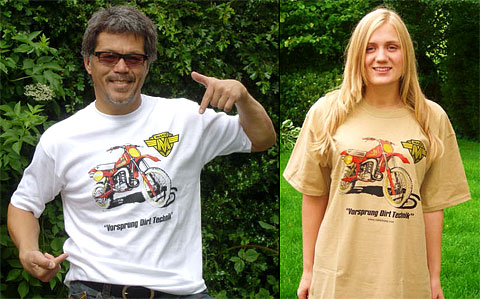 Celebrate one of Motocross's most iconic brand's with this new MAICO vintage T-shirt. Pictured is a 1981 MAICO 490cc Mega2 machine, acclaimed by many to be the finest production motocross bike ever built. Modeled here by Motocross legend Chuck Sun, former AMA 500cc Champion, USGP winner and MXDN team Member.
Drawn by RacerX Artist of the Year Rob Kinsey, who used to own one of these great bikes and still races today in vintage events on his original 1978 Maico Magnum 440cc. The illustration shows in detail the fine lines of this exceptional bike.
Slogan "Vorsprung Dirt Technik" is a play on words of the old Audi car ad tagline "Vorsprung Dorsch Technik" = Lead by Technology.
T-Shirts are Heavy duty grade Tee, 100% Cotton and Pre-shrunk. Print is a four colour screen print process for lasting looks, not to be confused with cheap iron on transfers. Available in WHITE or SAND coloured tees in L (large), X/L (Extra large) and XX/L (Double extra large) size and XXX/L (Triple X/L ) sizes.
Prices are £18 GB Pounds (approx $36 US Dollars) per shirt, plus airmail shipping worldwide of £6 GB Pounds, TOTAL £24 GB Pounds.
You can send Paypal payments to my . Please state colour & size in final instructions. If you want to order more than one shirt just add another £2 per shirt to total price to cover additional shipping charges.
Visit www.robkinsey.com for more information.
---
We now have available our Farleigh Castle Vintage Motocross Limited Edition T-Shirt's, celebrating Britain's past World Champion's, Jeff Smith, Graham Noyce and Dave Thorpe.
They are a heavy weight tee, 100% natural cotton, pre shrunk, with 4 colour screen-print, not to be confused with cheap iron on transfers and sublimation. They are available in White in L, X/L and XX/L sizes, priced at £18 each ($36 us dollars). Worldwide shipping is £5 ($10 us dollars).
Available in L, X/L, XX/L and also XXX/L sizes in either white or sand colour. Priced at £18 each plus £5 worldwide shipping. If you order both t-shirts you only pay one shipping charge! Paypal payments can be sent to . Be sure to state your size and preferred colour.
---
A major part of my work has now become commissioned paintings. It's a great way to celebrate a special birthday or a great present for Christmas. All I need is a good action photo 6" by 8" or jpeg to work from to produce a 24" by 18" acrylic stretched canvas painting, ready to be hung onto your wall. It takes around 30-40 hours to complete a painting which will be cherished for many years to come. Cost varies dependant on the complexity of the picture, but a ball park figure is around £400 to £500 GB pounds. I work closely with my clients at every step of the way to ensure the painting is exactly what they want.
These are some examples of recent commissions to show the quality of work I produce.
Please for quotation.
---
More from Rob Kinsey on McCookRacing.com
---
For more information about Rob Kinsey's artwork visit www.robkinsey.com
***