Submitted Race Reports
Thunder Ridge Race Report
By Gordon McCaffer
Spectators on the ridge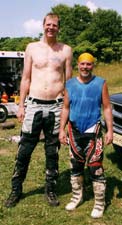 Rik Smits and Michael
Thunder Ridge Cycle Park in South Edmeston, N.Y. held their second AHRMA National MX weekend on July 10th and 11th. For 2004, our region's first-ever Cross Country National was added, following the Post-Vintage MX on Saturday. Thunder Ridge has a cross country course that has been used for AMA National Hare Scrambles and hosts an AMA Northeast Hare Scrambles series. The weekend started early for a handful of lucky racers with a Jim Pomeroy MX school on Friday. We always enjoy having the "First American" as our special guest. Jim brought some really nice "vintage-style" Bultaco/Spanish GP posters. He spent much of the weekend autographing these and handing them out to many appreciative fans. We really appreciate Jim's dedication to promoting vintage racing, not only in our region, but worldwide.

Buzzy, Paul, Michael, Gordy and ?
Special event sponsors Bultaco Motorcycles, Strictly Hodaka and Joe Abbate's Cycle-Therapy all helped to make Jim's pre-race school possible. National sponsor Pro-Flo provided gift certificates to be awarded at Thunder Ridge. We're fortunate to have such fine sponsors supporting AHRMA MX in the Northeast! We will return to Thunder Ridge for our final regional points event in October.
Plus 60 Racer Larry Smith from Georgia

Our next regional event will be August 21st-22nd in Hancock, N.Y. Once again, the Bear Creek Sportsmen will be hosting AHRMA Vintage and Post-Vintage MX on their club property. This year, an AHRMA Cross Country will be added which will take place on Saturday the 21st. All AHRMA MX classes, plus Northeast support classes, will run on Sunday the 22nd.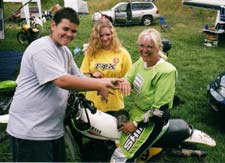 Anita VanAssen, Jeremy, and Carrie after Anita wins her Moto
Fresh after the Jim Pomeroy MX School
Don't forget, our region will award a fully restored Harley MX-250 to some lucky ticket holder at the last AHRMA MX National of 2004 (need not be present to win), courtesy of Joe Abbate's Cycle-Therapy. There will be a prize for the Northeast member that sells the most tickets for this fine machine. Please see our Pro-Flo sponsored Northeast web-site for details. We'll also have directions and contact information for Bear Creek Sportsmen in Hancock posted on the website….hope to see you there!