Submitted Race Reports
Topeka Race Report. Vintage MX at Heartland Park Topeka July 18 2004
Submitted by Randy Smith #24
The past race weekend began on Saturday afternoon July 17th the day before the race at about 3 pm. We met Race Promoter Curtis Harper out at the Heartland Park dirt track oval to help move around hay bales and tires as the road grader was trying to upgrade the CORR Off Road Truck Track into a Motocross track for us. We had some rain the night before and there were some muddy areas that were rutting badly with the weight of the road grader. We were concerned when the road grader driver just drove away without saying anything to us. We all stood around for a while then Curtis told us to go ahead and go home. Hodaka Racers Tim Carpenter, Tom Fox and Bob Garner had arrived along with Mark and Tena Jarecki (all out of State) and since they were all staying at my house, we didn't argue and went home which was about 7 miles away from the track.
Once we got to my home we ordered Pizza and a few went out for some laps around my home practice track while others like Bob Garner and Tom Fox were starting to install Tom's fresh Super Combat rebuilt engine. Bob had borrowed Tom's Super Combat at the previous race and a freak rivet on the cushioned primary gear had came out and busting up Tom's engine cases. Bob had rebuilt the engine for Tom which was nice. All of a sudden two other MOVMX racers, Chris Mincey and Jeff Carper came down the driveway. They had gone to the Heartland track to camp and since that was not allowed Curtis told them to come to my place. Lucky it was some guys we knew from a recent CZ for Maico trade so that was cool. As soon as the sun was going down, out came a few beers and the wrenching and bench racing lasted way into the morning hours for some. Not me this time (which is rare) but I knew better. Been there, done that. OUCH!!!
Sunday morning came too early for most of us and way too early for the bad boys who tried to drink all of my beer the night before. (Right Tim and Chris?). We had a hot breakfast and fluids of all kinds and off to the track we went. There was a fog on the nearby fields and the air was cool. Boy was that going to change.
We arrived at the track at about 8 am and being a top ranked racing complex, we had asphalt pits to park in which was a first for us. The Sports Car Club of America was racing on the Road Course near by so there was a sound of engines in the air and we could see them going by. That was cool in it's self. The badly rutted track from the day before had been transformed into a cool looking high speed Vintage MX track. There were 101 entries and I think at least 10% were Hodaka's, COOL! Practice was on time and WOW, we are going fast today. The Oval track is about 3/8ths Mile and heavily banked. We begin in the infield on grass with a flagman start and head for turn 3 of the oval and make a quick left and onto the Oval. This big `ol sweeper turn was at least 75 feet wide and you could pick many lines. Go low and cut the distance down (my choice) or go wide and get the speed up quicker dirt track style but some were running out of gears doing this. You would exit turn 4 of the oval and hit a jump in 4th gear and shift into 5th as you went down the main straight wide open and you would glide off the oval (turn one) and keep going 5th gear pinned (thank God for Hodaka over rev) then slow down and make a 180 degree turn in loose dirt and hit 3 little jumps and back onto the oval. But instead of jumping onto the oval we had to make a immediate left then a quick right which sent us a off camber down the banking of the oval track. That was a tough corner and by the end of the day it was turning into a blue groove. Oh did I mention that this section had big earth mover tires marking the corners? Goof up here and it might hurt. From there we hit a jump and landed onto the back straight of the oval, haul butt for a while as you drift up towards the concrete wall then brake slide while downshifting into the infield for 4 more mild jumps, more like a rhythm section. From there we made a U turn in the infield and back to the starting area. All of this distance in about 1 ˝ minutes or less. A really fast track for sure but extremely fun, I think everyone loved it.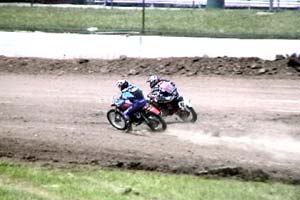 As the temps outside were rising quickly, the motos began. The Pee Wee's were race 1 and featured Andy Lipperts boy Drew on his first ride on a used KTM. My son Austin (age 13) was racing his Honda XR 100 in the School Boy 4 stroke class race 2. The Sportsman 125 Novices of Andy Lippert, Mark Jarecki and Tom Fox were combined with some larger bikes (scored separately) like Chris Mincey on his CZ 250, Johnny on his Husky 250 (I think) and Dave Wiebler on a borrowed CR450 in Novice race 3. Good Buddy Mark "Muck" Honeyman was racing his newly acquired 1981 CR450 that I had just rebuilt the engine on in Intermediate/Expert combined race 4. The 100cc Class (both Advanced and Novice mixed) was race 11 and included Tom Fox, Tim Carpenter, Muck Honeyman and Myself all on Hodies going up against fast guy Roger Wellman's 1978 Yamaha and a Suzuki plus the Women's Class all on the same gate.
Race 1, Moto 1 had Drew Lippert out running away with the race and all of a sudden no Drew. Dad Andy is recovering from a knee injury and laid his camera down and began to hobble/run off the track. I jumped on my Arctic Cat Quad and rushed to the far end of the track. There was Drew standing there with a busted off front fork leg and a skinned elbow. He was OK but a little steamed at Dad. We loaded up the little KTM on the back rack of the quad and placed Drew in the front basket and Andy on the back holding the mini and hauled them back to the pits. I had just returned to the track and was asked to check on Mike Youngberg's boy who also failed to return from the back side of the track. There was Mike holding the rear tire off the ground of the little Husky trying to roll it with a seized engine and busted engine case. Arctic Cat wrecker service to the rescue again as I hauled them back the same way I did Andy and his boy. I really think the boys liked riding in that front basket. Hodaka Bob Garner's boy Josh on his little XR70 ended up winning the race. Moto 2 Drew Lippert was on his back up bike, a Yamaha PW 50 and proceeded to get in the lead again only to have the bike load up and end his day. Dad got the evil eye from both Wife and Boy and Josh Garner wins.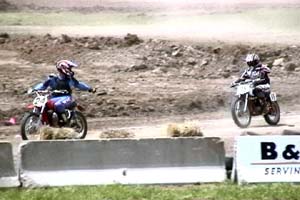 Race 2 saw my son Austin make his way to the front in the first corner by using the dad recommended low line and he led for a few laps until he fell down in a slide out over a infield jump all while Grandma, Grandpa, Aunt Rhonda and Mom watched in fear. He got up in 4th place and proceeded to hunt down everyone lap by lap and made a pass back into the lead as he disappeared off the blind side of the track on the last lap. He would re-enter our view in 2nd place and nip and tuck all the way to the finish. He finished 2nd place by a half a bike length and one of the best rides of his short career. Dad was proud and the family cheered wildly. His smile was a mile wide. By Moto 2 my oldest son Jason (now 19) who used to race Hodaka's in MOVMX showed up to see his brother and me, the old man race. He gave Austin the "go kick their butt, I know you can" talk and sure enough, Austin won the second moto hands down and won for the day. I was real proud of him.
Race 4 Moto 1 saw Andy Lippert do what he planned to do by beating all of the other Hodaka's to the first corner then take it easy the rest of the race nursing a bad knee injury. Tom Fox and Mark Jarecki passed each other back and forth the full eight laps all while on the tail of a Johnny's nice early Husky 250 . The finish was really too close to call from the sidelines but Tom got the win over Mark. Chris Mincey was doing well on his (formally our) CZ 250 and Dave Wiebler was getting used to the borrowed CR450 massive power. Moto 2 we saw Andy do his "beat the Hodies to the first corner" and back off thing and Tom Fox was getting away from Mark Jarecki while chasing that CZ 250. Tom won the 125 class and Mark got 2nd. I am pretty sure Chris won the 250 class on the white CZ and Dave is hooked on the big bore Honda's.
Race 5 was the Post Vintage over age 40 class Expert and Intermediate combined. Muck Honeyman was going to make his début on the freshly rebuilt '81 CR450 and got the holeshot over the field. Tom Doherty was soon in the lead and Muck finished 2nd in the overall and first in his class. Moto 2 was a bit of a blurr to me but Muck ended up first in his class and 2nd overall.
Race 11 was my 100cc class and the Women combined. My Mom has only seen me race about twice in my life and is always real worried. It didn't help one year when she came out to watch me in a demo derby on my 22nd birthday and my car caught on fire and I had to climb out the front window hole. I kidded her that unlike most other guys, I was to turn 46 this coming week and was only riding a bike that is 10 more cc's larger than when I was 12 years old. She was still concerned because racing is racing and stuff happens. Dad remains quiet and probably wonders why he bought me that first cycle when I was 10 years old but he can see the pleasure it brings me and his grandkids. Roger Wellman is killing us in this class with his monoshocked 1978 YZ 100 (79 engine) against our dual shocked 1970 to 1974 Hodaka's. I can beat him to the first corner nearly every moto only to get passed by him later on. Roger is no slouch of a rider either and confessed that he was moving into the Expert Class on his big bike next year. Now if only I can get him on a '74 Yamaha MX 100 with dual shocks in the 100 class :) Moto 1 I got the holeshot and went low in the banked turn. I heard a bike near me and was expecting it to be Roger but it was actually Muck Honeyman on my other chromed tanked Rat. As we went down the long straight Roger blew by us like normal but we kept him within the sight the whole race. Muck and I have known each other since grade school and trust each other on the track. I would go low and he would go high and we would always be side beside side off the fast straight away jump. I would throw a few fake leg kicks at him gladiator style as we were doing about 60 mph and he would do the same to me the next lap. We were laughing out butts off at each other and yelling at each other in the corners. We changed the lead almost every lap and you could have thrown a blanket over us at most times. It was a absolute BLAST in both moto's and rather entertaining to several who told us so. I bested Muck and in Moto 2 Roger lended his YZ to another rider and set out the race. He said he enjoyed the show also. I ended up winning for the day and Muck was second but that is nothing compared to the fun we had on the track racing the little bikes.
The races ended around 4:30 or so and it had been one hot and dusty day but all of us had a really good time and hope that we can return to this race track next year. If you missed it you goofed up big time.
The Hodaka Gang plus many other friends and family all headed back to my house for a evening of BBQ and Beverages. There was about 20 to 30 people there at times and we never ran out of food or liquids. Most of us took of work Monday and several stayed over the night before they had to drive a long way home. It was a great time.
Randy Smith #24