EQUIPO MADRE TRATO REFORMS
by Raphael 'Tag' Hargrove III - Special Reporter to 'Coma Mi Carne' News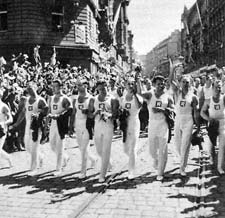 Nigel Hollingsworth, PJ Read and the Equipo Madre Trato boys are welcomed back to Floreat Park after yet another
GP success.
Motocross icons launch vintage motocross team to end all teams at star-studded Hollywood soiree.
In a surprise move that had even the most street savvy of motocross insiders scratching their heads in shock, two of the sports most revered and adored megastars, PJ Read and Nigel Hollingsworth unveiled their new Vintage Motocross Team at an A list only soiree at the Beverly Hilton Hotel on Easter Saturday.
Hosted by team insider, legendary Las Vegas performer Bobby Goldsboro and attended by the who's who of Tinsel Town, the fifteen hundred celebrity guests drank case after case of Hollingsworth Hill Chardonnay and dined on Albanian-Thai fusion finger food created by Chef Sammy who had been flown in from Phuket on Nigel Hollingsworth's custom DC3 for the occasion. Sir Jack Brabham and the Pigs Ear Club lads took turns in manning the roast pig barbecue spit that had been assembled poolside for the occasion while old Read confidante, Tuesday Weld mixed her famous yet lethal Weldaritas for the old Phuket gang who had flown in with Chef Sammy for the event.

A stylish Nigel Hollingsworth aboard Pasqual de Fetides' Montesa during the 1967 Grand Prix de Bolivia. This uncustomary break from his beloved 500 Class was brought about over a bet between 'Pippi' Ponce Crema and Pasqual de Fetide that Hollingsworth could win a motocross on even the most horrible of machines. Pippi pocketed a tidy sum when Hollingsworth stormed to a magnificent win.
The evening started with a witty and heart wrenching speech from Reads former 'assistant', Condoleeza Rice that took us all back to those crazy days when she traveled to the GPs with the lads in their Bedford van. 'Condys' hilarious and often bawdy speech climaxed with a rousing piano boogie version of Bessie Smiths immortal classic 'Need a Little Sugar in my Bowl' that even had Dan Gurney twinstin' the night away!
Derek and Don Rickman, Al Unser junior, Michael McCook, "Pippi" Ponche-Crema junior, The Duchess of York, and Anna Nicole Smith all gave eloquent and heart rendering speeches praising the lofty goals that PJ and Nigel had achieved in their illustrious careers. "Pippi" junior's speech was especially touching when, for the first time he related publicly how Hollingsworth had vainly tried to save his father, formula one ace "Pippi" senior after he had been mauled by Kim Novaks pet tiger at her Monterey Peninsular mansion a few years earlier. Fortunately the sadness that had followed young "Pippis" heart wrenching speech quickly dissipated as a single spotlight illuminated the bare stage.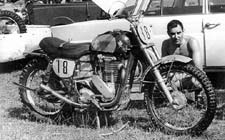 A youthful Nigel Hollingsworth "pinches a loaf" next to "Stumpy" Leonards Mercedes during a light hearted break in Team Ariels appearance at the '62 Grand Prix de Capri. Teammate PJ Reads Ariel 500 MX offers Hollingsworth little shelter from view.
To the sounds of Frank and Nancy Sinatras inspiring "The Two of Us" the men of the moment, motocross legends and lifestyle icons PJ Read and Nigel Hollingsworth entered the stage as one to a standing ovation from the adoring party throng. It was now their moment. For the next hour the pair took the enthralled audience on a journey that had started that evening many years earlier in Monaco had gone through the horrors of imprisonment in Thailand and their many sordid loves, disappointments and triumphs. Read had to be consoled by his mate as he burst into tears as he told never before heard story of being dropped from the England Rugby team after a sadly ill judged affair with Princess Margaret had allegedly bought the great game into disrepute. The audience laughed aloud with the boys as they recounted those crazy days of the Grand Prix Circus and the mischief they got up to with those wild and crazy Rickman Brothers and "the fat Belgian" as PJ had nicknamed Joel Robert. Hollingsworth bought many a snicker to the crowd with his hilarious and scandalous tales of being "on the piss" with Sir Jack Brabham, Al Martino, Lance Reventlow and the rest of the Pigs Ear Club at Laguna Seca in '71. The hour-long speech was a tour de force of emotion and articulation. The best however, was yet to come.

PJ and Nigel celebrate with a couple of frosty ales.
As the boys were receiving their rousing standing ovation the curtain rose to present a stage adorned with fifty blonde supermodels wearing bikinis displaying the magic words 'Equipo Madre Trato' and Farlowe Holdings in key places. On a plinth behind the girls two immaculately prepared Carabelas stood in their custom Madre Trato black and white livery. At stage left stood the newly appointed race team executive resplendent in Equipo Madre Trato / Farlowe Holdings corporate uniforms. Jaws dropped as the partisan crowd realized the old duo were back in business and doing it with the expected pizazz.
The race bikes were christened by bikini clad lifestyle diva Paris Hilton who poured a magnum of Dom Perignon over the Enrique del Vasquaz junior prepared Carabelas.

Hollywood Megastar Kim Novak's lover, Formula One ace, Pippi Ponce-Crema was mauled to death by the pet Tiger. Kim had the tiger made into a rug in memory of Pippi.
The reception rolled on into the wee small hours, with everyone dancing to a reformed KC and the Sunshine Band and a super group comprised of members from Iron Butterfly, the Peanut Butter Conspiracy and Tommy James and the Shondells. A weary but elated Hollingsworth commented later from the dance floor, "We are back and we are bad. Watch out for the Madre Trato Carabelas when they come to your race"! Wise words.
EQUIPO MADRE TRATO STAFF ROSTER
Major Sponsor: Farlowe Holdings: Farlowe Holdings is a low cost housing speculation firm with offices in the British Virgin Islands, Liberia and the Caymans. Company president, Australian born Trent Farlowe was the team masseur with PJ and Nigel at team Ariel and later became team principal at the first version of Equipo Madre Trato. Farlow brings a solid tax minimization expertise to the team and as well as being team sponsor through his Farlowe Holdings group of companies will also arrange the teams finances and race bookings.
Fitness Coordinator: Richard (Ricky) Simmons. Ricky Simmons brings a lifetime of fitness expertise to the team. One of televisions most enduring excercise gurus, the diminutive trainer has lived with Nigel Hollingsworth for a number of years and "knows his man inside out".
Catering: Chef Sammy. Chef Sammy has been the master chef at PJ Reads Phuket vacation house for over thirty years. Upon the breakup of the relationship between Cynthia Lennon and PJ, Sammy became the sous chef at the Phoenix, Arizona Hooters.
Sammy will be working in with Ricky Simmons to supply a healthy diet to riders and the crew.
Head Mechanic: Enrique del Vasquez jr. Panama born del Vasquez comes to the team with a wealth of experience ranging from his tenure as the late formula one legend "Pippi" Ponche-Cremas crew chief at the Brigante team, team manager at Sir Eric Lansdowne's Volare Le Mans team, Dan Gurneys spark plug man at American Eagle, and a successful period as design chief at Carabela. He is married to former pop princess Debbie Gibson and is the father of Enrique junior (9) and Alanis (13).
RIDER: P.J. READ. Born in Jaipur, India, to Sir Arthur"Jimmy" Read and Lady Desiree Read.
Lives: Floreat Park, Western Australia, with de facto wife, songstress Olivia Newton-John.
Educated at St Teresas Jaipur; Eton school; The Foreign School Cambodia; Woodrow Wilson High Lakewood, California; Sydney University; Harvard University; Oxford University; Long Beach City College; Morty Robinsons Mechanics Institute; June Dally-Watkins Modeling academy.
Drove formula one for the Brigante team, drove Volante sports cars for Sir Eric Lansdownes team, drove Top Fuel dragsters for Don Garlits. Moved to bikes and rode for Team Ariel, Team Carabela, Equipo Madre Trato (MK1). Won 1964 Romanian 500 motocross GP, Qualified 29TH for 1966 Indy 500, first Englishman to go under 7 seconds for the quarter mile, First Englishman to water-ski the length of Lake Erie, first Englishman to play professional rugby league in Australia. Wrote screenplay for 'The Devil in Miss Jones'.
RIDER: NIGEL HOLLINGSWORTH. Born in Wharl upon Snide, Gloustershire to Reg and Thelma Hollingsworth.
Lives in Beverly Hills California with fitness guru Richard Simmons.
Educated at Wharl upon Snide Common School; St Cyrils Auckland, NZ; The Actors School, NYC; Harvard University; The Ernest Angely Christian Accademy, Corpus Christi Texas.
Raced with Sir Jack Brabham for Cooper, teammate to "Pippi"Ponche-Crema and PJ at Brigante formula one team. Won Shelsey Walsh Hill Climb in a works Rambazzi,
Won 350 class at the Isle of Man on a Manx Norton, Won 1964 Sardinian 500 motocross GP, rode for Ariel team with Read, formed original Equipo Madre Trato, First Englishman smuggle heroin into Thailand. First Englishman to escape from Bangkwang prison in Bankok, first Englishman to escape from the Betty Ford Clinic. Founded Pigs Ear Club with Sir Jack Brabham and Dan Gurney amongst others.
THE BIKES: 2X CARABELA 125MX especially prepared by Enrique del Vasquez jr.
2X CARABELA 200MX also prepped by Enrique.
2X WARDS RIVER5SIDE 350 prepped by PJ and Holly themselves.
The teams first event will be the AHRMA Vintage Days event at Mid Ohio on July 7 The gang will then load up in Nigels restored DC3 Dakota and fly to Narrogin, Western Australia for the Australian Vintage Motocross Championships the following weekend. Stay tuned for further dates.
***
---
More from Nigel Hollingsworth and PJ Read