---
Well Guys, here we are in the dead of winter chomping on cabin fever with motorcycles in our living rooms and 2005 in our rearview mirror in the hope that 2006 will be everything that last year could have been. Like many of you that I have met over our revived racing careers, I'm the eternal optimist. You know, the glass is half full, perfect mornings lead to exciting days, and being able to fall asleep at night with the soma feeling that you did the right thing. Even if I didn't manage to ring it, I'm the kind of guy who will leave that bag of crap behind me, forever stuck in yesterday so that at least I can awaken the next day feeling fresh and with a smile. I think we tend to all agree that our earthbound counterparts tend to carry a very special bag (I just heard a female DJ in LA call it a 'bitch-bag') over their shoulder containing stinging phrases from incidents taking place five weeks ago Tuesday, at 9:17pm, just to rub your nose in it or embarrass you in public. Why they think that this is an effective progressive communication skill is beyond the male brain. I guess we shouldn't have done whatever it was in the first place and I suspect that after enough of those, we don't. One of my buds calls it 'Spousal Life Training'. Which translates into a 'slow change'. If you're lucky enough to hook up with the runt of the litter... hold on to that one!
Now don't be shooting the messenger here as I hang my head out of the car window doing 60 with my tongue wagging in the breeze. This is a social generalization, and if there were ten of us guys in the same room, eight of you would agree with me. The feeling I get in my gut when this happens, is someplace between Nowhere and Goodbye. Strangely enough, we usually find ourselves sticking it out for another three or four weeks in hopes of blissful unity... and then it happens all over again...
My extensive and exhausting travels seem to provide an intimacy logjam at home, such as my trip to VDRNW land with Nigel Hollingsworth. We stayed with Siege at his Seattle Art&Motorcycle Compound for several days, with Holli and Siege sharing their intellectual me-too's, which typically ended up in an electric jam cacophony du Geetz. Man, can Holli belt em out! It was all we could do to peel him off of the ceiling and to my amazement, Siege lays down a mean bottom end all jacked up on Tasters ChoiceŽ. The boys from the Seattle area are rabid VMX'rs and they rolled out the Red Carpet for Holli and me. I do feel that I have to apologize and make good for a few of my cohorts actions though. To Steve Clark, I will pay the medical bills, which resulted from Holli's roughhousing with your girlfriend, Teri, and thanks again for not pressing charges. To Tommy McAllister, I'll cover the cleaning costs for your truck interior and to Gonzo... hmmm... nope, as I think about it, you deserved that wedgie after ty-wrapping Holli's boot buckles together while he was napping behind the snack bar at Woodland.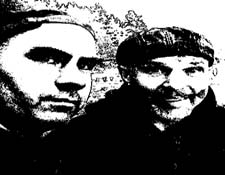 Fellow web editor SIEGE and Me
Covering the Race at Woodland


Photo by Hollingsworth
A brief stint at home to catch my breath and pay some long overdue bills and I was off to Hong Kong to meet up with Firko and PJ Read. After reading 'War and Peace' and a copy of a 1983 Physicians Desk Reference, the sixteen-hour flight had me doing cartwheels in the isles of the spacious Boeing 777. I was cross-eyed upon arrival, blowing airplane spooge out of my nose and my feet had numerous blisters as my gymnastic extravaganza was performed barefoot.
Ahhh, A deep breath of fresh air walking off the aircraft stirs my senses, It was fresh alright, fresh burnt electronics, fresh sulfur, and fresh diesel exhaust by the sea with a twist of lime. Precisely between Nowhere and Goodbye, but it's way too late, specifically sixteen hours too late to turn
back now. My good friends are here to meet me in this amazing jet-setting city and I'm going to enjoy the piss out of myself... even if it kills me. A twenty-five minute Taxi ride from the airport to downtown Kowloon is pleasant enough for this Yankee who's gearing up for some major debauchery, China style.


Photo by PJ Read

I was to meet Firko and Read in the lobby bar of the Harbour Plaza Hotel prior to check-in, and as I was waiting for my Virgin Madras to arrive, out of the corner of my eye, I see Firko and some pan faced gook, carrying PJ into the bar. It was obvious the man had nipped the bottle beyond his full mark. Disheveled and covered with puke, they set him down in a cushy tall back chair. He starred at me focusing one eye at a time and suddenly shouted, 'McCook! You bloody wanker You! Gad dam to see ya Mate!' 'KookooKaChoo to you too PJ', I said. A firm handshake with Firko and a manly hug as we haven't seen each other since Tokyo.
A splash of ice cold water and a good sponging up by the Bar-back and PJ was up on both two's, ready to carry on. Firko and I looked at each other, raised our eyebrows, shrugged our shoulders and sighed simultaneously. I've long since given up the Mr. Hyde juice, but agreed with Firko and PJ to head across the water and up the hill towards Victoria Peak to hang at any number of expatriate pubs. The ferry ride seemed deliberately slow allowing the impression of the beautiful night skyline to burn into my brain. We jumped into one of the thirty Toyota 'Santana' Taxi's at the terminal curbside and up the hill we went. We stopped at a jammin pub, simply called "Lux". PJ lead the way, heading straight for the bar and loudly ordered the Keep to bring us a bottle of the establishments best Blue Agave Tequila.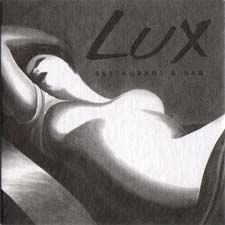 Ya know, I used to be quite the veteran cocktail warrior in a past life, but to both Firko and my surprise, PJ was swilling mouthfuls of this stuff as if he were a lost and parched desert soul. Over the past year I've been getting to know PJ pretty well and on this journey I came to know both of him. It was the other one of him that would lead us on this evening's incredibly raucous trip.
The Lux was jam-packed with women of all nationalities and with Read half in the bag, I braced myself for the worst. Firko wandered off into a dimly lit corner with a stout in one hand and his other firmly planted on the arse of a Thai beauty. 'No worries mate', he said with a smile as he camouflaged into the din. PJ at this point was knock-kneeing his way to the door and out into the street…bottle in hand. 'Here we go', I thought to myself as I pinball'd my way through the crowd to catch up to him. PeeJay! PeeJay! I yelled, trying to get him to slow down, but I had lost him. Finally out onto the street, I spun around catching a whiff of Tequila directing me north up the hill. I ran as fast as I could, one block, then two. I was catching my breath as a blast from a car horn scared me a foot off of the ground and while landing I see Read in the drivers seat of a black Maybach Excelero with a pasted up Vietnamese Fem, Their loud negotiation turned into an elevated drunken blurry shouting match. Read! Gad Damn it! Quiet Down, QUIET DOWN!, I barked. Meanwhile Firko pops out of the Lux, excited by all of the commotion and is quickly heading up our way with his Thai babe in tow. At this point the 'other' PJ gets out of the Maybach and is coming at me with death in his eyes like I've not seen before. He was slurring something about 'getting back what Hollingsworth owes him'. Lunging towards me, he scuffs a stutter step and clocks me into delirium! I vaguely recall visions of my youth, riding the Motocross track at Pagoda…then darkness.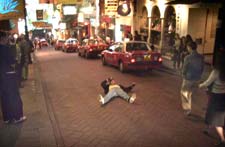 Decked into the Darkness


Photo By Firko
Twenty-eight hours later I wake up in my hotel room with a massive headache and a shiner to end all shiners. My room phone rings and it's the concierge telling me that a Mr. Firkin and a Hong Kong Police officer wanted to see me. 'Errr... Ok', I said. A quick search for my threads and a pop into them, 2 AleveŽ and a sip of water... Knock, knock, knock...
Well, you see my friends, it turns out that PJ had gotten hauled into the Brig for assault, (namely on me) disorderly conduct and soliciting a Lady-of-the-evening. The officer was there to ask me if I wanted to press charges. Of course I didn't, nor could I, because no matter what life brings my way, I just can't seem to find the means to carry that 'bitch-bag' over my shoulder.
Firko put his arm over my shoulder and with his never ending smile said, "C'mon Mate, let's go bail out PJ".
From Someplace and Hello,
Cheers,
Michael
P.S. An interesting quote from Walker Percy: "To become aware of the possibility of the search is to be onto something. Not to be onto something is to be in despair."